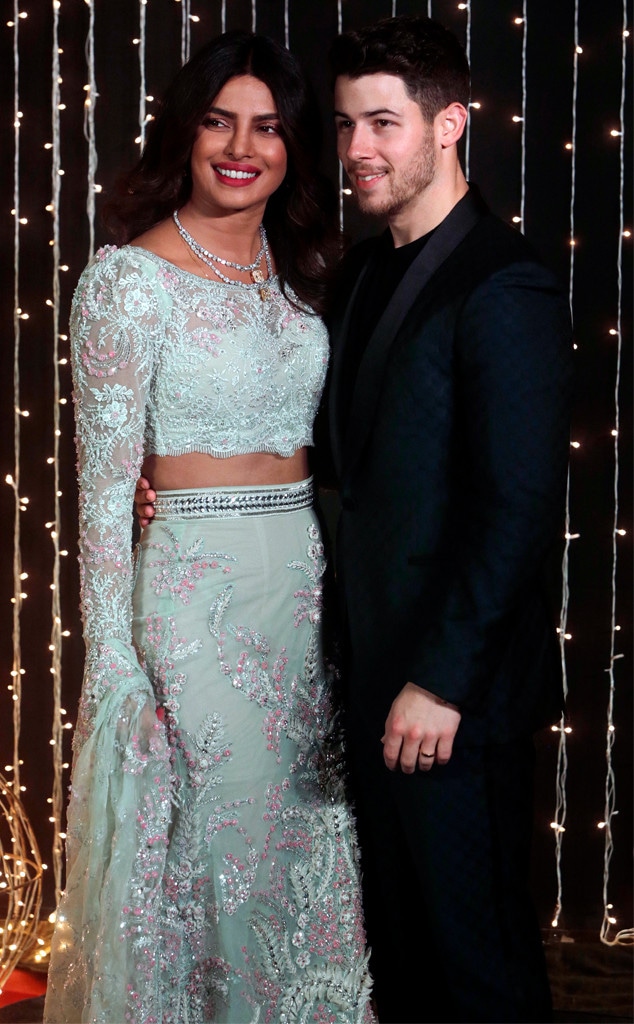 AP Photo/Rajanish Kakade
Nick Jonas and Priyanka Chopra continue to celebrate their love like stars. 
The newlyweds, who tied the knot in two ceremonies at the start of this month, carried on their post-wedding festivities with a third reception on Thursday in Mumbai, India. The celebration, reportedly for Chopra's Bollywood colleagues and friends, comes weeks after the couple's glamorous reception at the Taj Palace Hotel in New Delhi, India on Dec. 4, followed by another in Mumbai on Wednesday. 
Today, there was yet again no shortage of smiles as the couple posed for photographers, Mrs. Jonas donning a stunning Abu Jani Sandeep Khosla design. The actress sported a custom tulle skirt hand-embroidered with tiny organza and chiffon flowers and accented with crystals and beads, paired with a matching lace blouse and embroidered stole. Chopra accessorized with necklaces and let her dark tresses fall around her shoulders. 
However, it's the color of her ensemble that is a bit of mystery—depending on the picture, it has photographed blush and teal. 
Meanwhile, the newly married pop star kept his look simple and uniform in a dark, geometric-printed suit with a matching shirt underneath. 
According to videos shared on social media, there was plenty of fun to be had inside the party, including tons of dancing for Chopra and her industry friends, such as fellow newlywed Deepika Padukone. 
Just a day ago, Chopra gushed to loved ones about what it meant to have the people in their lives celebrate this milestone with them. 
"It means so much to us that all of you came tonight," she told guests at Wednesday's reception. "This has been an extremely special chapter in my life and I wanted my husband to meet all of the special people that have contributed to it. So thank you so much for being here, friends of my parents, my mom, who's hosting this wonderful evening, my dad, who I know is here. Thank you so much for coming and giving us your blessings and I hope you have a wonderful time tonight, and this is my husband, Nick Jonas."
The crooner followed, telling guests, "It wasn't too far from here that I took Madhu [Chopra] out to lunch and asked her if I could marry her daughter...So to be here tonight with all of you, the people who have helped shape who she's become, means the world to me...And all of you embracing me with such open arms. It's just unbelievable so thank you for that."