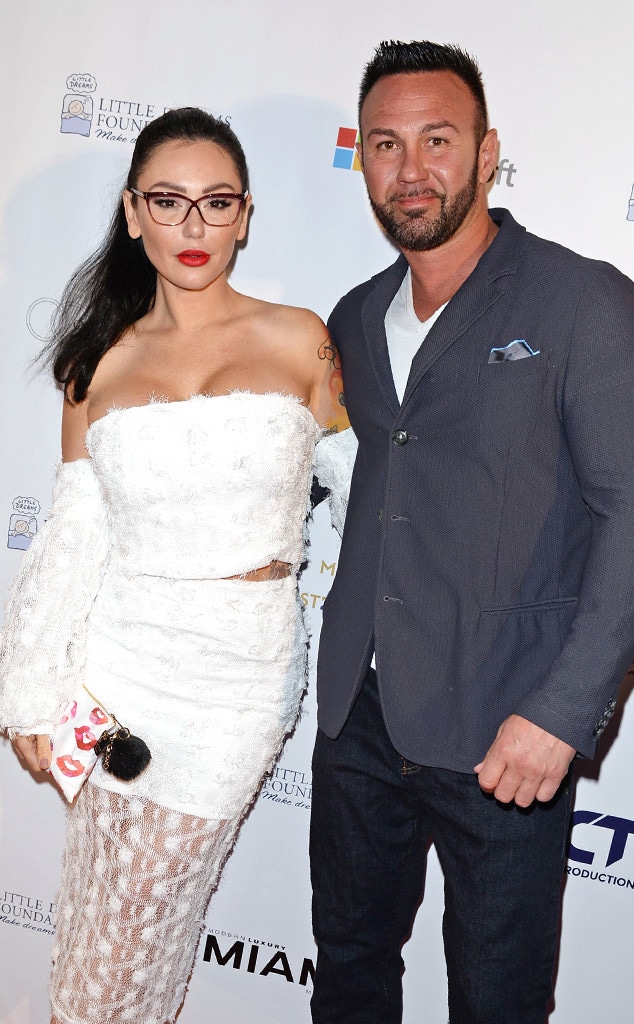 Larry Marano/Shutterstock
A dispute over JWoww's work schedule led to an explosive argument between the Jersey Shore star and Roger Mathews.
Last week, police were dispatched to JWoww and Roger's home, where Roger was served a temporary restraining order. E! News has now obtained the police report of the incident, which details what happened between the Roger and JWoww last week.
The report states that police were dispatched to the home of Roger and JWoww, who are currently going through a divorce but still live together, on Thursday, Dec. 13, regarding a civil dispute. Following their arrival to the home, police spoke with both Roger and JWoww about their argument.
According to Roger's account, the argument came about because JWoww had allegedly told him that she would watch their two kids on Dec. 14, but then informed him she had to travel to New York City for work on that date. When Roger "confronted" JWoww about her work schedule affecting their children, the argument began. 
The report also states that, according to Roger, JWoww became "irate and began screaming and slamming her bedroom door" during their argument. Roger then started recording the incident on his phone "in fear" that JWoww would "make false accusations" about his behavior. He then reported the incident to the police after the argument.
The report then moves on to JWoww's account of the incident. According to the MTV star, while Roger was recording their argument, he allegedly told JWoww that she is "a piece of s--t mother, and is damaging to their kids." Roger also allegedly stated that he's going to post the video online and "show everyone what a terrible mother she is."
According to JWoww, Roger "frequently records her with his cell phone, threatening to post it to the internet." The report also states that JWoww believes Roger is "using her popularity to his advantage" and that she feels "harassed" by his "continued disparaging comments and continued threats that he will post unfavorable videos" of her online.
Watch:
Roger Mathews Breaks Down Over Ex JWoww's Restraining Order
"All necessary domestic violence paperwork was completed on scene," according to the report.
At that time, the report states, JWoww did not wish to speak to a member of the Domestic Violence Response team and did not wish for an emergency temporary restraining order. Roger had left the residence and said he would return later in the night. The exes sleep in separate bedrooms at the house, so JWoww "did not believe" Roger's presence at the residence would cause "any further arguments" when he returned later that night.
According to the report, shortly after leaving JWoww and Roger's house, police were dispatched back to the home to speak to JWoww about an emergency temporary restraining order.
"Mrs. Farley stated that she changed her mind about seeking a temporary restraining order, and now wished to obtain one," the report states, adding that the judge was contacted and JWoww was granted the temporary restraining order. The restraining order gave JWoww sole temporary possession of the house and sole temporary custody of their children.
In response, Roger tells E! News, "I love my children and I will never stop fighting for them."