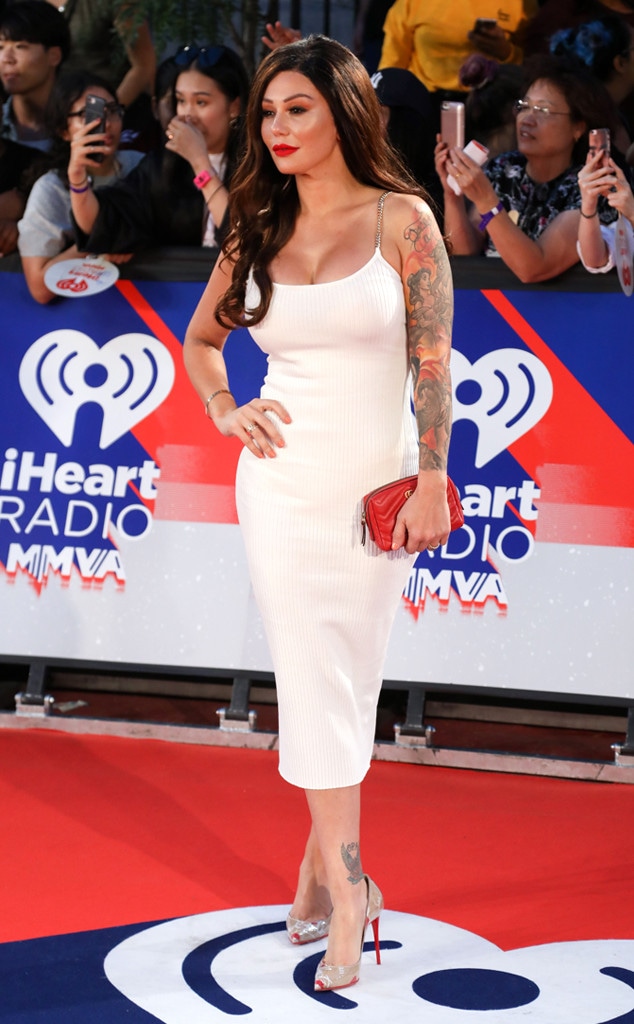 Shutterstock
Jenni "JWoww" Farley's ex-boyfriend has been arrested. 
Amid drama with her estranged husband, the reality star's ex Thomas Lippolis was charged with third degree extortion on Wednesday, the Toms River Police Department confirmed in a press release. 
On Monday, the Jersey Shore reality star reported to police that Lippolis had allegedly attempted to extort $25,000 from her in exchange for not sharing secrets about the mother of two with the media.
According to police, Lippolis allegedly called Farley's publicist demanding the money, who then relayed the information to her. After initiating an investigation into the claims, Toms River Detective Tom Grosse arrested and charged him.  
Per the authorities, the two dated for close to a year approximately a decade ago. Fans may remember the drama of their relationship playing out in the earlier seasons of the MTV series. 
It's been a tumultuous time in Farley's personal life as of late considering she filed for divorce from her husband, Roger Mathews, in September. 
While they appeared to co-parent peacefully in the weeks that followed, Farley got a temporary restraining order against Mathews just days ago. 
"Certain events transpired last night which lead Jenni to involve authorities, as she felt it was in her best interests, and the best interests of her children to do so," JWoww's team said in a statement on Instagram in response. "Any statements and social media posts depicting anything to the contrary are entirely false, misleading, and intentionally designed to cast Jenni in a negative light. She is proud to be a hard working parent who provides for her children."
The statement continued, "While we have chosen not to comment further, we will note that a judge immediately ruled in Jenni's favor and issued a temporary order of protection last night. Please respect Jenni's decision for privacy in an effort to protect herself and her children during this time."
In a video, Mathews retorted, saying her statement "implies that I put somebody, whether it'd be my children or another person, in harm's way of some sort, and that is just so mind-blowing to me to even make that suggestion."
"I am not the violent one," he said. "I assure you. And I don't want to have to prove that, I do not want that to go down the road, but I'm prepared, 'cause I have to be because I'm just dumbfounded, I can't believe a person would do this to me and not let me see my kids."