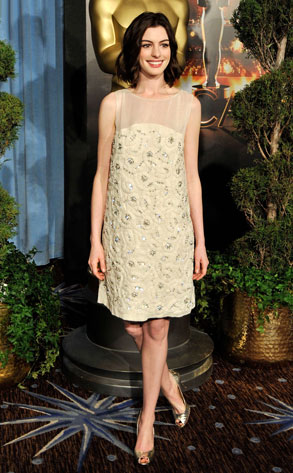 Kevin Winter/Getty Images
William Shakespeare had his own Anne Hathaway. Now the new Anne Hathaway has her own Shakespeare.
The 26-year-old Oscar nominee has been tapped to star in the gender-bending Twelfth Night for the New York Public Theater's Shakespeare in the Park program, running June 9 through July 12.
Hathaway, who just wrapped Tim Burton's update of Alice in Wonderland, will make her Public Theater debut as Viola, a young woman shipwrecked on the shores of Illyria, and, for complicated plot purposes, poses as a male page for a duke, only to fall for her new boss.
The last time the Big Apple theater company staged Twelfth Night was in 2002, starring Julia Stiles as Viola.
Speaking of Stiles...
• The actress is returning to the boards in a new production of David Mamet's Oleanna opposite Bill Pullman at L.A.'s Mark Taper Forum from June 5 to July 12. The play details the power struggle between a university professor (Pullman) and one of his female students (Stiles) who accuses him of sexual harassment. Stiles previously played the role opposite Aaron Eckhart in London.
• Per Variety, John Malkovich will do a villainous turn in the big-screen version of DC Comics' Jonah Hex. The flick stars Josh Brolin as a former Confederaete soldier turned bounty hunter who faces off against Quentin Turnbull (Malkovich), a wealthy Southern plantation owner out for revenge after his son is killed during the Civil War.
• After (seemingly) getting killed off on NBC's Heroes, Brea Grant is looking to play dead in Rob Zombie's Halloween 2—she's been cast in the sequel to his gory remake of the original horror classic.