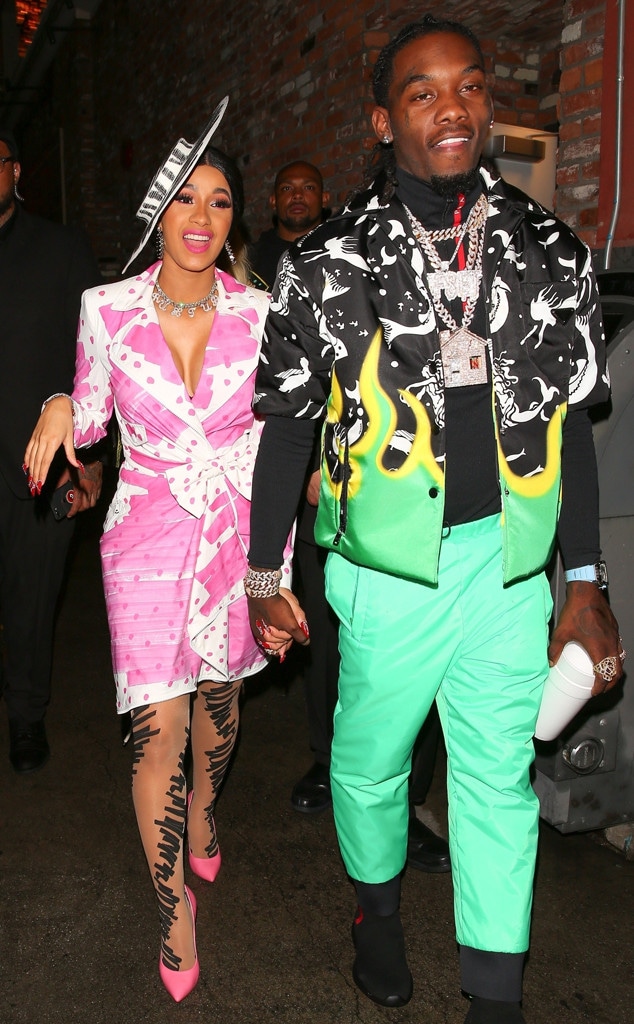 Maciel-Twist / BACKGRID
Are Cardi B and Offset getting back together? The "I Like It" rapper is certainly missing her ex today—or maybe just one part of his body.
During a recent Instagram Live chat, Cardi revealed exactly what she's missing from her relationship with the Migos star. "I miss it...a lot," she told her social media followers as she sipped on her coffee. "I want it...in my throat...inside of me...demolishing me...destroying me."
It was just two weeks ago that Cardi announced her split from Offset after one year of marriage.
"So everybody been bugging me and everything and you know, I've been trying to work things out with my baby father for a hot minute now and we're really good friends and you know we're really good business partners," Cardi told her Instagram followers at the time. "He's always somebody that I run to to talk to and we got a lot of love for each other but things just haven't been working out between us for a long time and it's nobody's fault."
"I guess we grew out of love, but we're not together anymore," Cardi, who shares daughter Kulture Kiari Cephus with Offset, continued. "I don't know. It might take time to get a divorce and I'm gonna always have a lot of love for him because he is my daughter's father and yah."
Scott Dudelson/Getty Images
That same week, Cardi was spotted without her wedding ring on the set of her new music video. Just days ago, Offset posted a video to Instagram in which he begged for Cardi's forgiveness amid his cheating scandal.
"We're going through a lot of things right now, a lot of things in the media. I want to apologize to you Cardi," Offset said. "I embarrassed you. I made you go crazy."
"I was partaking in activity that I shouldn't have been partaking in, and I apologize," he said as he held back tears. "You know what I'm saying? For breaking your heart, for breaking our promise, for breaking God's promise and being a selfish, messed up husband."
"I'm trying to be a better person. I want to get this off my shoulders. I want to get this off my back," Offset said. "I apologize to you Cardi. I love you."
On Sunday, Offset crashed Cardi's headlining performance at the Rolling Loud Festival in Los Angeles, begging her to take him back.
"I just wanna tell you I'm sorry, bro, in person, in front of the world," Offset told Cardi. "I love you. Whatever I gotta do to show you that, I'm there."
The gesture didn't seem to impress Cardi much at the time, but if her Instagram Live is any indication, the duo could end up back together.