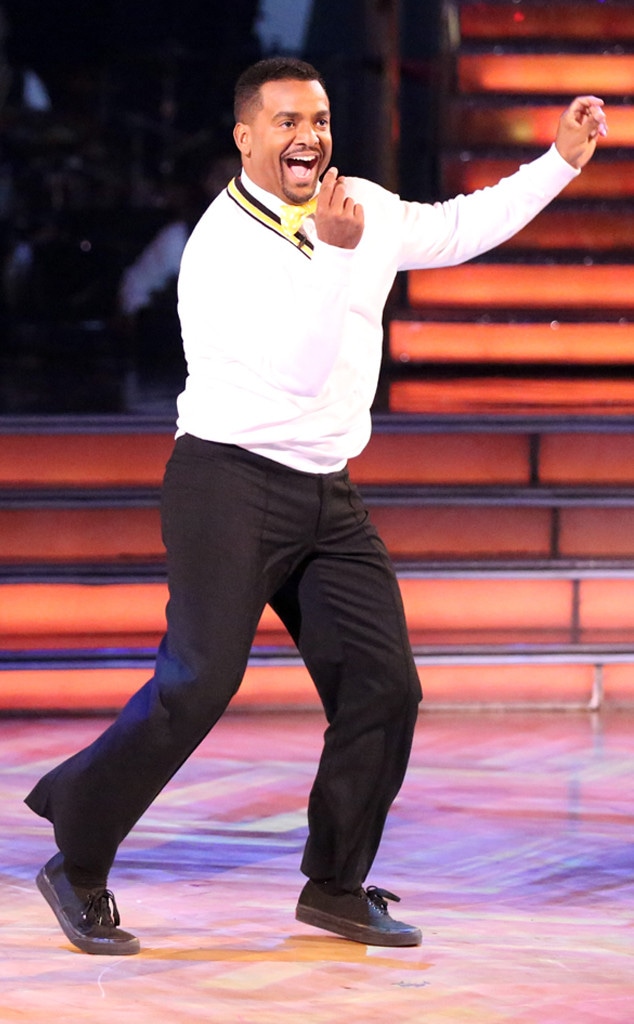 Adam Taylor/ABC via Getty Images
UPDATE: On Thursday, March 7, Alfonso Ribeiro filed court papers to have his lawsuit against Epic Games dismissed. In February, the U.S. Copyright Office refused the actor's request to register his Fresh Prince of Bel-Air character's signature "Carlton" dance because his claimed "choreographic work" was a deemed a "simple dance routine," according to the Hollywood Reporter.
_________________
Alfonso Ribeiro is suing two video game developers for allegedly using his signature dance, the "Carlton," without his permission.
According to CNN, the 47-year-old actor filed the two lawsuits on Monday and accused Epic Games and Take-Two Interactive Software of unfairly profiting from his likeliness and exploiting his "protected creative expression." 
Epic Games is the creator of Fortnite and Take-Two Interactive Software is the developer of the NBA 2K series. In the games, characters can perform dances, or emotes—some of which can be purchased by players.
According to CNN, Ribeiro, who introduced the "Carlton" on The Fresh Prince of Bel Air, claimed his signature step can be seen in Fortnite under the emote "Fresh," as well as in NBA 2K under the name "So Fresh."
The news outlet claimed Ribeiro is asking the court to prevent the companies from using, selling or displaying the dance. He is also reportedly seeking damages and requesting that both companies stop profiting from the move. In addition, CNN reported Ribeiro has reportedly accused Epic Games of faking endorsements. Furthermore, it claimed he is in the process of copyrighting the dance.
"It is widely recognized that Mr. Ribeiro's likeness and intellectual property have been misappropriated by Epic Games in the most popular video game currently in the world, Fortnite," Ribeiro's lawyer David L. Hecht told E! News in a statement. "Epic has earned record profits off of downloadable content in the game, including emotes like 'Fresh.' Yet Epic has failed to compensate or even ask permission from Mr. Ribeiro for the use of his likeness and iconic intellectual property. Therefore, Mr. Ribeiro is seeking his fair and reasonable share of profits Epic has earned by use of his iconic intellectual property in Fortnite and as a result is requesting through the courts that Epic cease all use of Mr. Ribeiro's signature dance."
E! News has reached out to Epic Games and Take-Two Interactive Software for comment.
During a recent interview with TMZ, Ribeiro opened up about the origin of the dance and said he was the one to actually come up with the moves for the '90s sitcom. He also said, "I stole it from Courteney Cox and Eddie Murphy." 
"It's a combo of all of that with a little bit of me mixed in," he said, explaining how he was inspired by Cox's moves in Bruce Springsteen's "Dancing in the Dark" video, as well as Murphy's "white man dance" in Eddie Murphy: Delirious. 
However, Ribeiro's attorney said the word "stole" shouldn't be interrupted so literally.
"On numerous occasions, Mr. Ribeiro has commented on his inspiration for the dance. In the clip, Mr. Ribeiro used the word 'stole' in jest. He did not use the word 'stole' in the legal sense," Hecht explained. "Mr. Ribeiro describes in detail, in that same video, how he created the dance from a combination of several ideas and 'a little bit of me mixed in; whereas Epic copied his creation frame-by-frame. In his words, it was Ribeiro's (a professional dancer's) interpretation of what a white person looks like when they dance. That describes a copyrightable choreographic work. There is also something called a derivative work. A derivative work is copyrighted if it incorporates some or all of one or more preexisting 'works' and adds new original copyrightable authorship to that work."
Ribeiro isn't the first public figure to take legal action against the developers. Russell Horning, also known as Backpack Kid, also has lawsuits against Epic Games and Take-Two Interactive Software for allegedly using his dance move, "The Floss," without permission in the games. Rapper 2 Milly is also suing Epic Games for the company's alleged misappropriation, use and sale of the "Milly Rock" in Fortnite.
(Originally published on December 18, 2018 at 8:06 a.m. PT)