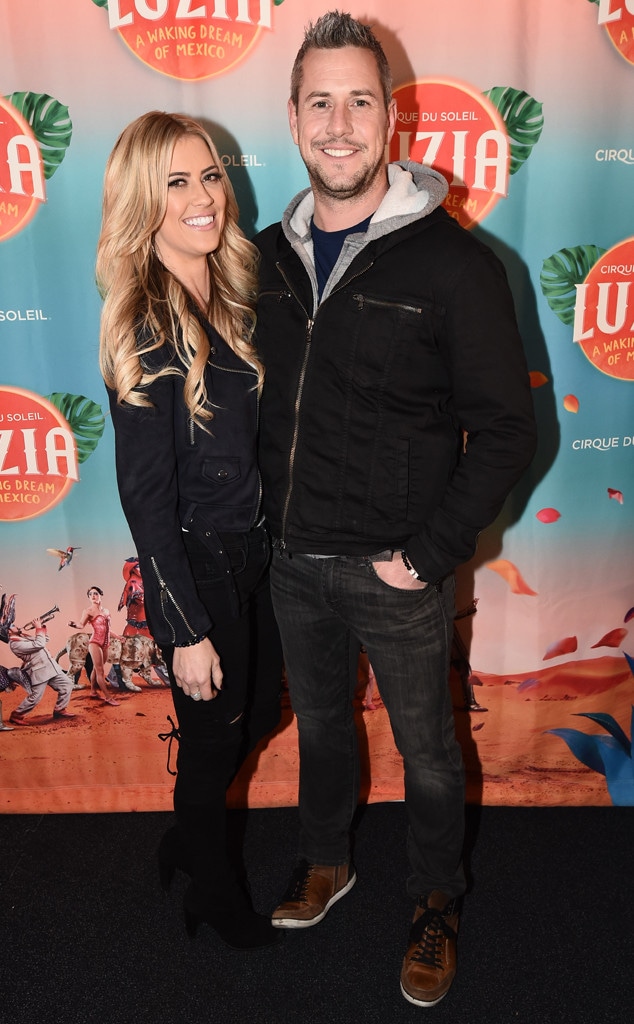 Le Studio Photography
Christina El Moussa and her boyfriend Ant Anstead are causing fans to speculate a bit about their relationship—in a good way.
On Sunday, Anstead posted a photo of the couple spending a romantic evening at Selanne Steak Tavern in Laguna Beach, California and enjoying what looked to be like a very indulgent dessert. "Celebrating something special tonight with some steak and wine," the British TV host captioned the picture. "....aaaaannndddd.... this epic cinnamon/caramel/ice cream/cholesterol on a plate desert [sic]."
It wasn't immediately clear what the "something special" was they were celebrating. Perhaps the finishing touches were added to her new show Christina on the Coast. Or, it could be something else entirely. Whatever it is, neither Anstead nor El Moussa is spilling the details just yet. However, her rep later told E! News they were celebrating Christina wrapping the first season of her new solo show, Christina on the Coast.
The designer and Anstead have been together for a little over a year. E! News confirmed they were an item on Jan. 2, but they celebrated their six month anniversary in April. Anstead documented the big day with a loving tribute to his girlfriend.
"What an amazing six months it's been with this lady!!! Where has the time flown! I've loved every second I spend with her," he wrote on Instagram. "She totally gets me (which is rare) and we have done so so much in such a short time!"
He added, "Timing is weird! Very weird in a great way! A VERY great way! Looking forward to the next chapter."
On their one year anniversary, the 35-year-old mother of two wrote a "sentimental / mushy post" about their big day. "A year ago today @ant_anstead called me for the first time and we spoke for 29 mins," she penned. "two days later while he was at Sema he FaceTimed me (I was thinking who FaceTimes) anyways I answered and we spoke for 2.5 hours ... two days later we met for the first time and we've been inseparable ever since. #FATE"
She added, "you have showed me what real unconditional love is. You take me for what I am, flawed and a bit crazy, and love all of me just the way I am. You have never once made me feel bad for anything in my past."
Both El Moussa and Anstead frequently post photos of the two of them at various outings, including Thanksgiving with his family, as well as PDA-filled date nights. 
The reality star and her ex-husband Tarek El Moussa  separated in December 2016 and finalized their divorce in January 2018. Tarek called the process "awful" but both former Flip or Flop stars are having their own post-split successes. In fact, Tarek even approves of Anstead. Tarek said on Today recently, "Yeah, he's great. He seems like a good guy, my kids seem to like him."
Tarek confirmed to Today's Natalie Morales that he's currently dating, but he doesn't think he's "going to have a relationship for quite some time."
In June, Christina shared that she would be open to tying the knot with her new beau. "Ant has been so supportive. He's very grounded," she told E! News in June. "I could definitely see myself getting married to Ant in the future and I know the kids would be very happy about that."