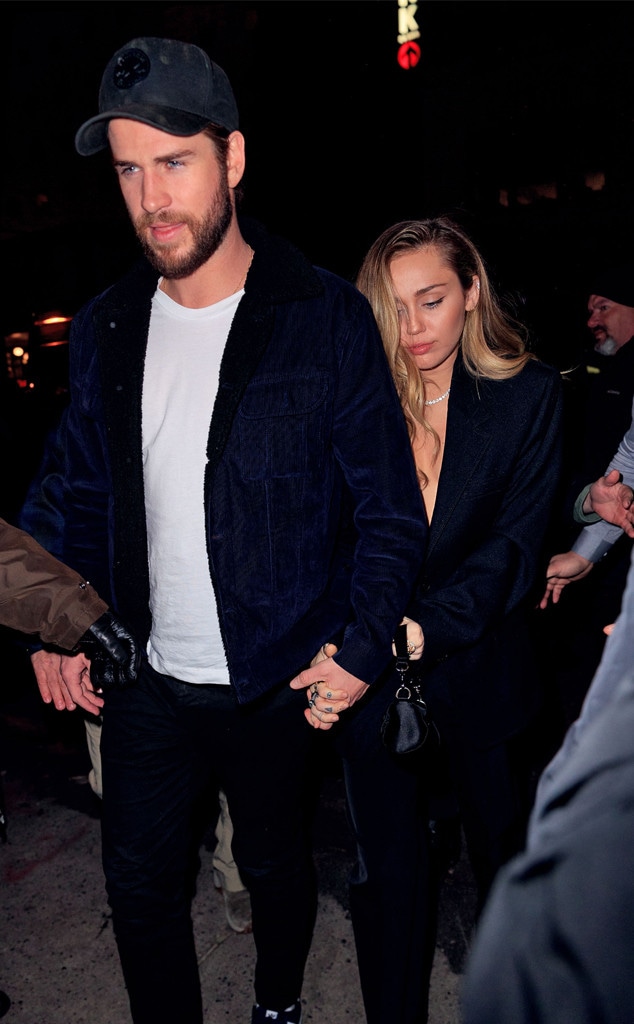 Jackson Lee/GC Images
Spilling all the deets about her boyfriend's...goods? Well, she's just being Miley!
Miley Cyrus revealed some information about her boyfriend Liam Hemsworth that isn't exactly rated PG. On Sunday night, the popular Instagram profile SourPsycho, who uploads mostly memes and other funny screenshots, posted a meme that said:
"No man has all five: 
-good dick game
-empathy
-a height above 5'9
-no hoes
-common sense"
Well, it turns out Cyrus begged to differ. A screenshot captured by CommentsByCelebs showed her comment, which said, "Mine does! Don't give up!" TMI? Nonetheless, thanks for the words of encouragement!
Riverdale's Lili Reinhart weighed in, too, and commented, "I found one!" and added the "raising hand" emoji.
The "Party in the U.S.A." artist recently provided some more risqué information about her relationship with Hemsworth, who she clearly adores and loves very much. 
Rich Polk/Getty Images for Disney
On Wednesday, Cyrus discussed her significant other with Howard Stern on his SiriusXM show The Howard Stern Show. She opened up about their house burning down in the Woolsey Fire as well as their relationship in general. She told the radio host that Hemsworth helped save the animals on their Malibu ranch and bring them to safety. "I've never loved him more for this," she said.
When he returned to their home, The Hunger Games star revealed the only remains left were stone letters that spelled out "LOVE." The couple later announced they had donated $500,000 to fire relief efforts after the tragic natural disaster.
Cyrus didn't refer to Hemsworth as her fiancé or boyfriend, but rather her "survival partner." She explained, "He thinks it's not romantic, but I learned that it is. It is why you pair up with someone is for survival. And he was so incredible, he got all the animals out in his truck. He put two pigs in crates, which I tell you is so hard."
It turns out his good deeds did not go unnoticed. The singer told Stern, "He got a lot of action for saving the animals."
Although they're both busy recording new music and filming movies, they still manage to carve out time to be intimate even when they aren't physically together. She elaborated, "That's what FaceTime is for. Cybersex."
The dynamic duo have been together for many years, and their timeline includes a breakup, a reconciliation and an engagement.
Cyrus, however, doesn't anticipate walking down the aisle anytime soon. She has a gorgeous engagement ring that the two of them reportedly designed together, but they aren't in any rush at the moment.
Towards the end of her interview with Howard Stern, Cyrus shared that the couple would be spending the holidays together at their home in Nashville. Just don't ask her any specifics about it. She slyly told Stern, "I got three weeks off, honey. It's going down."
She "Can't Be Tamed"?