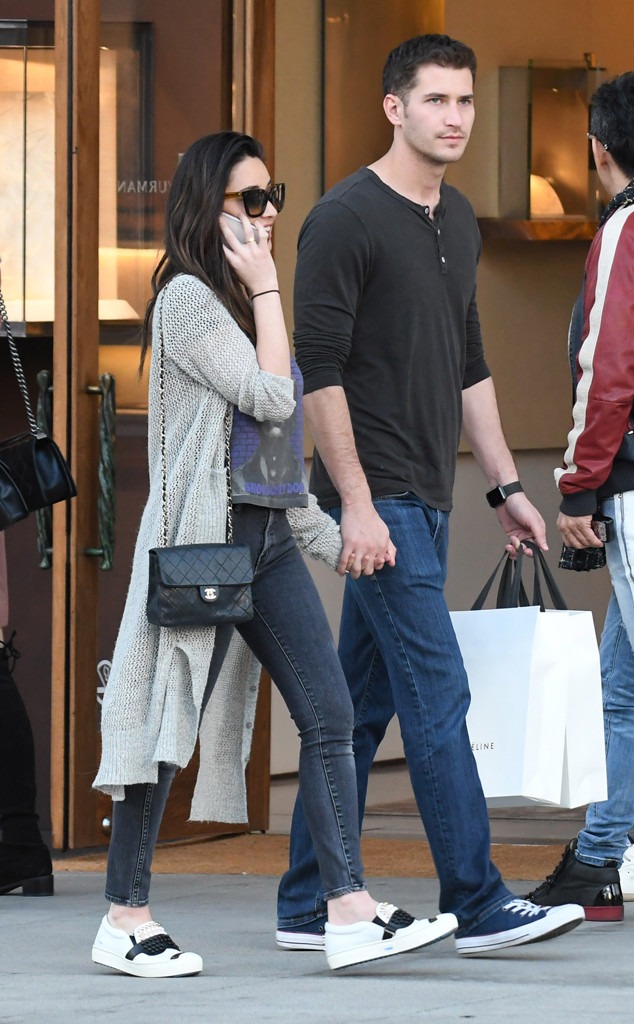 TheImageDirect.com
Olivia Munn looks like she has a new man in her life.
The X-Men: Apocalypse star was seen holding hands with a mystery man in Beverly Hills over the weekend, and all signs are pointing to this new beau being Tucker Roberts. Munn previously dated Green Bay Packers quarterback Aaron Rodgers, but they split up in April 2017.
In November, the Six star discussed some powerful relationship advice she received from Jamie Foxx years ago that she still follows and thinks about.
She told Busy Philipps on Busy Tonight that she was once upset over a guy and was in the midst of leaving a party when she ran into Foxx. He apparently called her the next day and ordered her to get over the guy. He said in a voice mail, "Did you come out here to be somebody's girlfriend? No! Did you come out here to be somebody's wife? No! Did you come out here just to date this guy? No! Did you come out here to be an actress? Yes! Don't you ever, let me see you cry about some guy like that ever again! Don't you ever let some other guy make you feel like that ever again!"
From the looks of it, Munn seems quite happy with Roberts and embodying her friend's advice. Here are five things to know about Tucker Roberts.
1. He's the president of an e-sports team: Roberts was named president of the Philadelphia Fusion in January 2018, according to Philly Mag. His team, the Fusion, are one of 12 in a global league under the Overwatch umbrella. Philadelphia itself has a big band of Overwatch fans. According to the Philadelphia Inquirer, there are 35 million Overwatch players with 300,000 to 500,000 of them living in Philly. 
He told the Inquirer in January that Overwatch and other e-sports are "the future of sports for millennials."
2. His dad is the CEO of Comcast: Roberts is something of a Comcast legend. His father, Brian Roberts, is the CEO and Tucker's grandfather Ralph Roberts founded the cable giant. Comcast Spectator acquired the e-sports team that Tucker is now running.
3. He's Ivy League educated: Roberts graduated from the University of Pennsylvania's Wharton School in 2013. He received his bachelor's degree in Marketing and Management.
According to the Inquirer, the Great Recession in 2009 made him disinclined to go into finance and instead focused on e-sports and their growth in Silicon Valley. He moved out West to the Valley and worked at Activision Blizzard and Electronic Arts, both of which make video games. He now lives in Los Angeles.
4. He's a huge hockey fan: One need not look further than Roberts' Twitter bio to see that he's a huge Philadelphia Flyers fan. Coincidentally, the company that he works for, Comcast Spectator, owns the Flyers. But Roberts' Twitter feed speaks volumes about his dedication to the team. He loves retweeting Gritty, the team's intriguing, furry orange mascot who has an incredibly strong social media presence.
5. He's a pro at making memes: As the president of an e-sports league, it should come with the territory that he's internet savvy. Roberts' Twitter is filled with funny photos and captions that make him come off as some sort of meme savant.
He posted a picture of a cat (might not be his cat, whose name is Luke Skywhisker) laying down in tubs of food. He captioned it, "Me at the Hersey Park gift shop like." Following in line with his Star Wars fandom as evidenced by his cat's name, he posted a photo wearing a Darth Vader mask and his arms are crossed. "Fridays in the office, amirite?" he wrote.