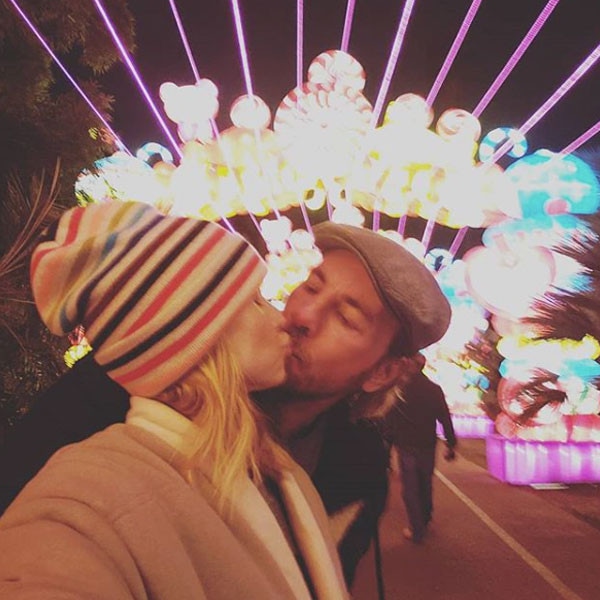 Instagram
What affair rumors? Kristen Bell and Dax Shepard are busy smooching. 
In a snap shared on social media, the couple of more than a decade looked liked they were going strong, just days after Kayti Edwards publicly alleged the actor had cheated on his famous partner with her around 2009 or 2010. In Edwards' interview with The Daily Mail, the website published photos of them making out in a party photo booth and she claimed they then spent the night together. 
Well, Bell made it clear whose side she was on when she shared a photo of herself locking lips with her husband at the Los Angeles County Arboretum on Sunday night. "Warning: the @laarboretum moonlight forest light show is VURY romantic," the Good Place actress captioned the shot. 
Earlier in the weekend, the couple stepped out together for a gift-giving holiday party with Veronica Mars co-star Ryan Hansen and other beloved pals. 
While Bell has not addressed the claims against her husband, Shepard shot them down in a public statement shortly after Edwards' interview emerged. 
"Hey Daily Mail, that photo is 13 years old, not 9," Shepard wrote, meaning the party in question would have taken place in 2005 before he and Bell began dating. "Also, Kayti has sold stories to tabloids about Matthew Perry, Jack Osbourne, Kid Rock, and now me. I look forward to her next one. Fingers crossed it's about my #1, Brad Pitt :)."
A day later, Bell revealed what Shepard was buying her for Christmas: a cordless Dyson. As she put it, "He is truly the man of my dreams."