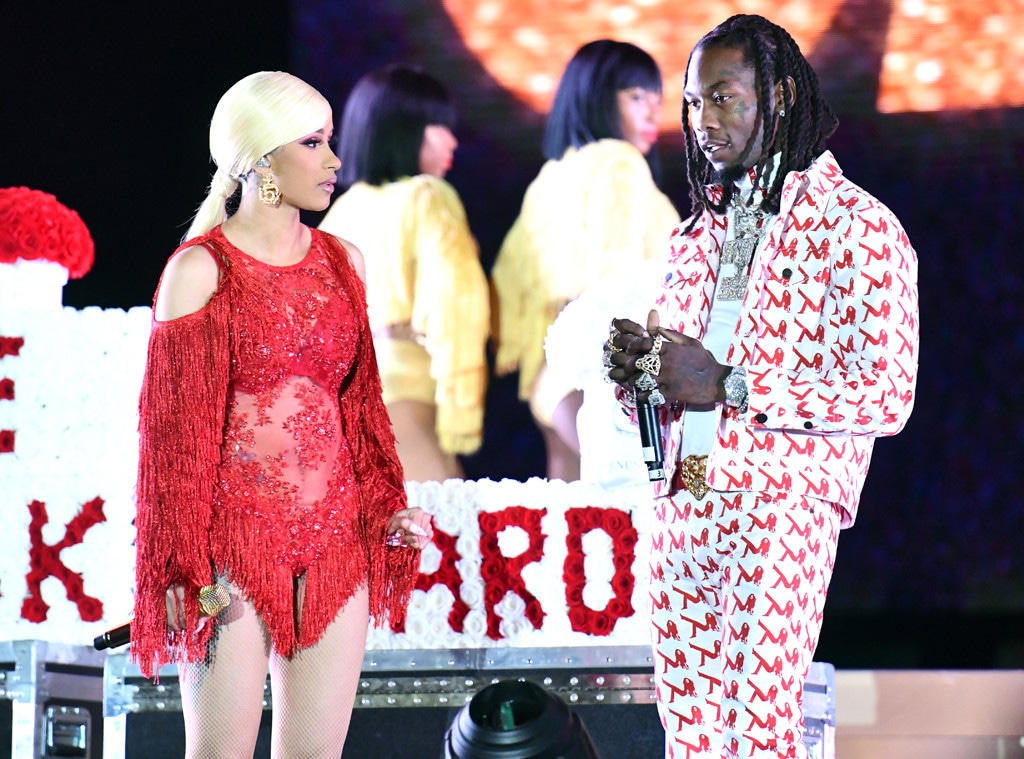 Scott Dudelson/Getty Images
Offset is speaking out after a grand gesture to win his wife Cardi B back didn't exactly go as planned.
On Saturday night, the Migos rapper appeared onstage at Cardi's Rolling Loud Festival show in Los Angeles and surprised her with a massive cake and floral bouquet from Venus ET Fleur which read "Take Me Back Cardi." The whole look apparently set him back about $15,000.
Offset pleaded with the "Bartier Cardi" rapper and begged her to forgive him for his alleged infidelity. "I just wanna tell you I'm sorry, bro, in person, in front of the world," he said. "I love you. Whatever I gotta do to show you that, I'm there."
Despite the chivalrous appeal, Cardi had the flowers removed from the stage before continuing with her show.
On Sunday, Offset took to Twitter and spoke out about his actions. "All of my wrongs have been made public, i figure It's only right that my apologies are made public too," he wrote. " A n---a was just trying .....thank god I ain't got no balloons sheeesh."
Hours before Cardi and Offset's brief reunion onstage, she posted a cryptic message on her Instagram Story. "Pensando en ti Pensando en mi," it said, which means "thinking of you thinking of me" in Spanish.
This wasn't Offset's first big move to get himself back in Cardi's good graces. On Dec. 9, he tweeted "F--k YALL I MISS CARDI" but that same day, Cardi rapped about divorce during one of her concerts.
On Friday, Offset shared a long video on Instagram where he apologized for his actions. "I was partaking in activity that I shouldn't have been partaking in, and I apologize," he said in the video. "You know what I'm saying? For breaking your heart, for breaking our promise, for breaking God's promise and being a selfish, messed up husband."
He added later, "I want to be able to spend the rest of my life with you. I apologize. I am sorry for what I have done to you. I didn't f--k that girl, but I was entertaining her, you know what I'm saying? I apologize, and I love you, and I hope you forgive me. My birthday wish is just to have you back."
A source told E! News after their split that Cardi remains "very torn" about getting back together with Offset, who is also the father of their daughter Kulture Kiari Cephus. 
The Invasion of Privacy artist posted a few videos about the encounter on Instagram later on Saturday night and urged people to stop "bashing" Offset. She said in one video, "Unfortunately, we're going through things and you know, it's not private, it became public and I just want things to die down, I just need time so we can see eye to eye. I can't predict the future."