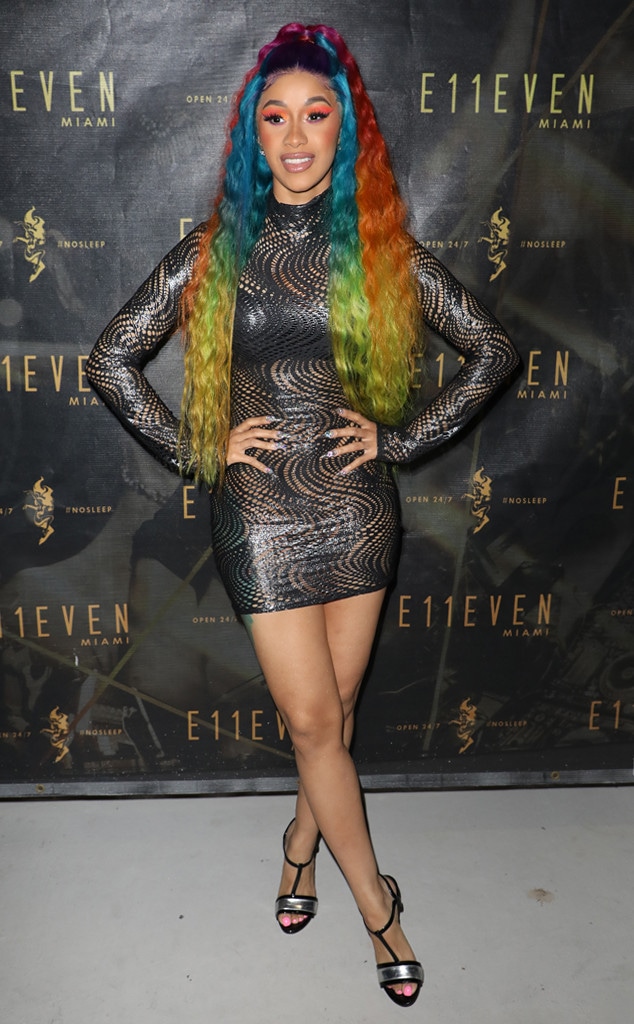 Alexander Tamargo/Getty Images for E11EVEN
Did Cardi B just respond to Offset's emotional video that begged for her forgiveness?
On Saturday night, the "Bodak Yellow" rapper posted a note on her Instagram Story in Spanish that said, "Pensando en ti pensando en mi." That translates to "thinking of you thinking of me."
Offset has made it quite clear in the days after announcing their split that the Migos member was doing nothing but thinking of her. On Friday, Offset recorded a video of himself where he said his "one birthday wish" was to get his wife back.
"We're going through a lot of things right now, a lot of things in the media. I want to apologize to you Cardi. I embarrassed you. I made you go crazy," he said in the video on Friday.
At another point in the video, he apologized for "partaking in an activity I shouldn't have been partaking in." There were murmurs that he had cheated on Cardi. His alleged mistress was even in a Nicki Minaj music video.
Omar Vega/Invision/AP/Shutterstock
He pleaded with his wife, "I'm trying to be a better person. I want to get this off my shoulders. I want to get this off my back. I apologize to you Cardi. I love you."
Offset continued to apologize throughout the video and maintained that he wanted to be only with Cardi. "I want to be able to spend the rest of my life with you," he expressed. "I apologize. I am sorry for what I have done to you. I didn't f--k that girl, but I was entertaining her, you know what I'm saying? I apologize, and I love you, and I hope you forgive me. My birthday wish is just to have you back."
Cardi, however, remains "very torn" about getting back together with her husband of one year. A source told E! News on Dec. 10 that she's "not on board yet" with taking Offset back just yet. The source explained, "They haven't been spending time together and Cardi expressed she still wants her space. She is very busy right now with her work and is focused solely on Kulture."
Although she hasn't been open about whether or not they'll reconcile, the "I Like It" artist slammed rumors that she and Offset broke up for publicity's sake.
"I really don't like how people say my and my husband—whatever he is right now to me—is doing it for publicity," she said in a highly-viewed Instagram Live video on Dec. 9. "I wouldn't put my family in a bad name for no f--king publicity, 'cause at the end of the day, ten years from now, my daughter, she's gonna be looking at these type of things and she's gonna be asking me about these type of things."
One tweet that Offset wrote on Dec. 9 said it all: "F--K YALL I MISS CARDI."