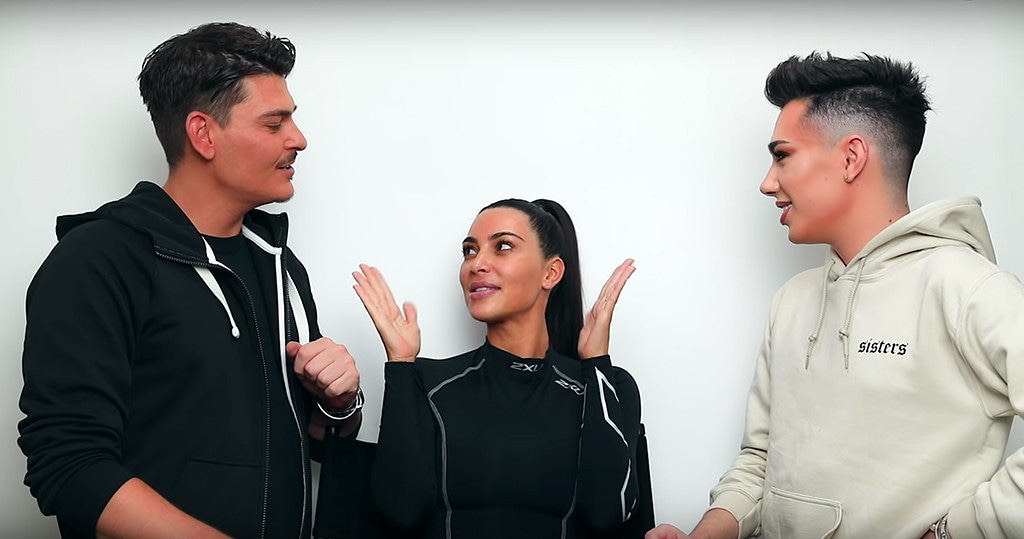 YouTube / James Charles
Ready, set, beauty battle!
Kim Kardashian was the subject of YouTube beauty vlogger James Charles' latest "Beauty Battle," which typically sees two people applying makeup to one half of his face. This time, he and Kardashian's longtime makeup artist, Mario Dedivanovic, worked on her. He revealed that the reality star was filming scenes for Keeping Up With the Kardashians afterwards, so he planned on doing "something simple."
Kardashian, who has her own line of KKW Beauty products, talked about her daughter North West's love of makeup and Charles' videos.
"She's obsessed," Kardashian told Charles. "She actually, when you sent me your palette, she tried to take it. I saw it up in her room and I was like, 'Oh, no, no, you are not taking this...'cause she's so hard with it, like she just like, destroys a palette. So I took it back. We fought over your palette."
Kardashian then instructed the makeup artists on how she likes to wear her makeup.
"I like a cut crease," she said, talking about a popular eyeshadow technique. "No shimmer. I like super matte. Let's do a cut crease, bronze, '90s look, darker liner, lighter lip."
Watch the video to find out the results of the beauty battle!
While they worked, Dedivanovic joked, "James, remember her show films in HD, so don't go too crazy with that."
"You mind your own business," Charles responded jokingly. "You worry about your own side."
The three then reminisced about the time Charles met Kardashian at an Ariana Grande concert, which she also attended with North, about two years ago. He said Dedivanovic told him the reality star was at the show and that "five minutes later, this huge security guard shows up in front of my seat and was like, 'I'm looking for James.'"
"Then you came over and you were so nice," Kardashian said.