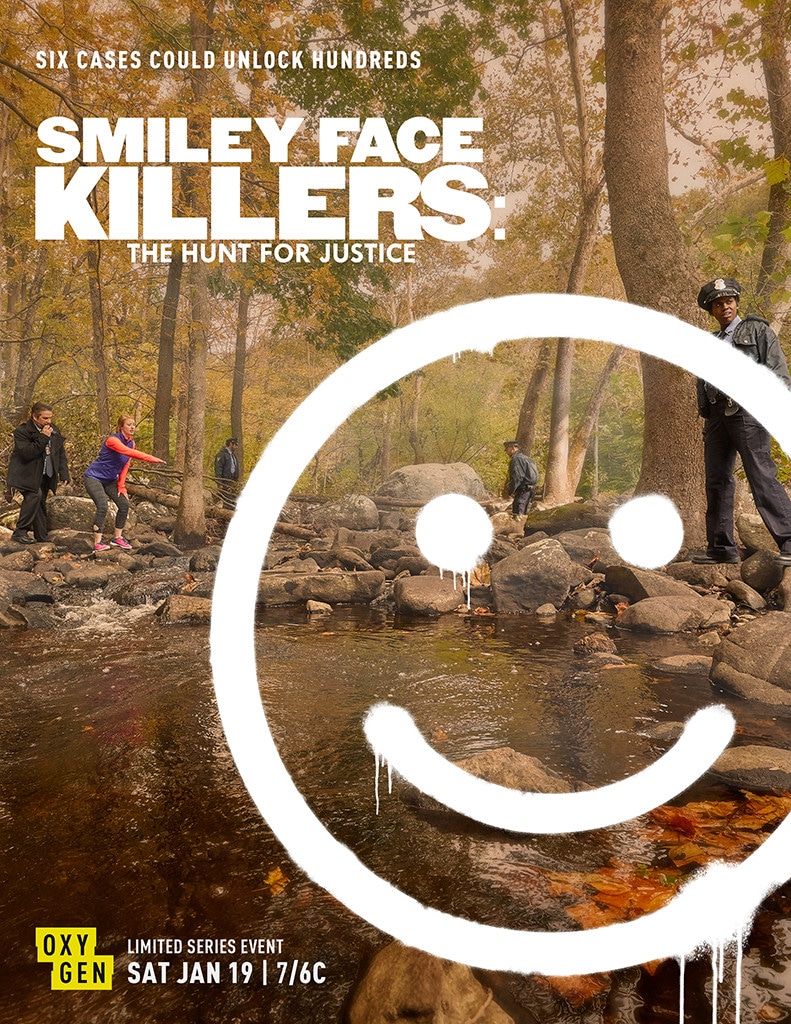 Oxygen
In 2019, Oxygen Media is coming straight out of the gate with new true crime content.
E! News can exclusively reveal the network will launch Smiley Face Killers: The Hunt for Justice on Saturday, Jan. 19 at 7 p.m. ET. Never heard of the Smiley Face Killers? Oxygen is here to fix that. The series follows an active investigation run by retired NYPD Detective Kevin Gannon, who is looking in to the country's most notorious string of mysterious, accidental drownings. Gannon believes these aren't accidents, but homicides; and they could all be connected.
Dating back to 1997, hundreds of college-aged men have drowned after a night out of partying. Their bodies have been found in clusters across the country and the victims seem to be similar, they've all been athletic, academic achievers. And near the bodies? Graffiti of a smiley face.
Gannon's team of investigators includes Anthony Duarte, Mike 'Mikey' Donovan and D. Lee 'Doc' Gilbertson. They've dedicated the past 12 years of their retirement in pursuit of justice. However, all of the drownings were individually classified as accidental or undetermined and not been investigated as crimes.
The goal of Gannon and his team is to gather enough evidence and get local authorities to reclassify and investigate the deaths as homicides. Once that's done, the team can attempt to establish connections between the deaths and their theory that these men were victims of a group of killers, The Smiley Face Killers.
See a sneak peek above.
Smiley Face Killers: The Hunt for Justice premieres Saturday, Jan. 19 at 7 p.m. on Oxygen.
(E! and Oxygen are both part of the NBCUniversal family.)