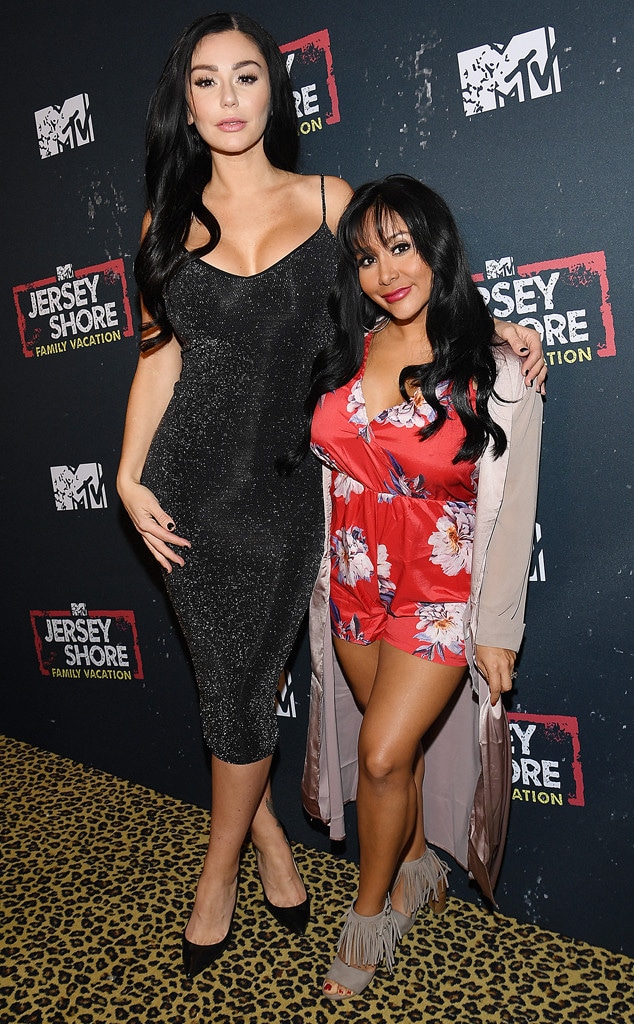 Dave Kotinsky/Getty Images for MTV
Snooki is coming to the defense of her pal, Jenni "JWoww" Farley.
Early Friday morning, police were dispatched to JWoww and Roger Mathews' home, where Roger was served a temporary restraining order. "At approximately 1 a.m. on Friday, December 14th, 2018 police were dispatched to the home of Jenni Farley and Roger Mathews for a civil matter," Toms River PIO confirms to E! News. "Mr. Mathews was served with a Temporary Restraining Order and provided transportation to another location."
No arrests were made.
Shortly after, Roger, who shares two children with JWoww, posted a series of videos on Instagram, including a few from the back of a police car.
"My wife, earlier tonight, we had a disagreement because she's leaving again tomorrow for work and promised my daughter she'd be hanging out with her all day...my daughter has the flu," Roger said in the first video, adding that a "disagreement ensued" and JWoww said she was "calling the police."
"So I said, 'For what? What did do? I didn't do anything,'" Roger continued. "I said, 'I'll call the police myself.' So I called the police, because I knew she would make some sort of false police report, which is typical Jenni. The last two exes can attest to that."
Roger went on to say in the video that he left and did a podcast with his friend and was later woken up by two officers "who said she contacted the judge and filed a restraining order."
In a later video post, Roger told his followers, "I'm not allowed to speak to my children. I'm not allowed to go get clothes, I'm not allowed to step foot in the house that I've lived in for eight years. I miss my kids, man. It's just wrong. It's wrong."
Later on Friday, Snooki took to Instagram to defend JWoww in a message to her followers.
"My best friend has been going through A LOT these past few months and my heart breaks for her. She always tries to keep her situations off social media for the sake of the kids, but her voice needs to be heard too," Snooki wrote. "She has tried everything in her power to keep things civil FOR THE KIDS and she's a damn good mother. She doesn't leave her kids for months at a time for work. She leaves filming to care for her children that you don't see."
Along with the message, Snooki shared Nest surveillance footage from JWoww's house, which appears to show the Jersey Shore star talking to police.
"Her character is being tarnished and I'm here to show what's really going down," Snooki continued. "She wants nothing but for the kids to have their dad. Unfortunately she was being taunted and baited & this was the result. YOU'RE AN AMAZING MOTHER AND PERSON and all of us who truly know you know this. There is more to the story that's being told. Stop attacking her."
"She HAS BEEN asking the cops to tell the judge to allow Roger to see the kids," Snooki added. "Everything he has stated in those videos is false news. You shouldn't taunt her and film her on your phone trying to get a rise out of her to use it for court.* There is MANY layers to this. And more videos. Legally i cannot post those but will be used when necessary. You can all have your opinions but don't attack her for being that person he claims she is. Everything will unfold in due time."
She concluded her message, "For those who find it "funny" as to why the comments are off, it's because you are attacking Jenni calling her a bad mother and liar. Leave the girl alone."
Snooki later updated her Instagram caption, telling her followers, "Update: Ive decided to post this video because Jennis intentions were to never keep the kids from Roger. She is fighting for him to be in their lives and never once tried to take them away."
"Because you see 10 videos of him airing out their personal business regarding their divorce , it's okay to bagger Jenni and send her death threats telling her she's an awful mom and human being? Or because Roger posts more about the kids that means he's with them more than Jenni? I personally know her, and she's a stay at home mother," Snooki continued. "She doesn't leave her children for months on end like depicted from him, and when she does work, she leaves filming and comes home to make sure everything is okay. But since you don't see that on the show, or her posting the kids 24/7 like he does, she's not with them ever? You all got played by social media."
She also added, "I know my sis and she is NOT the person Roger is painting her out to be. So congratulations, you gave him what he wants. Your attacks and bullying."
While the video footage is hard to hear, the officer appears to tell JWoww, "If you ask the judge to give you sole parenting until that restraining order hearing in three to seven days the judge is going give you that."
"I don't want to do that to him," JWoww responds. "He should be allowed to see them."
"Well if you specifically ask the judge for that then the judge may be willing to accommodate that," the officer replies.
JWoww tells the officers, "He's not a bad dad."
In addition to Snooki, more of JWoww's Jersey Shore co-stars have taken to social media in her defense. News broke in late September that JWoww had filed for divorce from Roger after three years of marriage. But, the couple appeared to be attempting to reconcile over the past few months.