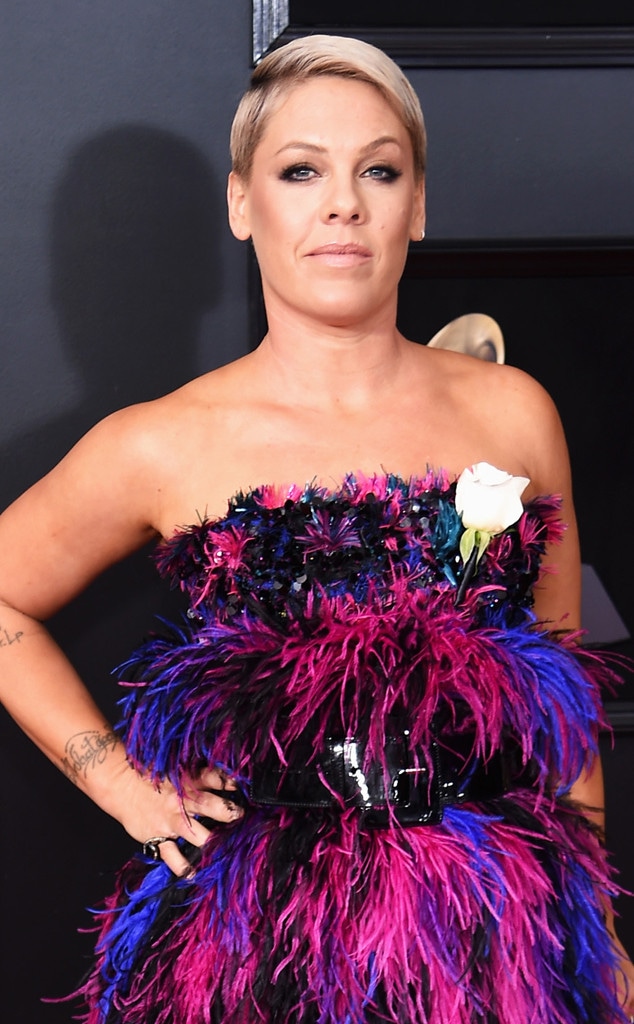 Dimitrios Kambouris/Getty Images for NARAS
Pink's response to a criticizing stranger was just like fire. 
The social media clash began after the Grammy-winning songstress shared an adorable photo of her 1-year-old son, Jameson, with chocolate on his face and hands. "Chocolate is good for babies right? Help me Instagram, we can't possibly parent without you."
Naturally, the photo and the star's caption caught people's attention, including one woman who took aim at Pink's husband, Carey Hart. "Sarcasm I love as I am too but with your husband being in the spotlight so often with his complete lack of regard for proper care or concern at times with your kids, this comment isn't funny, albeit Jameson is adorable. I love your music, your kids are beautiful but your husband, I'm sory, lacks the responsibility your kids need in his care. I know, hit your fave button. I'll miss your posts."
The comment did not go unnoticed by the famous mother of two, who married Hart in 2006 and welcomed daughter Willow in 2011. 
"You sound well informed on the performance of my husband as a father. Answer me this: how often have you watched him parent? Do you know my children? Are you aware of their development? Even better: what are your credentials in parenting expertise? Are you a perfect parent? S--t, are you even a parent? A psychologist? A teacher?" she fired back in a comment. "These are bold statements from a social media spectator. I won't even unfollow you. It's not worth the trouble. You sound like a person that could learn something by looking at all of this."
The star's finale burn was enough to melt eyebrows off a face. "Gold bless your perfect path. I have no interest in that myself," Pink concluded. "However, do check in from time to time to let us all know what other teachings you may have for us, oh perfect f--king stranger."
Hart came under fire earlier this week after sharing a photo of himself on a motorbike with Jameson sitting in front of him. "Don't worry parent police, I'm a professional," Hart wrote in the caption.
As for the songstress, Pink is definitely no stranger to Internet trolls picking apart her life. Back in May, she fired back at someone who made fun of her appearance. 
"Pink looks so old that she should be named purple instead," the comment read. 
"You must be from la," the star responded. "Well, there are a few people left in the world that choose to age naturally. And I've earned every f--king minute of my 38 years. How you lookin though? Cause I never heard of ya til you put my name in your mouth. I shall call you little purple troll."
Sizzle.