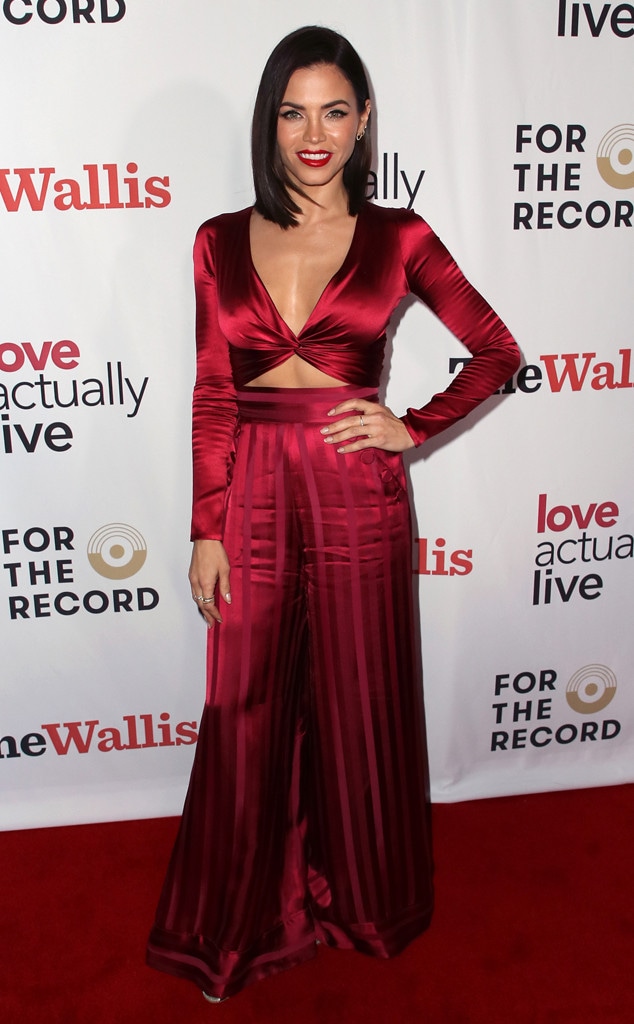 David Livingston/Getty Images
For Jenna Dewan's Wednesday night plans, love was in the air—and in the audience.
The star stepped out to see Love Actually Live at the Wallis Annenberg Center for the Performing Arts in West Hollywood with her eye on a very special performer—her boyfriend Steve Kazee. 
The famous mama donned a vibrant red jumpsuit for the occasion and, according to a source, attended with her mother and stepfather. Before the show started, the dancer had fun in the "selfie" area, where she wrote "more Kazee" on a dry erase board, the source noted. 
According to the insider, Dewan enjoyed the show from her seat near the front and even shed a tear at one point. She definitely did not go unnoticed in the audience considering Kazee blew her a kiss as he walked off stage at the end of the show. All together now: Awww!
Once the performance wrapped, the three waited in the lobby area for Kazee. After greeting her from behind, the star excitedly wrapped her arms around her beau and kissed him on the lips as they embraced, according to the source.
"She was really giddy and excited to see him and congratulate him," the insider described. "Jenna was in a great mood and very bubbly—clearly very proud of Steve. She was gushing to him about his performance."
Kazee is definitely no amateur when it comes to the stage—he won a prestigious Tony Award in 2012. 
Nearly two months since they were first spotted getting cozy at Mike Meldman's Casamigos Halloween party, it seems these two are very much going strong. "They have been dating for a few months," a source told E! News at the time of the initial sighting. "She was introduced to him by mutual friends and they hit it off right away. Jenna really likes him and is very happy. She has completely moved on from her marriage [to Channing Tatum] and is happy to have met someone new. Steve treats her very well and is doing everything right. She's hopeful about the future, but not getting too far ahead of herself."
Last month, Kazee even got flirtatious with his famous lady on Instagram. The dancer was promoting Danskin Apparel in her picture and captioned it "Have you found your favorite yet???"
"Yes," he commented on it. "I have."
Sounds like that needs to be on note card à la Love Actually. 
—Reporting by Alli Rosenbloom