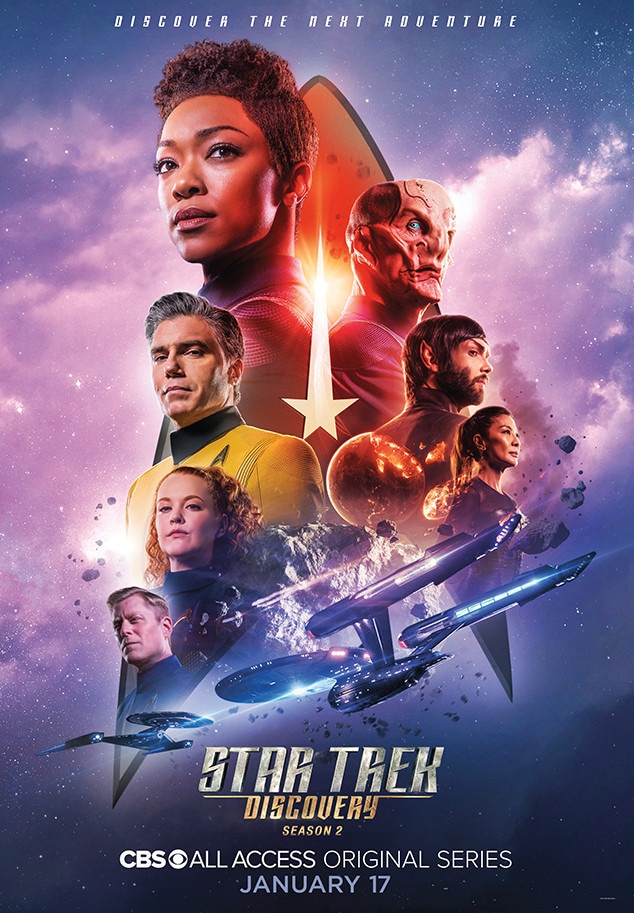 CBS
Star Trek spoiler alert: Season two of Discovery looks just as gorgeous as the first season.
There's new key art and the new trailer for season two of Star Trek: Discovery, below, features stunning graphics, your favorite Mirror-verse character, Philippa Georgiou (Michelle Yeoh), a new threat and…Spock!
And it looks like it's not a great family reunion for Spock (Ethan Peck) and his adopted sister Michael Burnham (Sonequa Martin-Green).
"I risked everything to help you," Michael says.
"You assume every burden is yours alone," Spock says.
There's just as much action thanks to the Klingons, including the new Chancellor L'Rell (Mary Chieffo) and Georgiou, science at the hands of Syliva Tilly (Mary Wiseman) and Paul Stamets (Anthony Rapp), as well as some romance—yes, that was Michael kissing Ash Tyler (Shazad Latif)!
Expect classic humor thanks to Captain Christopher Pike (Anson Mount) and Spock.
Season two picks up after the final moments of season one when the U.S.S. Discovery picked up a distress call from the U.S.S. Enterprise. The crew joins forces with Captain Pike on a mission to investigate seven mysterious red signals and the being known as the Red Angel. The team-up with the Enterprise means Michael is forced to deal with her past, including her estranged brother Spock.
The cast for season two, which will be 14 episodes instead of the previously announced 13, also includes Doug Jones and Wilson Cruz.
Star Trek: Discovery premieres Thursday, Jan. 17 at 8:30 p.m. on CBS All Access.