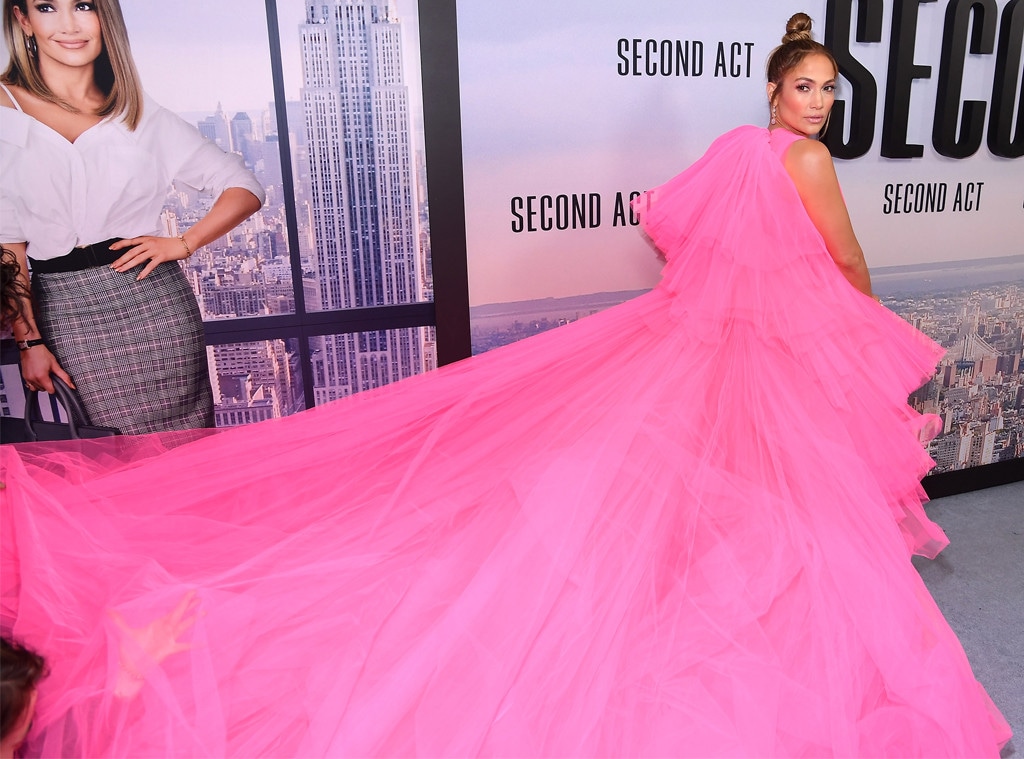 Nicholas Hunt/Getty Images
Jennifer Lopez just redefined what it means to be "pretty in pink."
The "I'm Real" singer looked absolutely stunning on the red carpet at the premiere for her new film Second Act. She stars in it alongside This Is Us' Milo Ventimiglia, Vanessa Hudgens and Leah Remini.
J.Lo let her outfit do all the talking at the event as she wore a hot pink Giambattista Valli dress that was short in the front and floor-length in the back. It also featured a very long train that looked like it continued for miles.  Her Jimmy Choo bag and shoes perfectly complemented the dress, as did her Lorraine Schwartz jewels.
She wore her hair atop her head in a simple and sleek bun. If anyone could put the look into one word, it's simply "Wow."
Alex Rodriguez, J.Lo's loving boyfriend, posted a picture on Instagram of the two of them getting ready to leave for the premiere. The two of them were all smiles and looked ready to hit the carpet already. A-Rod and J.Lo's Christmas tree decorating looked fun enough as it is, but this is a whole other ballgame. 
Second Act's official Instagram page shared a video of "the Queen" herself arriving at the venue in New York City for the big event.
On Tuesday, J.Lo got emotional on an episode of The Tonight Show With Jimmy Fallon when talking about directing her 10-year-old daughter Emme in a music video. It's the singer's first time directing a music video, which made it an even more special experience. The song "Limitless" was written by Sia for Second Act, and J.Lo explained what it meant to her to have her daughter appear in it.
"I said no for a long time and then finally I said yes. and I said, 'Baby, are you sure?  You can't, halfway through, say you're tired. We have to do it.' When I tell you, she was so amazing and I was so proud," she told Jimmy Fallon. "I forgot that I was directing my first video, it was all about her. It was all about her."
Although "Limitless" was all about Emme, tonight's premiere red carpet was all about you, J.Lo!