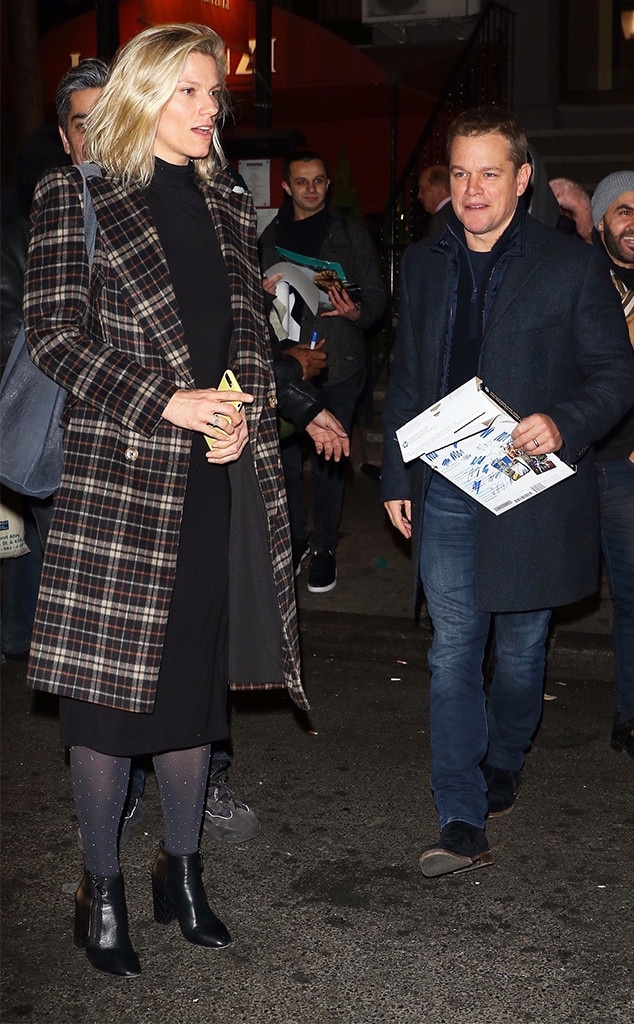 BlayzenPhotos / BACKGRID
It may be over between Ben Affleck and Lindsay Shookus, but she and his BFF Matt Damon remain chummy.
The two had dinner at the Italian restaurant Lattanzi in New York City on Tuesday, along with other people from SNL, to discuss the 48-year-old actor's hosting gig this Saturday. Shookus, 38, is a producer on the show, sources told E! News. She and Damon were photographed outside the eatery, marking the first time they were snapped in public.
"They were there for several hours eating and discussing the show," one source said. "Matt had some paper he brought along and he scribbled down a bunch of notes and ideas. They were both in great spirits and seemed very friendly. They were laughing a lot and Lindsay patted Matt on the shoulder a few times. She was escorting him around and waited for him as they left. They got along very well and there was no tension at all. They seemed to have a nice friendship and like they have worked together in the past. It was a good night for them." 
"There were other SNL people there so it was definitely a dinner for the show," another source told E! News.
The source added that Damon and Shookus later left in the same chauffeured car with a bodyguard, after she told her colleagues, "Hey guys, we gotta get back to work."
"Lindsay reached for Matt's arm as if to guide him back to the car and move them along," the source said. "They must have had a lot of work to do. They seemed like they had a good night and everyone was very chill and enjoying each other."
Shookus dated Affleck for a year before they split this past August.
"They are still very amicable and have stayed friends," an insider told E! News at the time. "They both tried to make it work, but the distance just proved to be too much for them right now. Family comes first for them both."