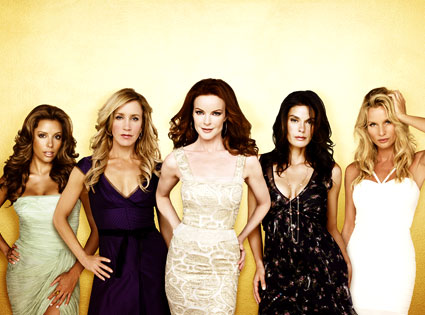 ABC/Andrew Eccles
Wonder if all those special requests cost Nicollette Sheridan her job on the still-hot ABC soap Desperate Housewives?
Reliable sources on the set of Wisteria Lane tell us exclusively that a script has just been circulated for rehearsal that includes the demise of Sheridan's Edie Britt, the va-va-voom housewife who never really knew how to keep her mouth shut—on camera and off.
ABC has, since we first broke the story today, confirmed to E! News that Sheridan will be leaving the show.
So how's she getting offed? Here are the exclusive details of the rumored exit...
As it's been penned: Edie finds out her husband, Dave, plans to kill her—and Dave almost does kill her. She runs out of the house, but alas, poor Edie gets in an accident, something involving her car and an electrical wire. More details to come; the script is still being released for table reads.
Harsh! Her rep tells us, though, that "Nicollette had a great time on the show and is looking forward to her next project."
Interesting, since we just ran a poll on which Wisteria hausfrau should be offed (as we think the show sorely needs to amp up the tension, already).
Our morbid results, by far, weighed in on Susan, aka Teri Hatcher. Like, that is so stupid! Yes, of course, everyone hates Susan the most—for a variety of reasons—but, dolls, you just gotta keep the most hateful one around. It's a soap opera!
But D.H. sources have always told us N.S., game gal she is, has never been creator Marc Cherry's fave. Guess we'll find out for sure shortly, perhaps...
(Originally published Feb. 11, 2009 at 1:41 p.m. PT.)