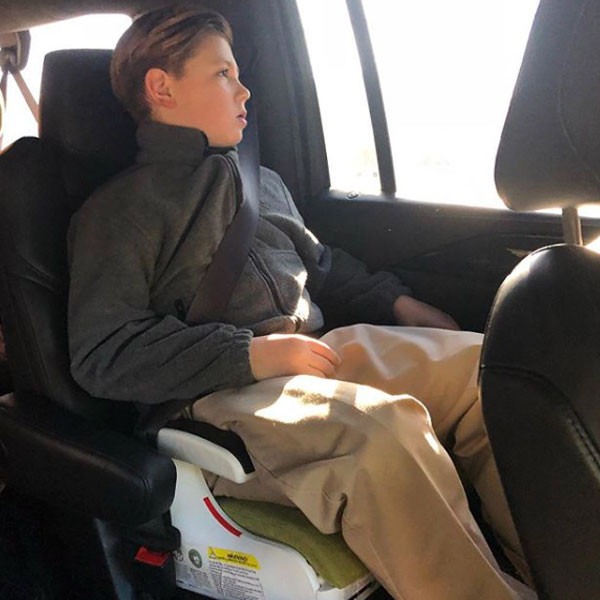 Instagram
Kim Zolciak-Biermann's little one is growing up in the blink of an eye. 
At least, that's how it feels thanks to a new snap the Don't Be Tardy star shared of her 6-year-old son, Kash Biermann, on the way to school this week. Donning a fleece zip-up jacket and khakis, Kash looked like he could have passed for a teenager in the picture. 
"My baby @kashbiermann on the way to school this morning! He is such a BIG BOY he is only 6," the famous mother of six captioned the shot. "He melts me. His heart is unreal."
The youngster was also sporting a cool slicked-back 'do, which Kim acknowledged by including, "#HairKing."
Fans couldn't help but notice how much older the younger Biermann family member appeared. After all, he just headed off to his first day of Kindergarten last year. "He looks so grown up in this photo," one fan commented. "It's crazy how fast the time goes."
It seems his famous mama wants time to slow down. 
When another fan wrote, "It's like he grew up overnight, very handsome young man," the star responded, "Too fast."
It feels like just yesterday concerned fans rallied around the boy after he was unexpectedly hospitalized from a dog bit back in April 2017. At the time, Kash had to undergo emergency surgery after "very traumatic injuries." Fortunately, the little one was released from the hospital shortly after and by the end of the week, his mom had confirmed, "All is good."
Just like that, the family's fans breathed a collective sigh of relief. 
"Kash and our entire family want to Thank each and everyone of you for all your prayers! Kash has healed up incredibly and has perfect vision in his left eye," the mom of six assured fans the following month, along with a photo of his injured face. 
"Stitches on his water line, and his eyeball was never touched! God is Good! We are so incredibly thankful and blessed! In no time he will heal up perfectly and you will never know this happened!"
Judging by the newest photo of Kasha, Kim's prediction came true. 
(E! and Bravo are both part of the NBCUniversal family.)