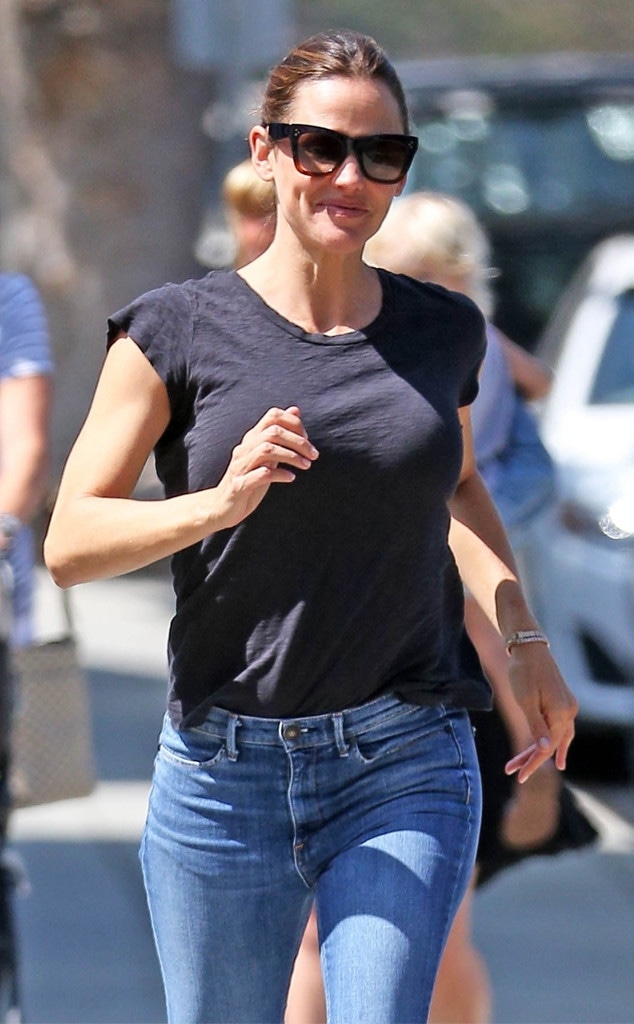 Dream team / BACKGRID
Jennifer Garner already knows what it's like to date in public. She also knows about being in a very public couple, getting married in public and divorcing in public.
Why would she ever want to go through all that again?
While ex-husband Ben Affleck has already acquired at least one ex-girlfriend since he and Garner split up in 2015, Jen was much slower in dipping her toe back into the dating pool. She had work to do, kids to take care of, Affleck to give her endless moral support to, and, when she had a few extra moments, a private life to lead with friends, exercise and food—some of which we've seen on Instagram, another new thing she tried last year.
"Brad and I are dating," she joked in 2016 with a paparazzo, a nod to what at the time was Brad Pitt's new single status.
But really, the mother of three just wasn't ready, not even being legally divorced yet after the demise of her 10-year marriage, which followed her 2 1/2-year marriage to Scott Foley.
"If the right person came along and fell into her lap, she would be open to it, but that hasn't happened," a source told E! News in March. "She's consumed with her kids and work...and really isn't concerned with having a man in her life."
But now that she has met someone apparently worthy enough to spend some of that rare free time with, don't expect Garner to start parading him around like a show pony. Instagram official? Not anytime soon.
In fact, Garner is taking her burgeoning relationship with businessman John Miller so slowly that it was reported that they had broken up after the actress was photographed...looking upset.
A source tells E! News that she's still seeing Miller, but is "just determined to keep it private and for themselves."
Moreover, the Camping star is "not interested in having a public relationship." She's "keeping things under wraps by going away with him and seeing him in private places. She's enjoying being with him and doing it the way she wants."
We wouldn't be surprised if she used an alias when making reservations...
Miller is a father of two and, while he separated from his wife, violinist Caroline Campbell, years ago, their divorce had not yet been completely finalized as of October, when radar picked him up in the Garner orbit. "She's been hanging out with him for the last few months and getting to know him," a source said at the time. "They have some friends in common and know some of the same people through their kids."
While a seemingly sporadic dating schedule can lead to speculation that two people are no longer seeing each other no matter how long they've been together, the snail's pace simply suits Garner's life right now. And seriousness may be in the eye of the beholder.
For instance, Us Weekly just quoted a source saying she and Miller were "solid as a couple," while ET reported this week that things had "slowed down" with Miller because, once again, Jen's kids, career and Ben continue to be her "main focus at the moment."
Affleck has been to rehab twice since their marriage ended to treat his addiction issues, his most recent stay having been this summer after Garner staged an intervention and drove him there herself.
"She wants him to be clean and healthy and will help him get there if he's committed," an insider told E! News in August. "She is glad he is in a safe place and getting the help he needs." 
Jon Kopaloff/Getty Images
A woman can only have so much on her plate at once, but even if Garner was full steam ahead, her dating style has historically been pretty private. And we do mean historically.
When she and first husband Scott Foley were dating, in the '90s, there was no social media keeping the masses abreast of their every move, and as only fledglingly famous actors at the time, paparazzi largely left the Felicity and Time of Your Life stars alone. Random people were probably surreptitiously taking pictures of them at dinner, but if so it was for the seven readers of their own private blogs.
They married in 2000 and split up in 2003, dogged by a rumor that Garner had an affair with her Alias co-star Michael Vartan—which she flatly denied.
So, when Garner then hit it off with Ben Affleck, whom she had crossed paths with on the set of Pearl Harbor and then starred with in 2003's Daredevil, she made sure to keep that super private as well. 
At the time, the scandal-free lore was that the flame was first kindled around July 2004, when Affleck showed up to shoot a cameo in Garner's Daredevil spin-off, Elektra, which was filming in Vancouver.
"Nobody else was involved," Foley told TV Guide (per EW) in October 2003. "Jennifer became a huge celebrity. She became a huge star, and she deserved everything she got. There was no other relationship, there was no infidelity, nothing. People get divorced, you know?"
But Affleck revealed in a Playboy interview just a few years ago that they did feel a spark in the summer of 2002. Garner filed for divorce from Foley on May 9, 2003.
"We met on Pearl Harbor, which people hate, but we fell in love on Daredevil," Affleck, who got engaged to Jennifer Lopez in the fall of 2002, told Playboy. "By the way, she won most of the fights in the movie, which was a pretty good predictor of what would happen down the road—my wife, holding swords and beating the living s--t out of me." (He otherwise regretted Daredevil, he said.)
Charles Krupa/AP/Shutterstock
Still, once they were both available, reported sightings piled up for months in the summer of 2004 before they finally went on a very visible date that October, to Game 1 (and 2) of the World Series at Fenway Park, where Affleck's beloved Boston Red Sox were about to exorcise their demons after an 86-year championship drought.
In the meantime, they maintained their privacy amid intense interest in their coupling by simply lying low—hanging out at each other's houses and not going to the sorts of places where the paparazzi and the valets all know each other's names. Aside from Garner's natural inclination to lead as normal a life as possible off camera, Affleck had just been through the tabloid wringer—the "crucible by flashbulb," he called it—as one half of "Bennifer," and was understandably in no mood to fuel another fire on purpose.
Though their first red carpet together was technically for Daredevil, their first as a romantic couple didn't happen until after they were married.
Garner walked the red carpets at the Elektra premiere in January 2005 and the SAG Awards that February solo—but Affleck proposed in April, reportedly on Garner's 33rd birthday, which they celebrated at a party with her parents and friends at the actress' house. They did not confirm their engagement themselves, and then wasted little time in tying the knot on June 29. They threw a tiny destination wedding on Turks and Caicos and no one was the wiser until after it had happened.
"They're married and expecting their first child," their reps told People in a simple yet very exciting statement.
Once they had kids—Violet, who's now 13; Seraphina, 9; and Samuel, 6—Garner became exponentially more protective of her children's privacy than she ever was of her own. She remains to this day the paps' favorite coffee drinker, and usually greets them with a smile. But the star was not having it with paparazzi who would try to snap the kids at school or who otherwise crossed the line. She eventually joined Halle Berry in successfully urging lawmakers in California to implement harsher consequences for photographers who harassed children. 
Even though some celebrities join Instagram in part to get ahead of the photographers who are still running around taking pics of people's kids, with and without their parents' permission, Garner definitely did not sign up for that reason.
"Well, I would never share my kids," she told E! News at CinemaCon in April. "That's a pretty big roadblock right there….I've fought too hard for their privacy personally that it feels weird." Anything else that strikes her fancy for a share, however, is "fair game." (And, like many other famous protective moms, such as fellow social media newcomer Julia Roberts, she loves looking at pictures of other people's kids on Instagram.)
After Garner and Affleck confirmed in 2015 that they were separated, they were still photographed together all the time and Affleck at first moved no further away than the guest house. It would be almost a year before Garner could wrap her mind around the idea of dating, and even then she didn't seem interested in flings or otherwise sowing her post-split oats.
An intrepid fellow passenger had asked her while waiting in line at the Jet Blue terminal if she wanted to grab a coffee, she recalled to Vanity Fair in early 2016. And I was like, 'No! You may not take me for a cup of coffee, sir.' And then I said, 'But thanks for asking.'" She was having a hard time picturing herself in the almost dystopian dating scene of the 21st century. 
"It's just that...everyone that I know that is dating it just seems, well…Men don't call anymore." she observed. "I want flowers; I don't want to text. What does that make me? What kind of dinosaur am I?"
And now that Garner is single again after her much-chronicled divorce, she's all too aware of what sort of narrative can arise—be it positive or negative—from just a series of photographs, no commentary from her necessary.
"What I think I've learned is that the scrutiny in your private life puts a pressure to make something happen," Garner said on CBS This Morning in July. "You feel a pressure to hurry up and get married, 'cause you think that'll end the, 'Are they engaged? Are they not?' And that's true in the reverse, as well. If there is any inkling of trouble, if the tabloids decide there's trouble, it can create trouble."
Considering that's exactly what has happened already with regard to her still very fresh romance, expect Garner to be more cautious than ever before about integrating a new person into her daily life, let alone standing still alongside him in public for as long as it takes to get a good picture.