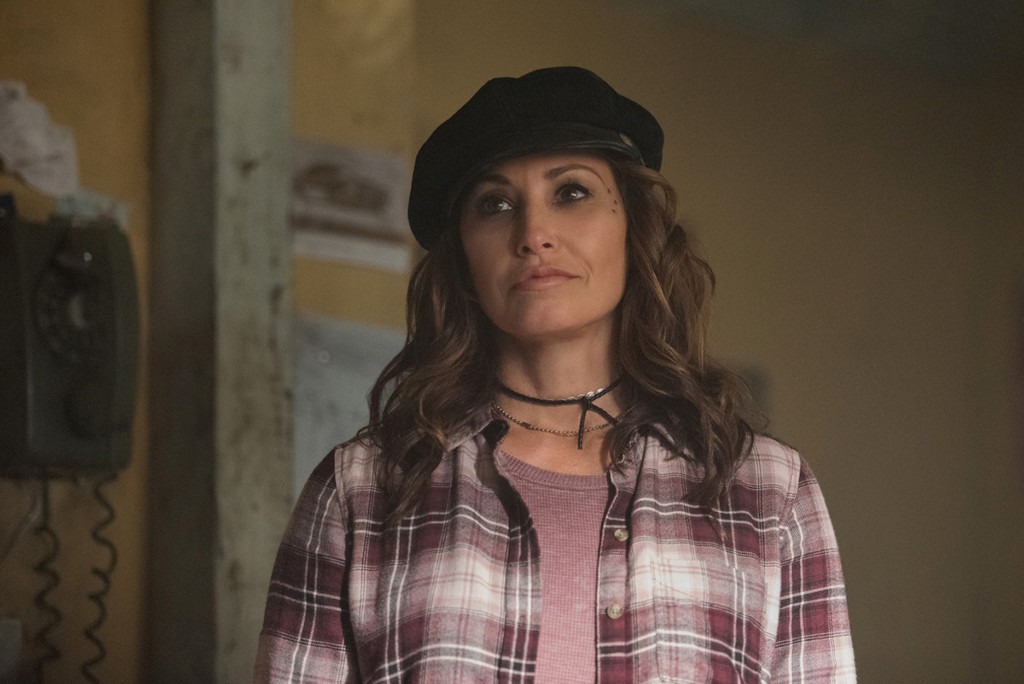 The CW
Finally, Jughead Jones is getting an entire family. 
We've been hearing for three seasons now about his mom and sister, who left FP (Skeet Ulrich) and Jughead (Cole Sprouse) behind and moved to Toledo, and this week, we finally get to meet them when Archie (KJ Apa) and Jughead's fugitive road trip lead them to Gladys and Jellybean. 
Gina Gershon joins the show as Gladys, a badass former serpent who now runs a business repairing cars, with Jellybean (Trinity Likins) by her side. 
Gershon tells E! News that she wasn't all that familiar with the show before she got offered the part, but she was immediately into it. 
"I loved it right away," she tells us, especially when it comes to the parents. "I like the show because I just think the parents are the ones who are so screwed up. They're the troublemakers, and they're really messed up, and it's these kids living out the sins of their fathers, trying to make sense of everything. But the parents are just really causing so much trouble, so the kids kind of clean everything up. Usually it's like, what are we going to do with these kids? Now it's like, what are we going to do with our parents?"
Gershon calls Gladys "a product of Riverdale," and says she just "really needed to get away" from her bad relationship with FP. In her mind, she was still trying to get away from a bad situation when she told Jughead he couldn't come visit her back in season one, when FP had been arrested. 
"I think she had to get away and get herself together, and become strong and finish high school, get herself a business," she says, and that's how we find Gladys in "Outbreak." She's got her life together in a way, running a salvage yard and taking charge of a group of Southside Serpents. 
Gladys and Jughead both have different ideas of why she left in the first place, Gershon says, and why she wouldn't let Jughead come see her. 
"I think there's a lot that Jughead doesn't understand about what Gladys has had to do to protect him. That's my take," she says. "Cole and I had lively discussions about this, because that's a typical thing, you know? Even with your own parents, you're all like, you did this, and they're all, no no no, you don't understand what the situation was. There's always two sides to every story."  
Gershon says she and her on-screen son Sprouse bonded really quickly and had a lot of weird things in common. 
"I mean, we'd never met, but we both grew up in the same town and then we both went to the same college," she says. "I didn't have a lot of time to prepare Gladys because this all happened quite quickly, and t I don't know why, but I kind of keyed into these star tattoos. I kept seeing these star tattoos, I was like, I don't know why, but I have to have those star tattoos. I happened to put them on my face, but when Cole saw me, he's like, that's weird, my mom's got the same tattoo." 
Sprouse's actual mother's actual tattoo isn't on her face, but Gershon says it's the exact same three stars. 
"So I don't know, we just kind of keyed into each other, and we have this similar background," she continues. "We liked each other right away." 
Gladys' other child is Jellybean, who now goes by JB, and it sounds like Gladys and JB are two peas in a pod.
"I think they have a great relationship," Gershon says. "I think she's really molding her to be a very strong, fierce, self-sufficient little lady. I mean, Gladys is tough, and she knows how to take care of herself, and I think Jellybean has inherited some of that too." 
When we were on set, Skeet Ulrich teased that Gladys and Jellybean's arrival in the story was a reason for Alice (Madchen Amick) to be a little worried. 
"He's started to get life by the horns a little bit, and find a workable life with Jughead and their situation, and [Gladys is] the ex factor," Ulrich said. "As with most toxic relationships, there's someone that just sets you off. So it would be curious to see what happens down the line. The reunion is certainly not how he would have wanted it or what he would've wanted, but I think she is just—like he was in the first season—such a wildcard. You just don't know what's coming." 
Do we ever, on Riverdale? 
Riverdale airs Wednesdays at 8 p.m. on the CW.