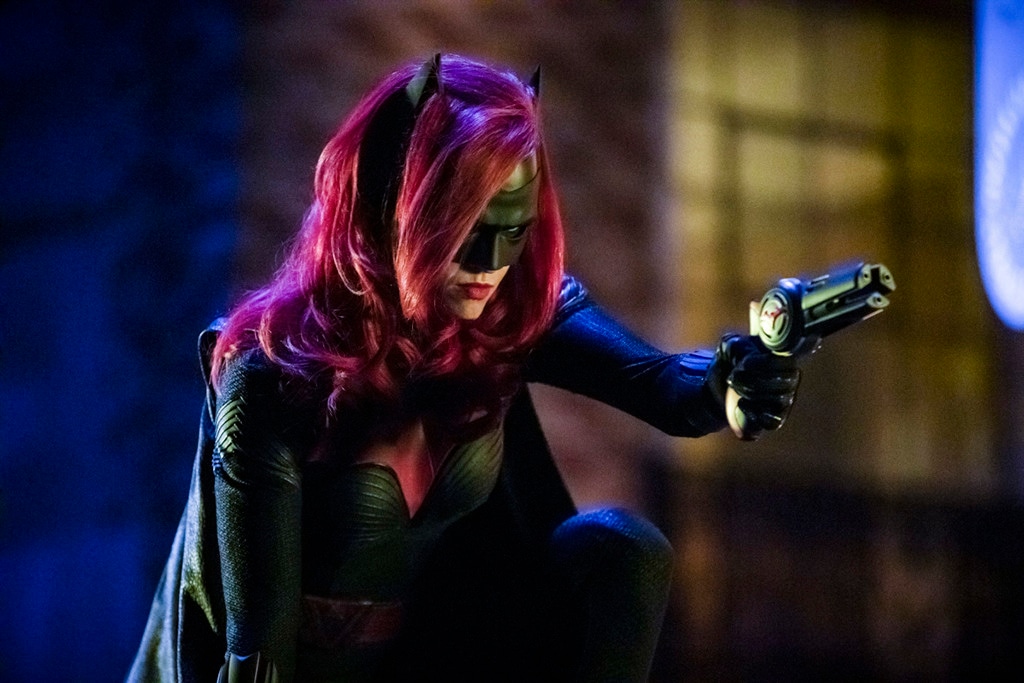 The CW
It wasn't a long stay, but it was a memorable trip to Gotham City in last night's episode of Arrow. 
In the second part of the Elseworlds crossover, Oliver, Barry, and Kara took a trip to Gotham (also known as Chicago) to track down the guy responsible for rewriting reality and switching Barry and Oliver's identities (to hilarious results), and after an immediate mugging and a very botched encounter with the cops, they just so happened to be saved by a mysterious woman named Kate Kane.
Kate appeared to reside in the Wayne Industries building, which looked mostly abandoned, and she gave the super friends a place to work on the roof. She bonded (flirted?) with Kara, but otherwise wanted these smiley heroes out of her city. Then, when they got themselves in trouble at at Arkham Asylum, she suited up and stepped in to help out a bit. 
It's not quite enough yet to judge a potential new series starring Ruby Rose as this caped crusader, but it was a fun little journey into a world that has only vaguely been referenced in the Arrowverse before. Oliver had mentioned Bruce Wayne once last season, and last night we learned that Oliver not only had no idea Bruce Wayne was also Batman, but didn't even believe (or didn't want to believe) that Batman was real at all. 
We learned that Bruce had left Gotham City three years ago, and at that same time, Batman also mysteriously disappeared. Kate was now planning on taking over the business, or at least the building, in her cousin's absence. 
Other than the wifi password being "Alfred" and a reference to there still being an R&D department, there was no indication as to whether Kate's got any help, like a kindly butler, but she did have the ability to send a car and driver to rescue the heroes from jail. 
Otherwise, we don't know a ton about this particular version of this world, but the executive producers say they had a pretty clear vision of who this character was going into the crossover. 
"Our goal was trying to create a set-up storywise, where we could meet her, kind of be intrigued by her, introduce Gotham a little bit, plant a little visual things that are curious, and then have people wondering, what is this world she's part of?," said Caroline Dries, who oversaw the Gotham parts of the crossover and is helming the potential Batwoman series. "We knew who the character was going into this, so the question for us was just how to make her sort of mysterious." 
A lot of that mysteriousness ended up just coming from Ruby Rose herself, whose presence Dries describes as "really strong, silent." 
"Her look is so powerful that you don't want to take your eyes off of her," she said. "She kind of just brings so much to the plate, we realized, with just standing there and absorbing what the other guys are talking about." 
Dries said one of her favorite Batwoman moments is when the trio first arrives at the abandoned Wayne building. 
"They're all kind of bickering about Batman and she's just standing there, like waiting for them to figure it out," Dries recalls, adding that that presence Rose brought to character was a "fun surprise" when shooting started. 
Kate spent most of her friendlier moments with Kara, with whom she shares a pretty strong connection. They're both super strong women with secret superhero identities, and both of them live in the shadow of their more famous male superhero cousins. 
"It was important for us, I think, so sort of humanize Kate in a way that made her relatable to the other characters in teh Arrowverse, even though we're creating this sort of enigmatic character, we wanted sort of an in to her, adn in our minds Kara, obviously has this cousin who...her story was getting out of his shadow, and that's exactly Kate's story. It was important for us to find a moment for them to bond." 
Conveniently, Kara's got X-ray vision, meaning a mask and a wig weren't going to keep Batwoman's identity a secret from her for long, and that was another easy way for the two to connect. 
We already know that Kate is a lesbian (potentially the first lesbian superhero to headline a TV show), and while Dries says that it feels like it should have happened already, she's excited. 
"We're pumped," she said. "Very blessed." 
Unfortunately (or fortunately, depending on your Batman opinions), Batman won't be making any appearances, but it sounds like the world of Batman is wide open for the first time. 
DC doesn't let you say Batman, doesn't let you say Batman, have anything about Gotham, so now all of a sudden we can do stuff, and for a bunch of geeks like us, it's like you're in heaven and just trying to figure out what you want to use," Dries said, referring to the many, many Batman references in Arkham Asylum. 
"I mean, we started like, just finding opportunities to say Gotham in previous episodes because we've never been able to say it," added The Flash ep Todd Helbing. 
Dries said that there are hints to the potential series hidden in the episode, and confirms that the show will be pretty dark in the same way it seemed on Arrow. 
"It's a darker vibe," Dries said. "With the music and the exteriors in the alleys, and the grime, we were just trying to create sort of an uncomfortable city...I think that the being mugged instantaneously is a great way to personify the vibe we're going for." 
For now, Batwoman will have to wait for her own possible show, but there's still a whole other hour of the crossover for the trio to deal with. Reality's been rewritten again, and a crisis is coming that could have ramifications past the crossover for all three shows, and into next year's crossover.
"We already know a lot about what's going on in next year's crossover, so..." Arrow EP Beth Schwartz teased. 
Part three of the crossover will include one major fight that brings Superman (both evil and black suit, from the looks of it) and Lois Lane back into the mix, and Supergirl EP Robert Rovner could only say it was "epic." 
"The circumstances of the book of destiny kind of create a epic action sequence in Supergirl...the fate of the world is literally at risk." 
We'll have to find out what that means when Supergirl airs tonight at 8 p.m. on the CW.