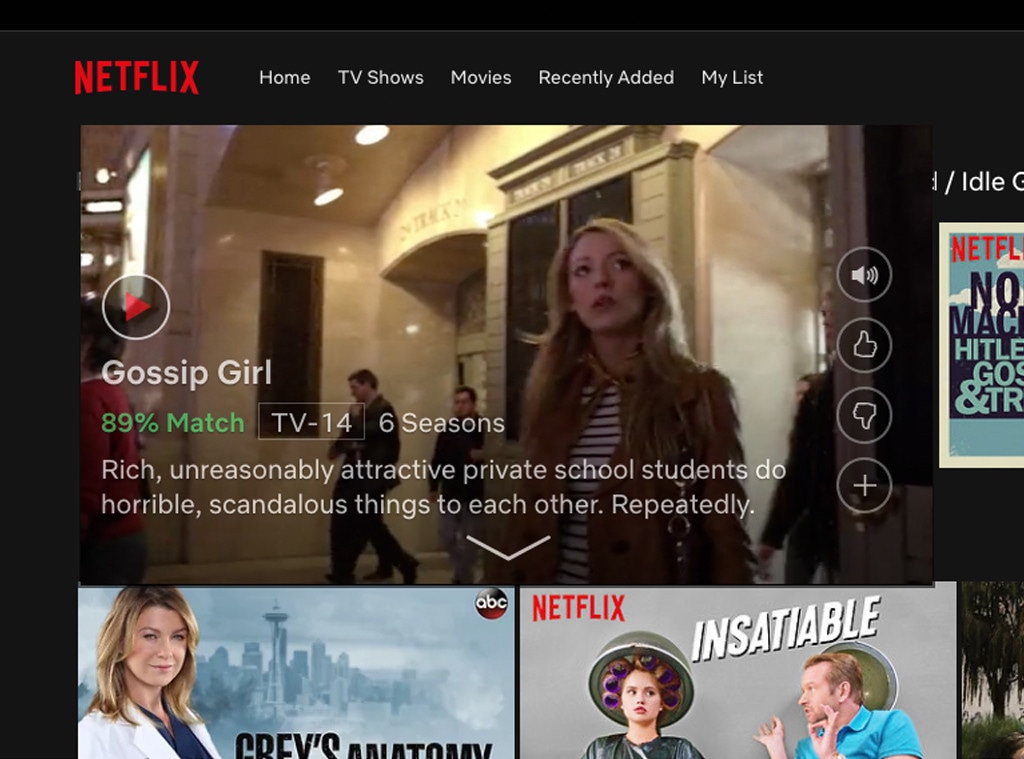 Netflix
Did Gossip Girl write the Netflix description for her own CW series? As pointed out on Twitter, one of the descriptions Netflix uses for the fan-favorite drama is particularly shady.
"Rich, unreasonably attractive private school students do horrible, scandalous things to each other. Repeatedly," one of the series descriptions reads. Just add "You know you love her. XOXO, Gossip Girl" to make it perfect.
The other series info is a little tamer: "A group of hyperprivileged Manhattan private-school kids seem to get away with everything. Except an anonymous blogger is watching their every move."
ZZZZZZZZZ.
Gossip Girl would prefer the shadier one.
Gossip Girl ran for six season of The CW from 2007-2012. The series starred Blake Lively, Penn Badgley, Leighton Meester, Chace Crawford, Taylor Momsen, Ed Westwick, Kelly Rutherford, Matthew Settle and Jessica Szohr. Kristen Bell provided the catty voiceover of the mysterious titular blogger, Gossip Girl. And in case you forgot, Gossip Girl turned out to be (spoiler alert for a show that ended six years ago!)…Badgley's Dan Humphrey.
E! News caught up with Badgley while he was promoting his new series You alongside costar Elizabeth Lail. Lail had said she watched the show, but didn't know the ending twist.
Watch:
Is Penn Badgley's "You" Character Just Dan From "Gossip Girl?"
"What does it mean if you're Gossip Girl?" Lail asked Badgley in the video above. "Were you stalking them?"
"It means the entire time, that even when I was ruining my own life—well, that I was ruining my own life and then I was ruining the lives of those around me, including my little sister," Badgley said, "but which apparently I let her do to herself—"
"Oh, OK," Lail said. Yep, Lail is every viewers.
"That reaction, right there, is the best," Badgley said with a laugh.
All six seasons of Gossip Girl are now streaming on Netflix. You makes the jump to the streaming platform for season two.