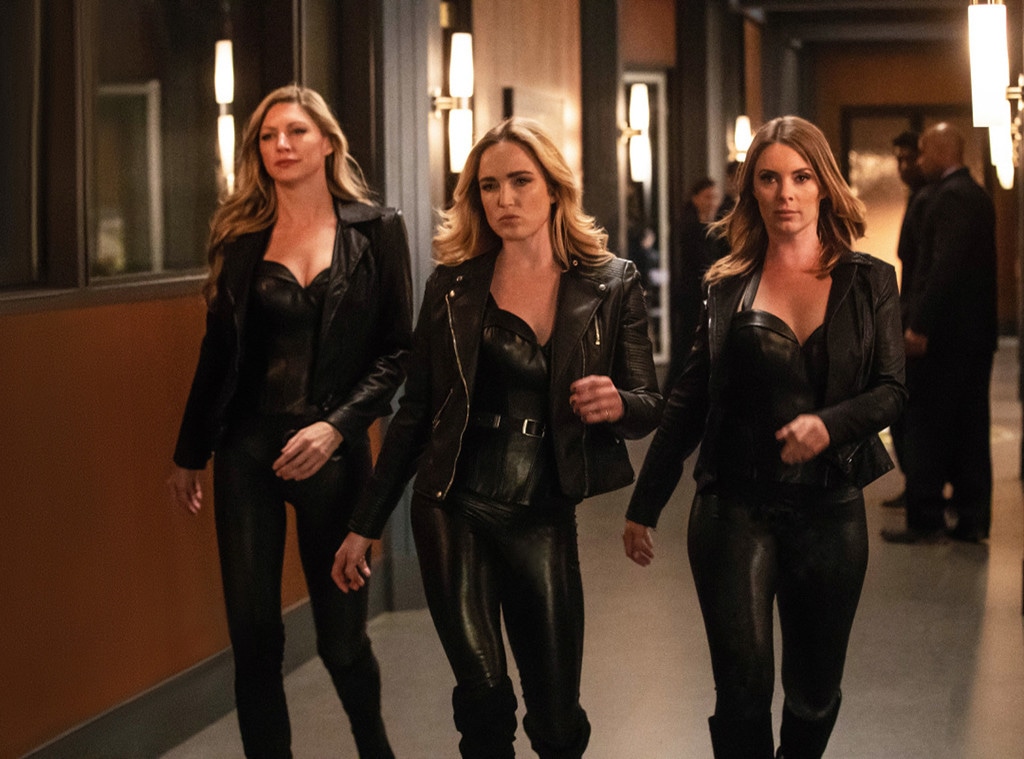 The CW
We are not here to bash the epic Elseworlds crossover currently taking place across The Flash, Arrow, and Supergirl.
In fact, we are loving the insane, body-swapping, reality-rewriting, ridiculous and hilarious romp the other Arrowverse shows are having right now, but we just wanted to take a minute to acknowledge the fact that Legends of Tomorrow doesn't even need a crossover to be utterly nuts in the best way possible. 
Just over the course of tonight's midseason finale, which became sort of a summary of the whole season so far, one legend was a cat, one was Marilyn Monroe, several were puppets, nearly all of them died at least once, several of them got to star in opening credits sequences for retro TV shows that don't exist, each of them played at least two or three different versions of themselves, and one of them killed a leprechaun. In. One. Episode. 
And to top all that off, this was all caused by Constantine (Matt Ryan), a character and actor from a canceled show on NBC from 2015, who now both stars on this show and in an animated show on CW Seed, and he was accompanied by Charlie, a shapeshifter with the same face as a character who departed the show last year. 
It's like they do their own crossover every single week, and we're all over here going wow, a body swap. Wow, Arrow's going to the future. Wow, Barry Allen messed up a timeline again and messed up literally everything. The Legends do all of those things on a near-weekly basis, somehow. 
Most of the cast is used to it by this point, but it still kind of astounds Jes Macallan, who plays Ava Sharpe. 
"It was really fun," she said on the set of the CW show ahead of tonight's episode. "Like, what the hell show are we doing? We get to have a sing along, there's songs, there is so much stuff happening this season. We're going to just explode the DC Universe and we're having a blast with it."
She said she and Caity Lotz compare the show to Deadpool with both levels of craziness and its penchant for making fun of things (crossovers included). 
"Let's just embrace it," she said. "Fun fact, because they're so difficult to work with, we had to do a lot of reshoots just to get the puppet person out of the shot and the puppet and the looks, he didn't make the right looks. His eyebrows went like this instead of like this. And so we had a bunch of stuff we had to tack on for the puppets." 
Just typical "fun facts" you might find on the Legends set, apparently. 
Anyway, everything's back to normal now in terms of the fact that all the Legends are back to their regular, non-puppet (and non-cat) selves. There may be a demon on the loose now, but that's just par for the course on this show. 
Legends of Tomorrow airs Mondays at 9 p.m. on the CW.