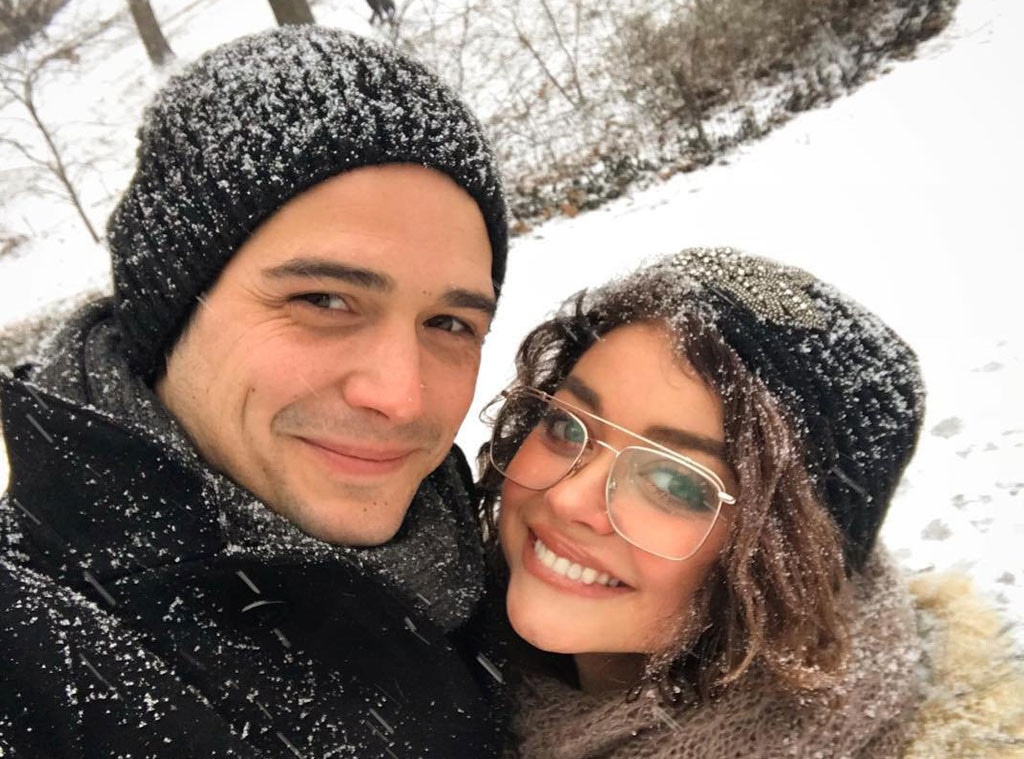 Instagram
When it comes to Hollywood couples most likely to inspire the phrase "relationship goals" there are more than a few OGs. You've got Chrissy Teigen and John Legend, Blake Lively and Ryan Reynolds, Kristen Bell and Dax Shepard and classics like Tom Hanks and Rita Wilson. 
But this year, a pair of newcomers have been charging up the ranks. In little more than a year of dating, Wells Adams has proven time and time he's got Sarah Hyland's back in the war on trolls who fill their days hating everything on the Internet. They've yet to produce a non-adorable Instagram selfie and they've both all but perfected the social media tribute. 
Take the message Bachelorette alum Adams posted in honor of Hyland's 28th birthday in November. Calling their relationship "that can't-eat, can't-sleep, reach-for-the-stars, over-the-fence, World Series kind of stuff," he continued, "You're perfect and I love you most."
Or what he wrote a couple weeks later to pump her up after the sudden death of her cousin. "I'm here to remind you @sarahhyland that there is light amongst all the darkness," he captioned an especially endearing snap. "If you ever doubt that, just look at this picture and remember how awesome we are."
Also there's the fact that the unlikely reality star-Hollywood actress pairing came about because he took a chance and, as the kids say, slid into her DMs. 
But it turns out their origin story is actually even sweeter than we realized. Those Twitter messages actually kicked off in the summer of 2017 when the Modern Family star, as she revealed in an interview with Self released Monday, was in her sixth month of dialysis after the kidney her dad donated to save her life in 2012 began failing. After their digital flirtations shifted from light and breezy to oh, wait, I really like this person, they had their first date in L.A. on Sept. 16—precisely three days before Hyland, born with the kidney dysplasia that kept her organs from developing properly, would receive her second kidney from little brother Ian Hyland, 23.
That first meet-up an instant success, Bachelor in Paradise's resident bartender, 34, was on hand to guide her through the post-transplant recovery process, offering support via FaceTime from his Nashville home 2,000 miles away. The experience meant the duo instantly became more serious than your average pairing that's a couple of dates in. "It was a really intimate start to a relationship to have to go through those hurdles at the very, very, very beginning when you're just even getting to know a person," Hyland explained. "Also, falling in love with someone before you can really be intimate. I did not believe that that was a thing, but it is." 
Really, the Bachelor super fan began falling in like with the radio DJ while he was competing for JoJo Fletcher's heart on the 12th season of ABC's love hunt in 2016. Not in an, I should try to track him down and ask him out sort of way, mind you. At the time she was deep into a two-and-a-half-year romance with fellow actor Dominic Sherwood, a relationship that was undoubtedly a breath of fresh, supportive air after her five-year pairing with Matt Prokop ended with her obtaining a restraining order and accusing the High School Musical 3 star of physical and verbal abuse. 
But she certainly noticed the 6-foot charmer with a love of tacos and live bands. As is the practice of Bachelor fans the world over, she chose her favorites from Fletcher's band of hopeful suitors, taking note of Adams' perfect blend of nerdy hotness, solid sense of humor and great dimples. "I was like, 'I really like the radio DJ,'" she recalled to Self. "I'm a dimple person. They'll get you every time." 
As she watched Adams struggle to connect physically with Fletcher, "I was rooting for him," she told E! News. "I was like, 'kiss the girl!' I started singing it like Sebastian [the crab from The Little Mermaid]."
She remained intrigued even after Dallas real estate developer Fletcher whittled him from competition. Hyland's pals watched his reviews of the ongoing series on Snapchat and made note of the fact that he was making the same strange jokes she cracked while watching at home. "Every week it was the same thing," she told the mag. "My girlfriends were like, 'Oh my God, you guys are like the same person.'" 
When the University of Mississippi grad flexed his literary knowledge on the Men Tell All episode that July, for instance, she realized they shared a strong Harry Potter acumen and comprehension of the classics. "Ugh! @WellsAdams making a Lord of the Flies reference on men tell all???" she tweeted. "#knewhewasthebestfromthestart". 
So naturally she was psyched when the clean-cut Tennessee resident turned up in Mexico to sling margaritas the following summer. "OH MY GOD @WellsAdams IS THE FRIKKIN BARTENDER?!" she wrote. "Best. Season. Ever. #BachelorInParadise."
By then she and Sherwood had amicably ended their union, leaving Hyland free to flirt in full view of her 1.5 million followers. When Adams offered her the role of bar-back, she deftly shot back, "I'll start working on my garnishing skills. Oh and I require 35% of your tips.... or free dogs."
Spurred on by her interest, Adams, in the immortal words of the franchise's most recent star Becca Kufrin, did the damn thing and started up a direct message chain. "I was single, obviously, and was like, 'This is really awesome. You're being very forward and it's sexy and not aggressive, but very confident and sexy,' and I liked that," she recalled on Jimmy Kimmel Live!. 
Still, she didn't think they would take their flirtations past surface level. No need to tell the guy several states away about the 12 hours each week she had to spend hooked up to a dialysis machine at the location chosen, in part, for its proximity to the Modern Family set. And she certainly wasn't going to get into her struggles with depression, the guilt she felt over her body rejecting her dad's kidney and how at her lowest moments she found herself contemplating suicide "because I didn't want to fail my little brother like I failed my dad." 
But as he began planning out the perfect first date—"We have an obsession with tacos," Hyland shared of that initial L.A. outing. "Tacos and tequila, it's our thing,"—she realized this might be more than just an online fling. As she told Self, "I started to really, really like the dude." 
Then he made the move that was so simple, he probably thought little of it. But for Hyland it was a sign that this guy may just be it, her perfect match with a similar sense of humor and love for Mexican that would never recoil at the thought of one day being known as Mr. Sarah Hyland. 
"We were dancing, and I had water in one hand," she recalled, a small clutch purse in the other. And as she struggled somewhat to bust a move with both hands encumbered, he asked to hold her purse. "I physically, like, retracted, and I was like, 'What, why do you want to hold my purse?'" she shared. His response, which boiled down to just wanting to make her life a little easier in that moment blew her away. As she said, imitating him, "'I don't know, I'm just trying to be a gentleman.'" 
It's not that the New York City-bred actress has never encountered guys with manners, but in a decade spent as the more famous half of any relationship, she'd gotten used to partners telling her directly, "I don't want to be the guy holding your purse." So to have that offered up, without reservation, on the first date? "I was just shocked." 
It's an exchange she immortalized exactly one year later when she marked their anniversary online and it was followed by another momentous occasion, what she called "my last first kiss." 
Proving the thoughtfulness wasn't a one-off, he remained by her side in spirit as she went under the knife three days later. Said Hyland, "He was texting me in the morning before I went into surgery, and we were FaceTiming the entire time I was in the hospital." 
By the time they went public with their Stranger Things-themed Halloween costumes, their collective fan bases were floored. After all, wasn't he supposed to be romancing longtime pal Danielle Maltby—a pairing viewers had been shipping since they shared that one, steamy kiss as she departed the Playa Escondida Resort? But his bond with Hyland had already long since been established. 
"It's true. They are a couple," an insider confirmed to E! News at the time. "She has been spending time with him in Nashville and he is showing her around and doing fun activities with her. Wells is proudly introducing her to all of his friends and is really happy that they connected. They are taking it slow but are not seeing other people." 
Navigating the miles between them meant making it a point to schedule meet-ups as frequently as possible with Adams often booking the flight out to L.A. where Hyland was stationed filming her ABC sitcom. "I think the longest we've gone without seeing each other is, like, two to three weeks because five days is already too much for us," she shared with People this June. "So we always try to make sure to see each other." 
Long-distance relationships get a bad rap, she acknowledged, but, "I don't think it's hard if the love is there." 
Still, by the next month they were ready to close the gap. "I'm straight up moving to L.A.," Adams revealed on a July edition of Your Favorite Thing, his podcast with Brandi Cyrus. "Should I not have said it? I've got to go!" Sure, there were some things to figure out—Would both of their dogs be able to continue sharing the bed? Should he rent out his Nashville place fully furnished?—"I haven't gotten that far," he admitted. "First thought is: 'Let's go to California. Let's move in with the lady.'"
After all, it'd been long enough, the pair having discussed taking this next step for months now, says a source, but they "have taken their time and avoided rushing into things." Now fully confident in what was happening between them, it was just time. Adds the source, "Sarah is very excited that the long distance days are over now." 
She was there to greet Adams with a kiss after he made the trip in a rented U-Haul in early August and the pair quickly adjusted to their new status. "I think it's brought us closer," she told E! News at Variety's Power of Young Hollywood event weeks later. "I don't think it's been long enough to discover pet peeves in each other." 
But it had been long enough for her to learn one huge perk: "He's more anal and cleaner than I am. So, it's great for me."
As for any power struggles between his bloodhound Carl and Boo, the chocolate lab she had adopted with Sherwood, "The dogs are amazing," she shared. "Boo is more of a dominant alpha personality where Carl is an alpha-sized dog. But they're having fun finally playing, and it's really nice to see Boo finally play with a dog her own size."
Seeing Hyland play with a man on her own level has been fun too. "Sarah's friends love and accept Wells," notes the source, "and say he treats Sarah very well." That much was evidenced by the thought and effort he put into marking their first anniversary this past September. 
"I take a lot of Polaroids all the time," she told E! News, launching into an explanation of his gift. "He took all the Polaroids I take and put them in his typewriter and wrote things on them. Then he bought a leather-bound journal that you can put pictures in...He's amazing."
So the idea that they could one day be putting together a wedding album, well, that's not so far out of the question. Venerable Bachelor host, and frequent wedding officiant, Chris Harrison has already offered up his services.  "I just love that relationship. I just think they are oddly perfect together," he told E! News this summer. "With Wells and Sarah, they just seem to fit and seem to mix and they complement each other and are a good couple."
To Hyland, the secret is simple. "You have to have good sex, and you have to be able to fight well," she told Self. And doing a the little things that successful duos rave about, say, hiding sentimental notes and cards in each other's luggage, is important as well. "We're just very busy working," she said. "And I think that's always what makes relationships work. You have to have your own thing...so when you come home at the end of the day, you're excited to see that person." 
But more than anything, she credits their decided inauspicious start, his being witness to her post-surgery state that saw her so full of pain medication that she can't quite recall what she may have said to him. "He's seen me at my worst," she summed up. "He was there through all of that. I think that's why I feel the most beautiful in his eyes, because he still finds me beautiful after seeing all that."