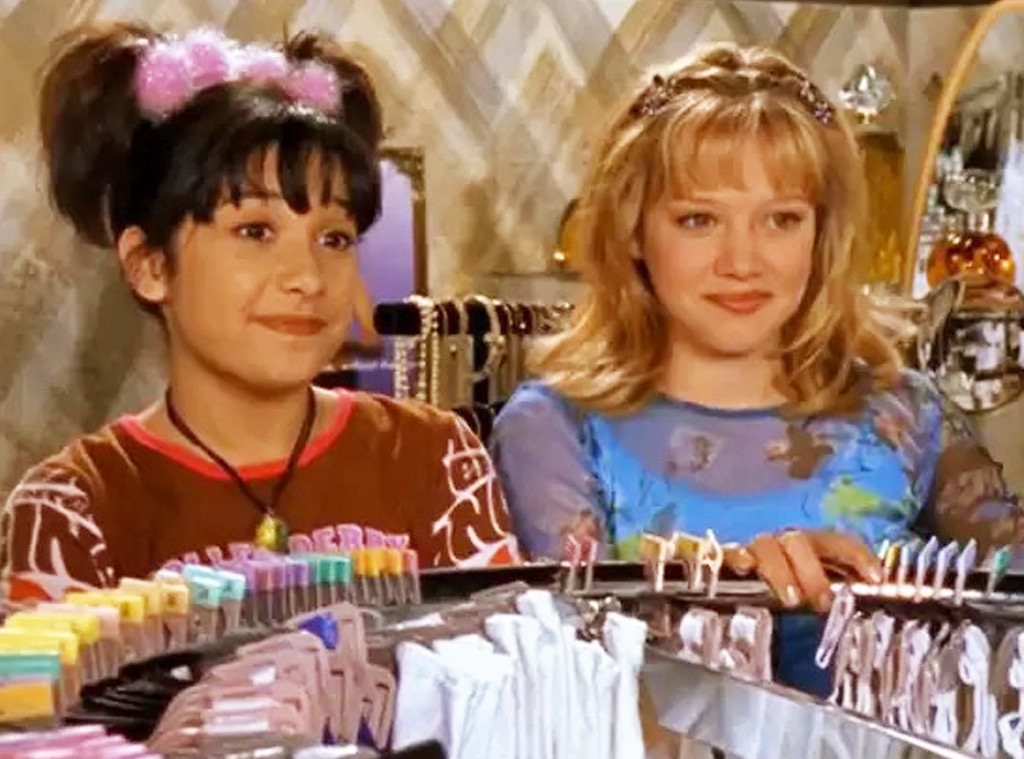 Disney Channel
Lizzie McGuire was just your normal girl, living in a normal, totally awkward world trying to figure out middle school back in the early '00s and that's why we loved her.
Last week, Hilary Duff—AKA Lizzie McGuire on the Disney Channel series Lizzie McGuire—opened up to E! News' Erin Lim about the possibility of a revival of the hit show and now we can't stop thinking about what our favorite blonde teen and her animated alter ego would be up to these days.
"There's been a little bit of conversation but I think it's very far into the distance," Duff told E! News getting our hopes up really, really high in the process. "I feel like every other girl. This could be really exciting. I don't know!"
We will have to wait to see what actually comes from this Lizzie McGuire revival tease, but in the meantime we might as well go into full on nostalgia mode and revisit all the show's best characters. 
Even though we would watch another season of Lizzie McGuire should the show be rebooted in the future, we will always hold a special place in our hearts for the original series and its cast of hilarious characters. The question we have for you is, which of these OG characters is still your favorite more than 15 years later?
After premiering in 2001, kids all over America fell in love with Lizzie and her alter ego and it's because she was so darn relatable. She sang into her hair brush, fell at middle school graduation and had to deal with bullies, tests and terrible fashion choices.
Lizzie wasn't alone in her middle school trials and tribulations however, she had a pretty legit squad made up of Miranda Sanchez (Lalaine) and David "Gordo" Gordon (Adam Lamberg) by her side.
Miranda was fierce, independent, sassy and the ideal BFF to balance out Lizzie's sometimes embarrassing tendencies.
Gordo on the other hand was smart, level headed and always backed both Lizzie and Miranda's ideas...as he pined for Lizzie and not-so-secretly fell for her as more than just a friend for years.
Of course their school had a few more memorable characters that both enriched and dampened Lizzie's squads' day-to-day activities.
For example, there was the totally cute, but not-so-smart classmate Ethan Craft (Clayton Snyder). We never knew if we wanted him to tag along or just buzz off, but his hair was great, so we accept him as a cool character.
Then there was Kate Sanders (Ashlie Brillault) who used be friends with Lizzie but once middle school hit she was too cool to be seen with her and her popular mean girl side came through. Oh, and she was obsessed with Ethan, which was totally annoying.
Last, but not least, was Lizzie's outrageous family.
Her dad, Sam McGuire (Robert Carradine), was a total goofball who was embarrassing no matter what he did. Her mom, Jo McGuire (Hallie Todd), inserted herself into Lizzie's life a lot and although she was strong and a great role model she didn't know when to quit.
The show wouldn't be complete without Lizzie's annoying and irritating little brother Matt McGuire (Jake Thomas), who was constantly filming Lizzie's dorky moments and trying to get her into trouble.
Overall the characters on Lizzie McGuire were pretty solid and always managed to make us laugh and feel a little more normal as we navigated adolescence around the same time.
As we try to calm down over the potential of all these characters coming back to our TV screens, we task you with answering one question: which Lizzie McGuire character is your all-time favorite? Vote in our poll below!
Lizzie McGuire Character Poll