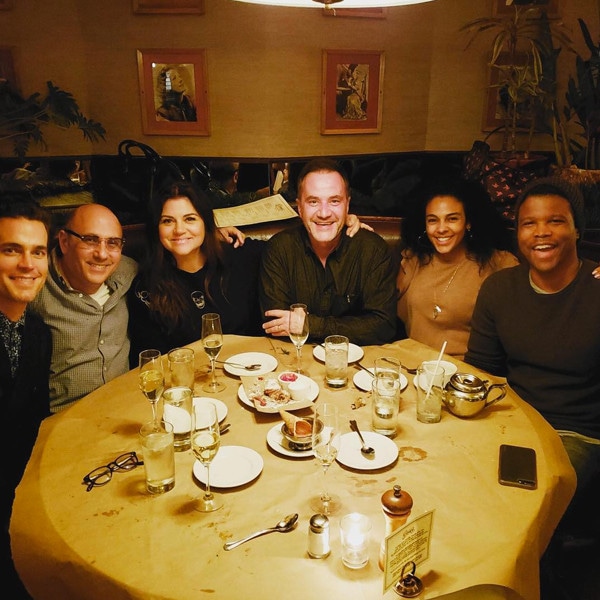 Instagram
It was time for a family dinner—and TV cast reunion—for the White Collar stars.
Matt Bomer, Willie Garson, Tiffani Thiessen, Tim DeKay, Marsha Thomason and Sharif Atkins assembled for what looked like one heck of a good dinner (from the looks of the table cloth). The various captions posted to Instagram by the smiley stars tell the story:
"I love this crew forever and always. So happy to catch up whenever we can. We held it together for one picture! #whitecollarreunion #family #tvfamily," Bomer wrote.
"These five people fill my heart. They will always have a big place in my life," Thiessen said with the tags #whitecollar #reunion #workfamily.
"Genuine affection for these folks right here. And crazy enough, that love grows with every 'next time' I see them. Til we all meet again…may your lives and relationships be full and richly blessed," Atkins said with a series of emojis and the thags #whitecollarreunion #letsmakeamovie #nawbutforrealtho.
"Forever grateful to know and love these people right here," Thomason said with a heart emoji.
"Marriages, births, deaths, successes and failures…..love these people more than life itself…..#whitecollar," Garson said.
"Love this WC family of mine! What a great night and reunion," DeKay said, adding #tvfamily #whitecollar.
White Collar aired for six seasons, producing 81 episodes from 2009-2014 on USA Network. Created by Jeff Eastin, the series starred Bomer as Neal Caffrey, a renowned con artist and thef who works as an informant with DeKay's FBI Special Agent Peter Burke. Thiessen played Burke's wife, Elizabeth, Garson was Mozzie, Neal's confidante, and Thomason and Atkins were other agents.
See more TV cast reunions in the gallery above.