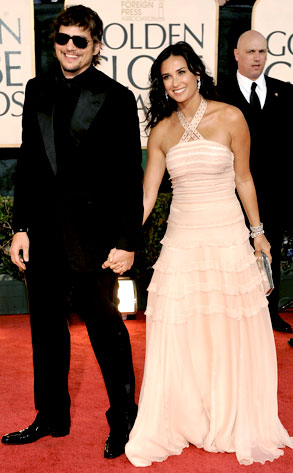 AP Photo/Chris Pizzello
Leave it to railing noise complainer Ashton Kutcher and his placating spouse, Demi Moore, to not see the busted economy through their glitzy party planning.
As was just revealed, Ash 'n' Demi 'n' Madge are planning their second annual superexclusive Oscar fete at Guy Oseary's posh pad in the hills again. It will be even more fab than Elton John's exclusive job (which is so overtaking Vanity Fair's diminishing hold on postshow do's, if it hasn't already).
Also distinctive in another fashion from Sir Elton's party: No charity has been designated by Ashton & Co. John's supersmart that way; he made his lovely and debauched affair an AIDS benefit even before this town—and its working-person morale—went to pot, and I don't mean the Michael Phelps kind.
What Ashton and his fellow party givers need to do—and forgive me, I'm not aware of this, perhaps they already have?—is to have a damn pot at the front door for the majority of folks in this town who are out of work, out of their homes and damn well near going out of their friggin' minds! I don't mean the stars and studio execs who are sitting pretty, I mean the folks who work well below this ritzy crowd (and there are hundreds of thousands of them!).
This is so like when Ashton complained he couldn't sleep because of the hammering next door to his house. At least he has a house! Why not take this Oscar opportunity to take a collection for people who can't celebrate so ostentatiously right now?