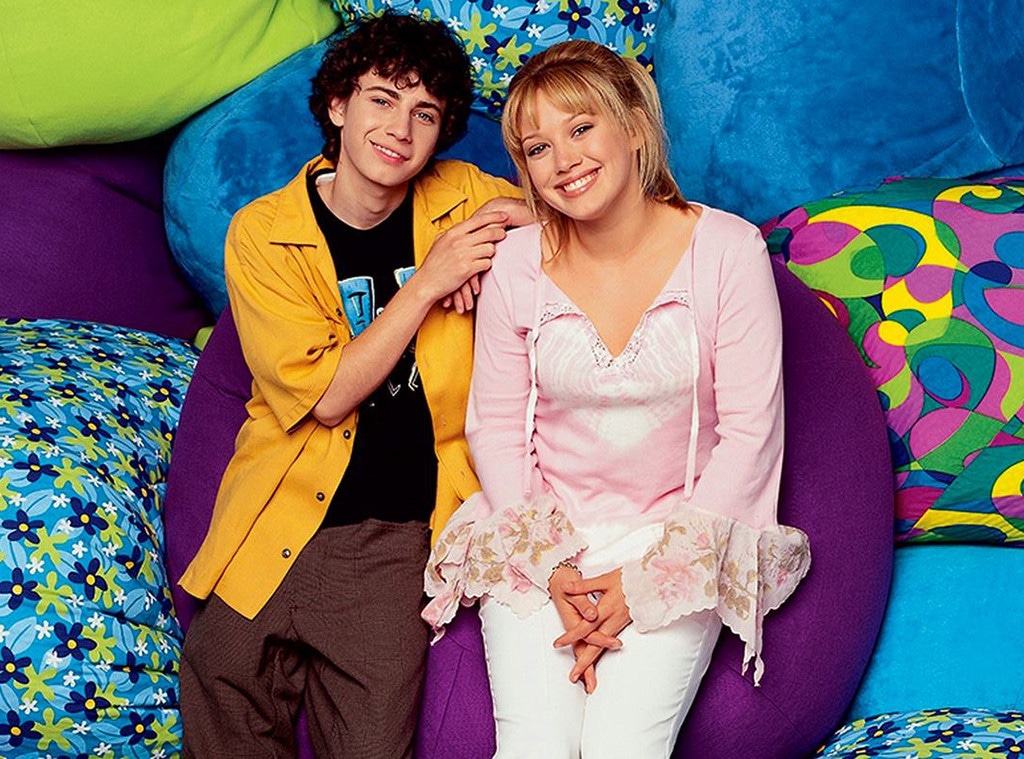 DISNEY CHANNEL
The return of Lizzie McGuire could be nigh?!
Hilary Duff told E! News' Erin Lim there have been discussions about the return of her beloved Disney series. But there are just early conversations, which a source confirmed to E! News as well.
As Duff explained, "There's been a little bit of conversation but I think it's very far into the distance. I feel like every other girl. This could be really exciting. I don't know!"
What would Lizzie McGuire look like now?  Would she be a mom? A millennial in the workplace? A bride-to-be? After Clarissa Explains It All ended on Nickelodeon, producers tried a spinoff featuring Melissa Joan Hart's Clarissa Darling as a young employee at a city newspaper. The show never happened, but there's been chatter about revisiting the character again as remakes and revivals continue to be a popular venture for networks looking to breakthrough and get attention in the crowded TV marketplace.
There are many different ways Disney could bring back the fan-favorite series and titular character. Here's how other shows were recently revived:
Watch:
Hilary Duff Confirms "Lizzie McGuire" Reboot Conversations
That's So Raven
Another Disney standout, That's So Raven returned to Disney Channel as Raven's Home. Raven-Symoné returned to the role of Raven Baxter, but this time instead of a high schooler who could see the future, she was a single mom, who could still see the future, with kids of her own…and one can see the future. Anneliese van der Pol returned in the series as well. Season three is in the works.
Boy Meets World
Cory and Topanga returned to TV with a family of their own. The Disney Channel series featured Cory (Ben Savage) and Topanga (Danielle Fishel) as parents raising their own precocious kids. Rowan Blanchard starred as Riley Matthews, their daughter, who, much like her father in the original series, was figuring out adolescence. The show ran for three seasons.
Roseanne
Roseanne Barr returned alongside her iconic TV family in Roseanne. Everything was pretty much the same with the family, except the kids were no longer kids. They had children of their own. Roseanne was eventually canceled after Barr's racist tweet controversy, but the other characters aside from Roseanne Conner are on TV in The Conners.
Murphy Brown
Nearly 30 years after its premiere, Murphy Brown returned to CBS with Candice Bergen back in the titular role. Murphy Brown, a retired journalist, got back into the game after the election of President Donald Trump. The first season of the revived CBS series was only 13 episodes. A decision about a second season has not yet been made.
Will & Grace
NBC brought back Debra Messing, Eric McCormack, Sean Hayes and Megan Mullally and it was like no time had passed—especially because writers undid many of the changes that happened later in the series, including the flashforward finale and fallout between the title characters. The series is in its second revival season and a third has already been ordered.
Get the lowdown on TV's other recent remakes and revivals right here. Do you want Lizzie McGuire back? Tell us on Twitter.