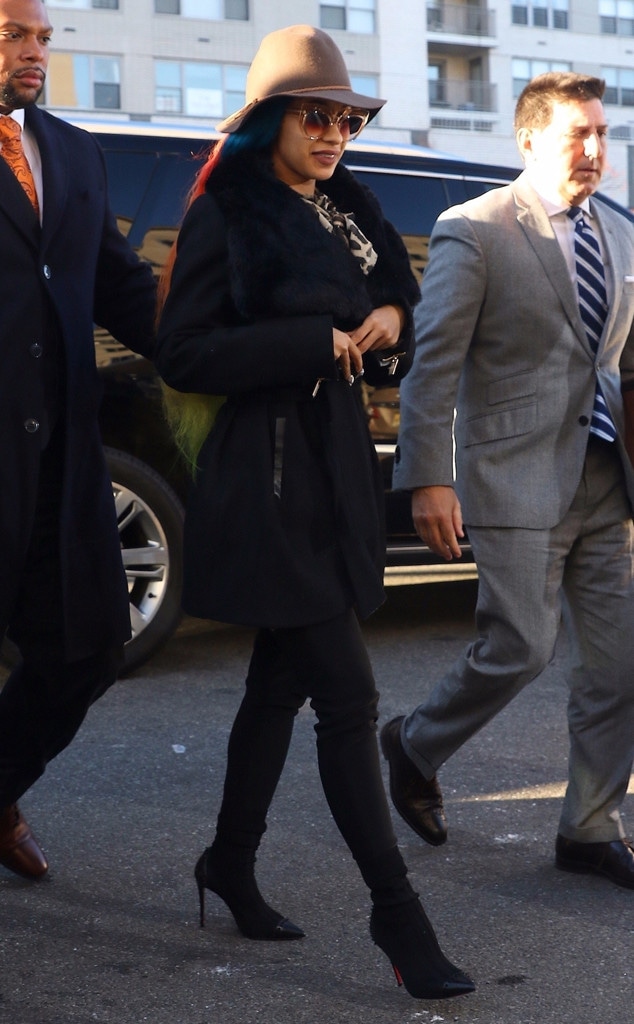 BlayzenPhotos / BACKGRID
Cardi B appeared in court on Friday regarding her case over an alleged strip club fight.
The rapper arrived at the courthouse in Queens, New York around 8:55 a.m. with her bodyguard and her lawyer. She wore a black coat and brown hat, the latter of which covered her rainbow-colored hair. She also shielded her eyes with a pair of sunglasses, which she removed once inside the courthouse.
The "Bodak Yellow" artist was released on her own recognizance. A bail of $2,500 was also requested but turned down. The recording artist is expected to be back in court Jan. 31.
As for the two women she was accused of attacking, they received orders of protection. As a result, Cardi B is not allowed to contact them or go near them. The judge also warned her not to attack them on social media, including tweet at them or about them. Doing so, the judge noted, could result in her arrest.  
This appearance was important for Cardi B. She was originally scheduled to appear in court on Monday but failed to do so. Not showing up again could have resulted in her facing a possible arrest.
Back in August, Cardi had been accused of allegedly ordering people to attack two female bartenders at a strip club in Flushing. Per TMZ, she allegedly thought one of the women had been involved with her former main man Offset. Cardi has since announced the two have broken up.
Multiple outlets claimed the celeb had thrown chairs and bottles at the women. The star had been charged with misdemeanor reckless endangerment and assault. Cardi reportedly denied any involvement in the alleged fight at the time.
She then surrendered to police in October.
The court appearance took place on the same day The Recording Academy announced the nominees for the 2019 Grammy Awards. Cardi B received five nods, including the coveted Album of the Year and Best Rap Album nominations.