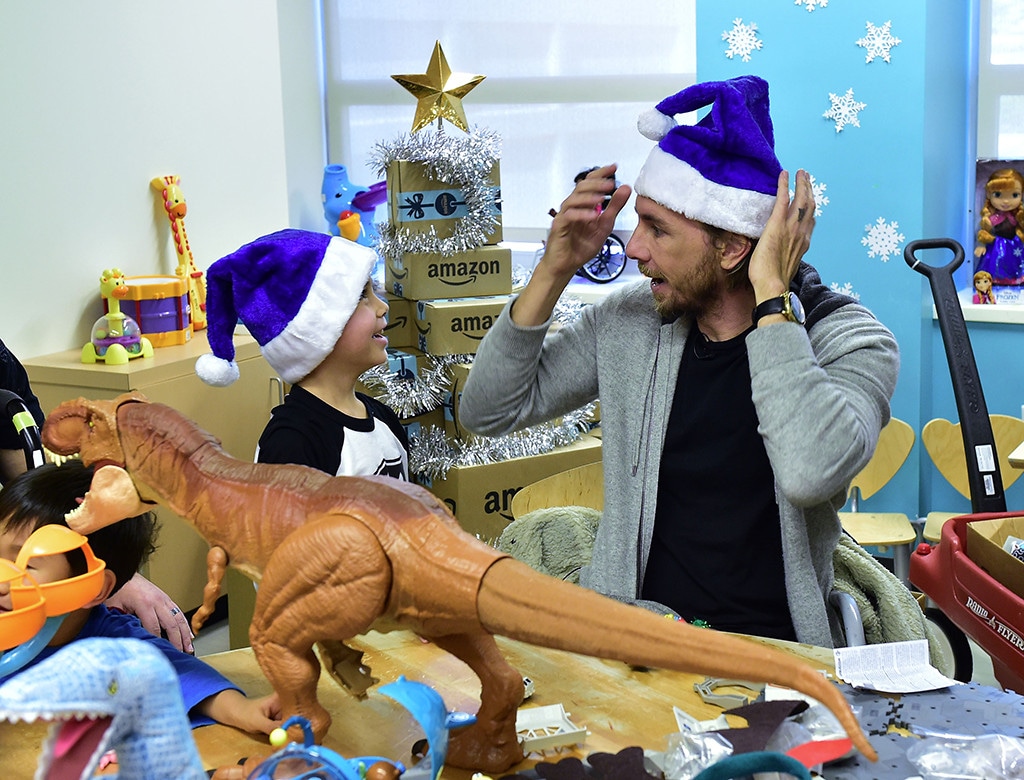 Michael Simon/StarTraks
Dax Shepard won't find his name on Santa Claus' naughty list this Christmas.
On Tuesday, the actor made a series of stops throughout L.A. on behalf of Amazon to encourage people to donate to Toys for Tots via Alexa. "It's like the benevolent version of Punk'd," he joked with E! News. "We're not begging them to sign a waiver at the end of this!"
Shepard partnered with the company for a simple reason: it's an easy way to spread kindness. "All you have to do is say, 'Alexa, donate to Toys for Tots.' Then Alexa goes onto the Toys for Tots website, picks a toy and ships it directly to a kid. You can do that all in under 60 seconds, and Amazon is matching toy for toy. If you donate, it's like you're actually donating two [toys]."
The "Delivering Smiles" campaign was a no-brainer. "I think people, in general, are inclined to be more charitable and giving," he said. "It's just sometimes an issue of time or inconvenience."
So, to brighten people's days with random acts of kindness, Shepard raced around town and stopped by Children's Hospital Los Angeles, Whole Foods Market and the Americana at Brand. "It's amazing. I'm basically playing Willy Wonka with someone else's checkbook," the actor joked, adding that it's "heartwarming and wonderful" to be involved in such a great initiative.
Giving back during the holidays is especially important for Shepard, given his upbringing. "If you've listened to [my] Armchair Expert [podcast]," he said, "then you know I grew up on an incredibly tight budget with a single mother working as a janitor on night shift. Things were tight all year, but my mom really would go crazy at Christmas. When I was 6 years old, I came out on Christmas morning and there was an electric Indy car next to the Christmas tree, which absolutely exploded my mind. I drove it way past the age where it's cool to drive such a thing."
Because of that, Shepard said he and wife Kristen Bell do everything in their power to ensure their 5-year-old and 3-year-old girls don't take such things for granted. "We're in a really fortunate position. Our daughters are both quite privileged, and it's important to us that they understand that not everyone is born with that same advantage," the actor told E! News. "We're trying to lead through example so [charity] seems like part of a routine anyone should do. We think it's best to not preach it to them but rather involve them in it and make it a habit."
This Christmas, the 43-year-old actor said, "I'm happy to say that I don't want anything."
Instead, he said it's more fun to "experience it" through his daughters' eyes. "For me and Kristen, it's all about them. I decorated the house Clark Griswold style, so we've got a million lights on the house. Every time someone comes over, they make them come over and watch the lights change color. It's a weird opportunity to rediscover the whole experience. It's so fun."