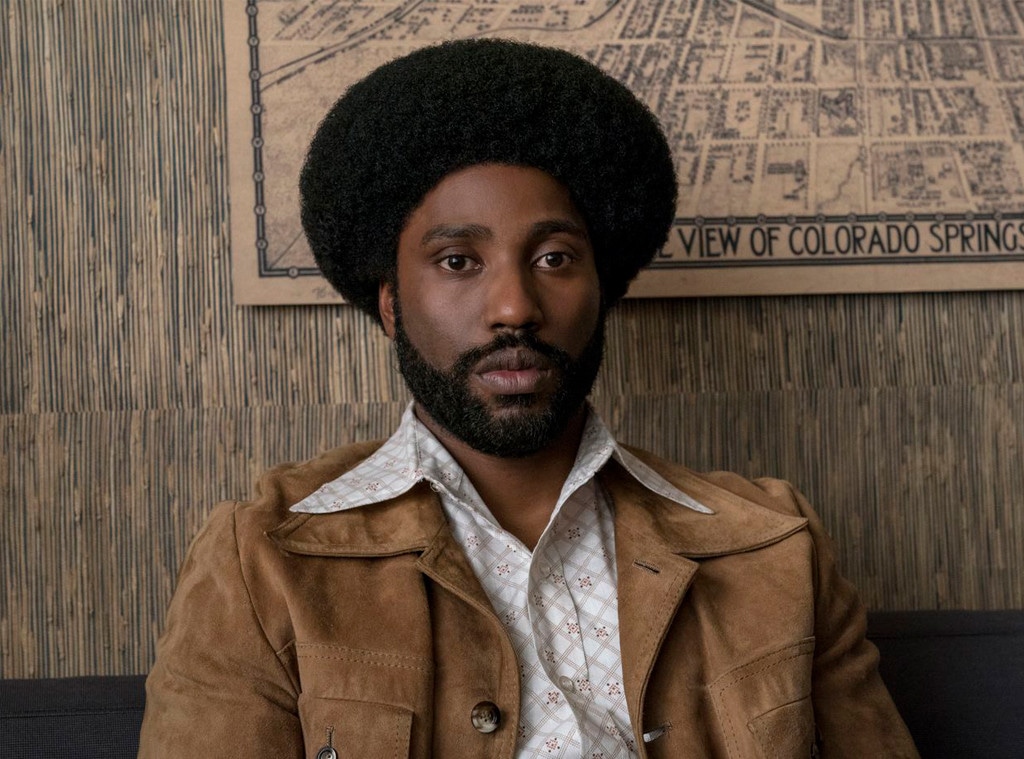 David Lee / Focus Features
Thursday morning was an unforgettable one for this famous father and son. 
As the 2019 Golden Globe nominations were being announced, John David Washington and his dad Denzel Washington were together, braving the early hours with a milestone moment unknowingly on the way. 
Then, Leslie Mann read out the names for Best Actor, Motion Picture Drama: Bradley Cooper, Willem Dafoe, Lucas Hedges, Rami Malek and...John David Washington. 
"We just hugged for what felt like for about 10 minutes," the Blackkklansman star told E! News. "We just held each other."
Amid the incredible news, Washington's mother, Pauletta Washington, wasn't far away either, thanks to a cell phone. "My mom was on speaker—she was on a plane getting ready to depart to Chicago for a Hamlet audition," he explained. "She was in tears on the plane, too. I was like, 'Ma, don't get too emotional, stay in character. Get emotional when you come back!'" the nominee joked. 
Of course, no work prep could prevent them from celebrating their son's first Golden Globe nomination. "They were just extremely proud. They kept saying, 'We're so proud of you, son,' and 'Congratulations, you worked so hard'—stuff like that."
For the honoree himself, the news didn't seem real. "I need more time with it. Any moment now—like this is Inception and I'm going to wake up on a plane with Leonardo DiCaprio. I'm just going to live this out. I feel so good, really good," he reacted. 
Meanwhile, there was one more surprise for the actor: his nomination comes three decades after his famous dad attended the 1988 Golden Globes also as a first-time nominee in the same drama category for his performance in Cry Freedom. John David was stunned. 
"Wait, what? Wait, say that again. Wait, really?" he responded. "I didn't know that...that's crazy. I'm going to tell him that. That's crazy. That's crazy."
The surprised star added, "All I can say is what I know is glory be to God. I can't believe that. It's crazy...I got nothing. I can't believe it."
Washington's nod is one of four for the film, including "Best Motion Picture—Drama," "Best Supporting Actor" for Adam Driver and "Best Director" for Spike Lee. 
"I couldn't believe—I thought for sure I'd be able to get Spike [on the phone] because he stays up at 4 a.m., but I actually got Adam and we said congratulations to each other," he told E! News. "He's in work mode, but it was nice. I'm so happy and proud of him. What he did was just terrific."
While he waits to reach his famed director, Washington couldn't conceal his joy over Lee's recognition. "I was rooting for Spike—he's been so important for people of color in this industry...and just seeing If Beale Street Could Talk, Widows, you're seeing Black Panther—we're standing on Spike's shoulders," John David said. "He did a great job with this thing. I'm so happy for him."
As he added, "This movie, this subject matter—to me it couldn't have been done by anybody else besides Spike Lee. I think he was the perfect auteur to be able to display how complex, how complicated this country is for years, for centuries...There's a whole bunch of sort of learning and teaching points, but then he's not hitting you over the head. It doesn't feel like a lesson. It doesn't feel like a course. It feels like we're having a good time watching this craziness, but were standing on the—fortunately, unfortunately—we're standing on American history."
Now as a nominated film, Blackkklansman will draw even more viewers. "I hope they take away hope. I hope they are able to understand how dangerous the wrong words are, how divisive the wrong words are, how powerful words are even in the positive—and starting to change the narrative of this divided country, we gotta choose our words more wisely," he said. "I think it's going to take words like inclusion, and I think understanding...if 50,000 and 90,000 people can be cheering in unison for a first down, I think we can accomplish unity in this country."
As for the impact of the biographical film, the actor highlighted these projects provide. "We have to literally try to stop this bleeding with projects like these and what the industry is saying, too, is giving more people, the minorities a voice to express themselves to encourage other people watching all over the different corners of the world to be inspired even if they're not into the arts, but into whatever...they can have a platform. They can make change. They can do something. They can accomplish something. They can get a win."
"People that don't know much about the culture or have been told by one perspective—they see this, it will definitely open them up to other things...and that's how we can stop the bleeding."
Be sure to watch E! News on Sunday, Jan. 6, for E!'s Live From the Red Carpet 2019 Golden Globes special, followed by the telecast on NBC at 8 p.m. And check out FandangoNOW to download or stream all of this year's nominated films and TV shows for half-off all weekend!