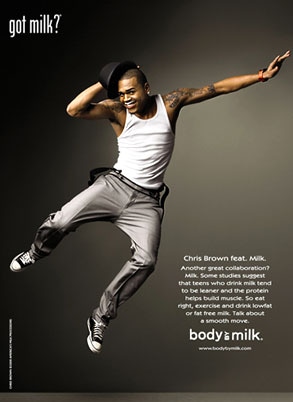 American Milk Productions
A rap sheet doesn't do a body good—particularly Chris Brown.
The folks behind the popular "Got Milk?" spots have announced they're dropping the R&B star from their celeb roster, two days after Brown was busted for allegedly roughing up Rihanna.
Brown was booked on suspicion of making criminal threats, but the district attorney has not formally charged him. He is free on $50,000 bail
"The Milk Mustache campaign is taking the allegations against Chris Brown very seriously," the Body by Milk Campaign said in a statement. "We are very proud and protective of the image of the Milk Mustache campaign and the responsible message it sends to teens."
The "Say Goodbye" singer began donning the mustache in spots last fall. In a case of auspicious timing (or so Body by Milk insists), the ads were due to stop running this week.
On Monday, Wrigley Chewing Gum stopped running all ads featuring Brown touting Doublemint. And the NBA announced that he would not be participating in this weekend's All-Star Game festivities in Phoenix. It's also doubtful he'll show up for Thursday's NAACP Image Awards, for which he and Rihanna are both nominated.
While Brown is losing air time, Rihanna will still be featured as part of a massive CoverGirl campaign.
The cosmetics company said it would continue running TV and print ads starring the 20-year-old "Live Your Life" chanteuse but declined to comment on the situation. "Out of respect for our CoverGirls, we do not share information regarding their personal lives."
The singer, whose real name is Robyn Rihanna Fenty, was released from Los Angeles' Cedars-Sinai Medical Center after being treated for bruises, cuts and what appeared to be bite marks on her body.
She is apparently still in Los Angeles and reportedly helping authorities with their ongoing investigation into the incident. She did, however, postpone a sold-out gig scheduled for Friday in Kuala Lumpur, Malaysia, and her 21st birthday party celebration set for Feb. 20 in New York.
Neither she nor Brown has publicly commented on the incident.
Poll: Chris Brown, Fallout Boy?