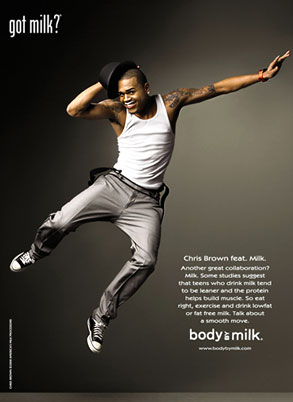 American Milk Productions
A rap sheet doesn't do a body good—particularly Chris Brown.
The folks behind the popular "Got Milk?" spots have announced they're dropping the R&B star from their celeb roster, two days after Brown was busted for allegedly roughing up Rihanna.
Brown was booked on suspicion of making criminal threats, but the district attorney has not formally charged him. He is free on $50,000 bail
"The Milk Mustache campaign is taking the allegations against Chris Brown very seriously," the Body by Milk Campaign said in a statement. "We are very proud and protective of the image of the Milk Mustache campaign and the responsible message it sends to teens."