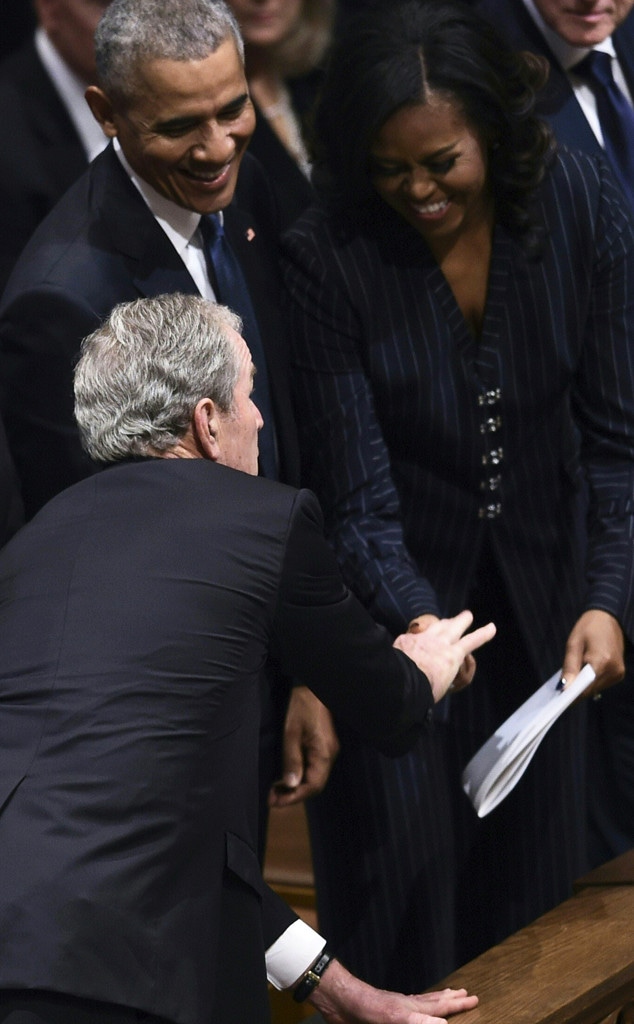 BRENDAN SMIALOWSKI/AFP/Getty Images
George W. Bush had a sweet surprise for Michelle Obama on Wednesday.
After Bush entered the Washington National Cathedral for the funeral of his father, George H.W. Bush, he was seen greeting Donald Trump, Melania Trump, Barack Obama and Michelle, who were all seated next to each other alongside Bill Clinton and Hillary Clinton. As he greeted the former First Lady of the United States, Bush handed her what seemed to be a candy or a mint. A smiling Michelle appeared to say "thank you" in response to the kind gesture as Bush then greeted the Clintons beside her.
This exchange comes three months after Bush passed Michelle a candy at John McCain's funeral.
George Herbert Walker Bush passed away Friday night at his home in Houston at the age of 94.
"Jeb, Neil, Marvin, Doro, and I are saddened to announce that after 94 remarkable years, our dear Dad has died," his eldest son and also former President Bush said in a statement. "George H. W. Bush was a man of the highest character and the best dad a son or daughter could ask for. The entire Bush family is deeply grateful for 41's life and love, for the compassion of those who have cared and prayed for Dad, and for the condolences of our friends and fellow citizens."
His death followed just eight months after the passing of his wife, Barbara Bush.
You can watch the sweet exchange between Bush and Michelle above.