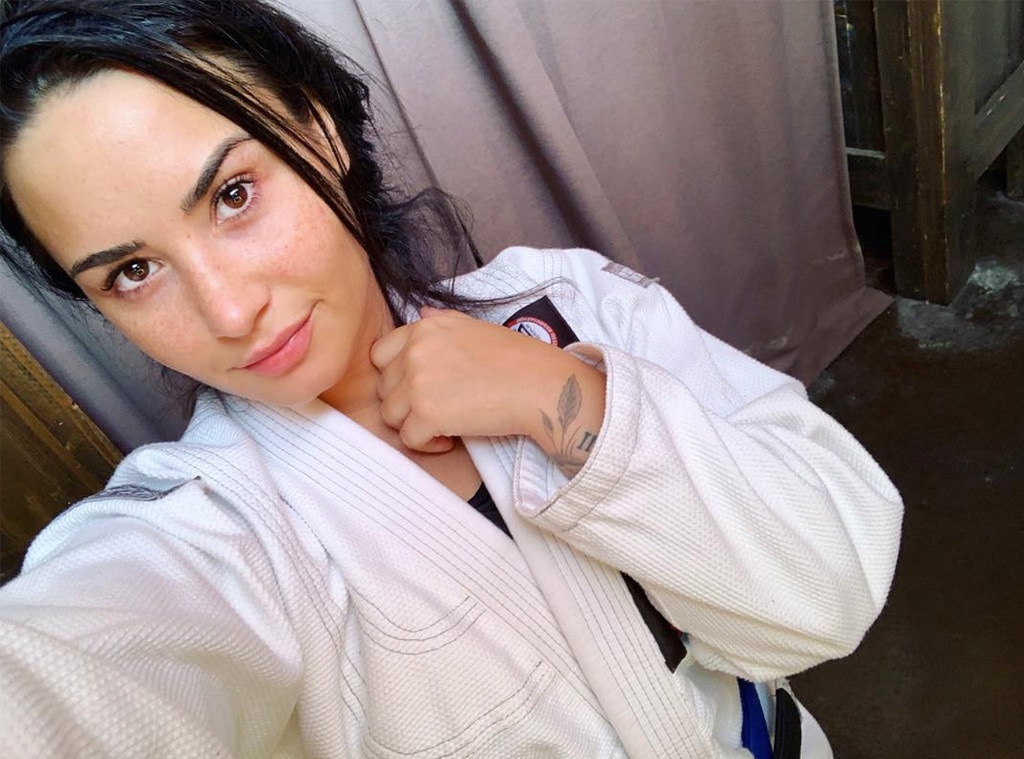 Instagram
"Sweaty hair, don't care" should be Demi Lovato's new mantra if it isn't already.
The "Confident" singer was looking just that in a new photo she posted on Instagram on Tuesday. The selfie showed Lovato simply glowing after a workout and soft smiling at the camera. Perhaps she also lives by that "I don't sweat, I sparkle" mentality, because she sure looks it.
"Sweaty, messy jiu jitsu hair," she captioned the photo. Lovato was wearing her martial arts outfit in the picture. She revealed in her hashtag that she is a blue belt, which means she is at the intermediate level of the sport.
She tagged Unbreakable Performance Center, which is a gym that has a slew of high-profile clientele, including Noah Centineo and Wiz Khalifa.
Ever since leaving rehab in November after her drug overdose in July, the "Skyscraper" artist has been focusing heavily on her health and wellness routine.
A source told E! News in November how her regimen and outlook have changed. "She's been working out with a trainer several days per week, eating right, and truly has a whole different mindset," the source explained. "She has been following all of the steps and guidelines put in place by her specialists."
She has reportedly been attending meetings at a "private wellness center," which is another part of her new commitment to sobriety and health. 
Lovato has been spending much of her free time surrounding herself with family and friends. In November, she was seen out laughing with some friends as well as alongside clothing designer Henri Alexander Levy, who has been acting as a "sober companion" for Lovato. Another insider told E! News at the time, "Demi wants to be around people who are like-minded and Henri is good energy for her. They spend a huge amount of time together but Demi is not focused on dating. Demi is very focused on her health."
Plus, she recently came the defense of one of her backup dancers and clapped back at someone who called her team "rotten."
Demi has been focusing on her family, too. "She stays majority of her time with her mom. She has mandatory check-ins with doctors often, and is being heavily supervised in her sober facility," the source said.
Another source informed E! News in October that Lovato is becoming "a new version of herself." The insider said, "Demi is doing great and is really receptive to the help that she is getting. Treatment has really changed her and she is looking forward to remaining sober and her new outlook on life."