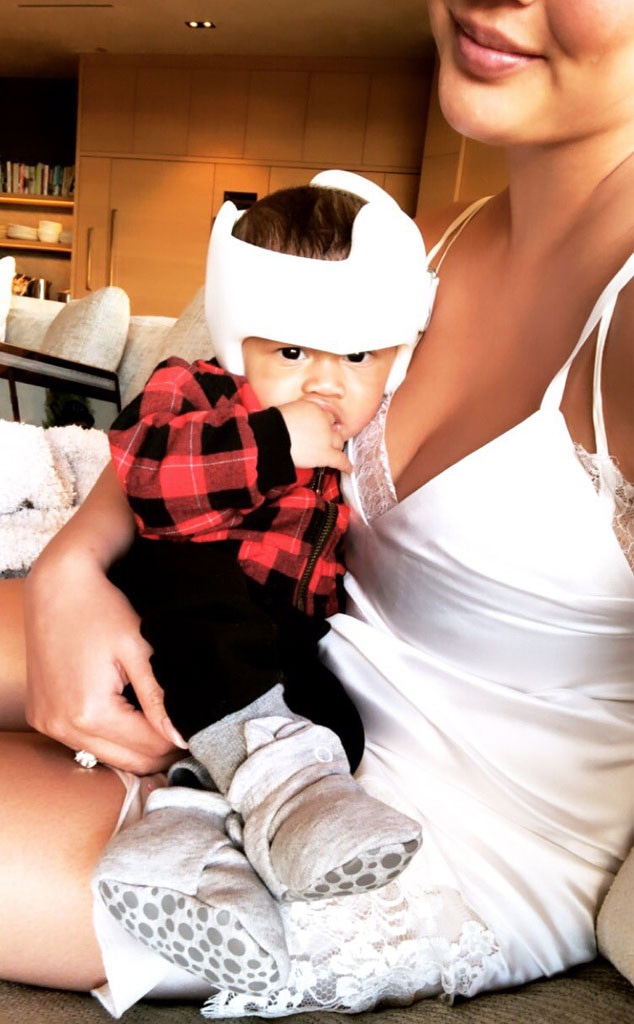 Twitter
Chrissy Teigen and John Legend's son Miles will be wearing a helmet for the foreseeable future, and the new addition hasn't changed how cute he is just one bit.
On Monday, the Lip Sync Battle host shared the update about her son with her Twitter followers. "Baby miles getting fitted for a little helmet today for his adorable slightly misshapen head," she wrote. "so if you see pictures, don't feel bad for him because he's just fixing his flat and honestly he's probably gonna be even cuter with it somehow."
She was right!
She joked in another tweet, "I have been told it's too late for my head."
Teigen then posted photos with Miles sitting on her lap wearing his white helmet while dressed in a plaid jacket, black pants and cozy socks.
Miles, who is almost 7-months-old, is most likely wearing the helmet to help with a condition called plagiocephaly. According to Children's Hospital, plagiocephaly is "a very common, very treatable disorder" that "causes a baby's head to have a flattened appearance." 
Babies who have plagiocephaly usually wear the helmet for "23 hours a day for about 3 to 6 months."
Teigen's Twitter followers praised her for sharing the photos of Miles. She replied to one message, "it is SO cute. you guys are very sweet."
Miles and his big sister Luna provide Teigen's social media platforms with cuteness overload. On Wednesday, the model posted a video of Luna teaching her baby brother how to drink out of a bottle. "Hold it with two hands, Miles," she instructed.
He didn't catch on immediately, but that's beside the point. The two of them have also made everyone say "Aww!" on more than one occasion, like during their bath time or being the most glamorous young jet-setters.
In October, Teigen sat down with E! News and talked about how Miles is just like her husband. "He loves being told he's handsome. He really lights up," she explained.
Teigen said later, "Miles is so reserved—he's just John. He's just a cuddly, lovable little ball."
Does that mean we have another future EGOT winner on our hands?
Her comment about it being "too late for my head" follows in the footsteps of many of her other comments about her body and self. On Nov. 20, Teigen joked to Ellen DeGeneres on The Ellen DeGeneres Show that she really, really hates her feet. She compared them to Legend's song "All of Me" and joked, "they're what john meant by 'curves and edges.'"
On a positive (maybe) note, however, Teigen revealed that her feet are a very unique and distinguishing feature on her body. "John says if I die...all he has to do in, like, the morgue, instead of lifting up the sheet on the face, he'll just do it the other way," she said on Ellen. "He can tell by my feet. He'll be like, 'Yup, that's her.'"