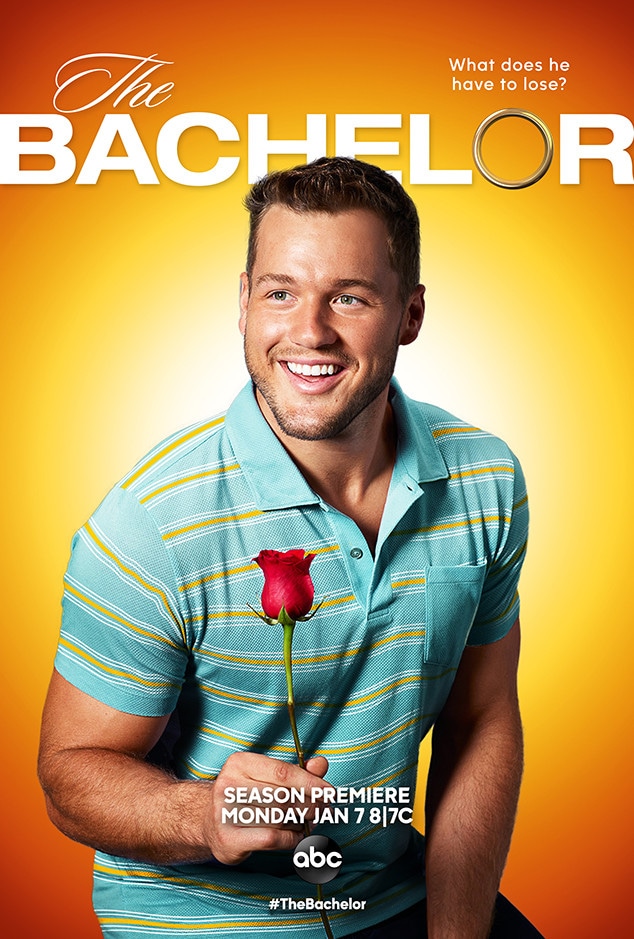 ABC
Oh, Kelly Clarkson. 
The Bachelor has released yet another poster for its upcoming season, and if the tagline "What does he have to lose?" was already a little cheeky, this new poster is just beyond. It's a recreation of the classic poster of the classic film, The 40 Year-Old Virgin, with Colton the 26 Year-Old Virgin taking over the starring role. 
"The new poster for this season of The Bachelor looks really familiar," 40 Year-Old Virgin director Judd Apatow captioned the poster on Instagram when he debuted it this afternoon. "I don't remember Steve having pecs." 
"Hey Judd Apatow does this mean I have to wax my chest now?" Underwood tweeted. 
He was, of course, referencing the famous scene in which Steve Carell got his actual chest actually waxed, and we wouldn't put it past this show to turn that scene into a very sexy date when the show premieres Monday, January 7. 
In fact, we wouldn't put much of anything past this show at this point. There's no issue with Colton being a virgin and being open about his virginity. Sure, weird to go on a dating show that is already so weird about what it calls the "Fantasy Suite" when you're a virgin, but we don't really blame him. We are, however, already cringing at things like that tagline and that girl in the trailer who says she hasn't dated a virgin since she was 12. That comment's actually a lot more creepy than it is funny or cute, and so far, it's just one of many signs that the show isn't going to be very sensitive or kind about Colton's lack of sexual experience. 
It's a topic that deserves some mainstream exploration, but is this show—again, with an entire date devoted to a thing called a fantasy suite—the show to do that? Can they move past traditional ideas of masculinity and gender roles and intimacy in relationships to actually preserve Colton's dignity and set him up to not have a totally miserable first time that the entire world ends up knowing about? 
Watch:
Chris Harrison Talks About Possibility of a Black "Bachelor"
We're honestly having trouble imagining a world where it works out that way, but maybe we'll be proven wrong. Maybe Colton's sense of humor will pair perfectly with the show's attitude about the whole thing, and everyone will end up having a good, chill, and eventually, maybe, if they both want to, sexy time. 
"It's up to him," Chris Harrison told E! News when Nina Parker talked to him at the KIIS FM's iHeartRadio Jingle Ball this weekend. "One of the great things about the fantasy suite and the over night dates is it's always this kind of moral dilemma and question for who you are, whether you're the Bachelorette, Bachelor you know, what do you do with that time? Do you just go in there and talk? Do you just go in there and do whatever you want to do? It's that time you get off camera. So yeah, there obviously are conversations that need to be had, because Colton has been very vocal about the fact that he is a virgin, so how does that affect the relationship? How do the women handle it? How does he handle it? But what I'm really excited [about] is diving into that this season, and going beyond this, 'oh he's the virgin,' and it's kind of this funny topic, and it's not." 
Harrison acknowledged that the way virginity is looked at and the way Colton has been mocked a bit for the fact that he's a virgin is "100%" a double standard, and both he and Colton himself want everyone to know that there's more to the guy than just his virginity. 
"Of course it will be mentioned time to time because it's a part of who I am," Colton responded on Twitter to a fan who was worried the whole season would just be about being a virgin. "As a whole, you'll actually get a full sense of who I am." 
We just really hope that's actually the case, because otherwise this could get old real fast. 
The Bachelor premieres Monday, January 7 at 8 p.m. on ABC.