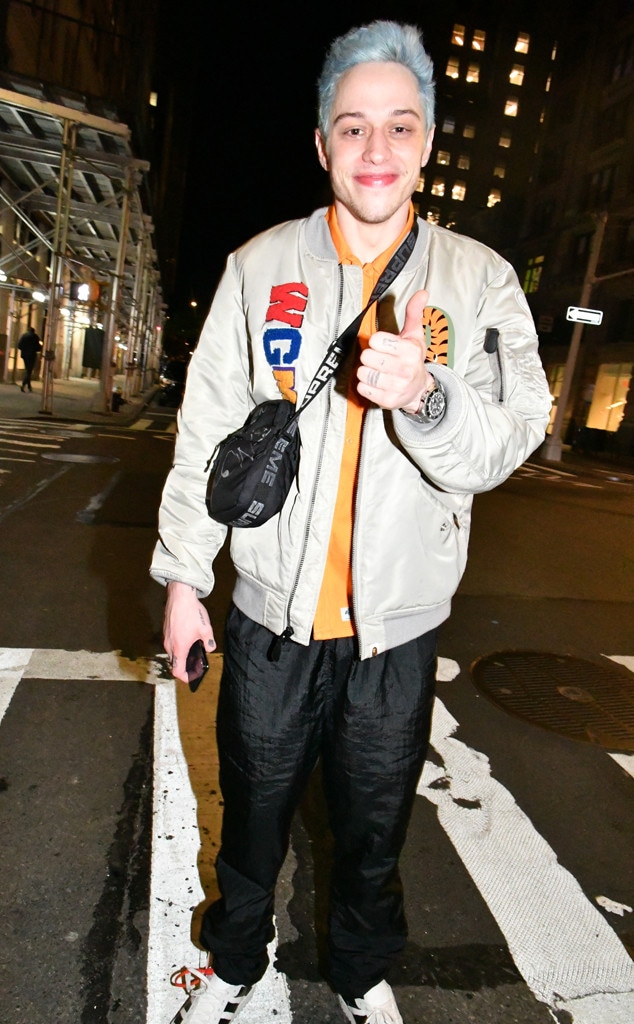 SKYLINE / SplashNews.com
Pete Davidson is back on the dating scene.
A source told E! News the Saturday Night Live comedian "is dating again" two months after the end of his engagement to Ariana Grande. They were engaged for four months before splitting in October. Prior to dating Grande, Davidson was linked to Larry David's daughter Cazzie David. The two of them split in May after dating for two years.
Sources told E! News not long after their breakup that Davidson was "doing fine. He has a strong support system of family and friends around him that are keeping him laughing."
The insider at the time added, "While Pete's focusing on himself, he always wishes the best for Ari."
Grande sang about him in her hit single "Thank U, Next." She croons in the first verse of the song, "And for Pete, I'm so thankful." Before releasing it, she wanted to ensure her fans that the single was "far from a diss track."
Davidson addressed their split on SNL after the song came out, which was just moments before the show aired. "I know some of you are curious about the breakup, but the truth is, it's nobody's business and sometimes things just don't work out, and that's OK," he said during the "Weekend Update" segment. "She's a wonderful, strong person and I genuinely wish her all the happiness in the world."
He also made a reference to their breakup while promoting an episode of Saturday Night Live. It didn't go over well with the "Breathin" singer. A source told E! News at the time why Grande's feelings were so hurt by his joke. "They made an agreement that they would not address their relationship or discuss it after they split up. He violated that agreement and it really hurt her. She knew he would see her tweet," the insider explained. "Pete is having a hard time with the breakup and making jokes his way of dealing with it. Ariana hopes that he will have enough respect to not do it again."
On Monday, Davidson broke from his funny comments and turned serious about the bullying he has faced in recent months. He returned to Instagram (after deleting it and re-installing it and deleting it again) and wrote a long note about the barrage of negative commentary he has received recently.
"I've kept my mouth shut. Never mentioned any names, never said a word about anyone or anything. I'm trying to understand how when something happens to a guy the whole entire world just trashes him without any facts of frame of reference," he began. "Especially in today's climate where everyone loves to be offended and upset it truly is mind boggling. I've been getting online bullied and in public by people for 9 months."
Davidson, who has spoken about his mental health issues in the past, also mentioned this in his note. He continued, "I've spoken about BPD and being suicidal publicly only in the hopes that it will help bring awareness and help kids like myself who don't want to be on this earth. I just want you guys to know. No matter how hard the internet or anyone tries to make me kill myself. I won't. I'm upset I even have to say this."
He concluded, "To all those holding me down and seeing this for what it is – I see you and I love you."