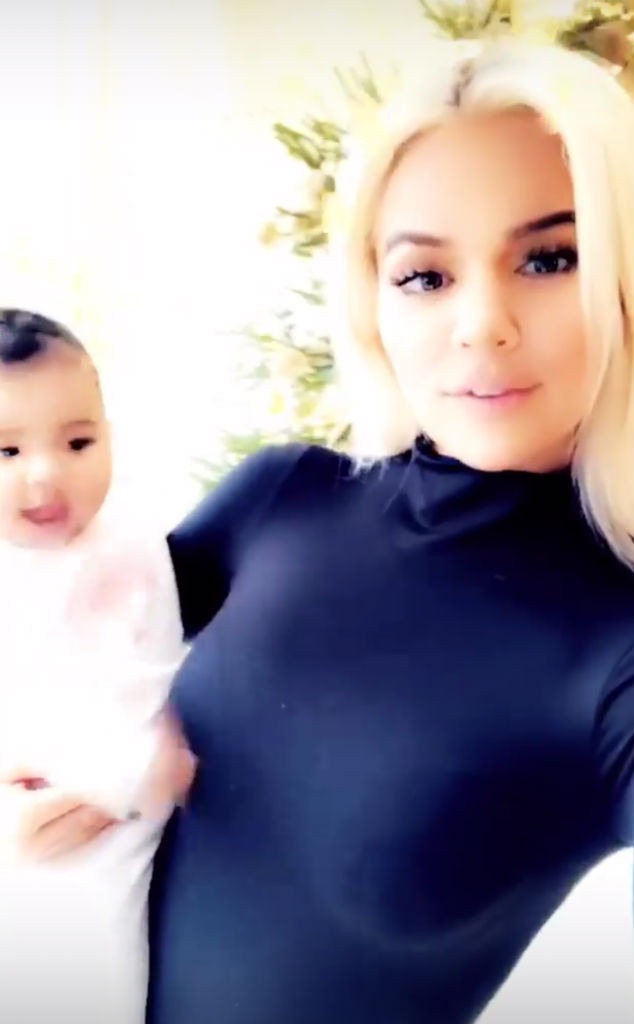 Instagram
Khloe Kardashian is sporting a new 'do.
The Keeping Up With the Kardashians star took to her Instagram Story on Monday to show off her new platinum blonde locks. In a series of posts alongside daughter True Thompson, Khloe gave her followers a close-up view of her hair. The social media videos also showed the mother-daughter duo in front of a Christmas tree, with more holiday decorations surrounding them.
An excited True, 7 months, could barely contain her excitement in the videos as she attempted to talk, even saying the word "dada." It was just days ago that Khloe revealed that her and Tristan Thompson's baby girl had said her first word.
"I can't believe my baby is seven-months-old!" Khloe wrote to her fans in a post on her app. "True now has three teeth and she's going to crawl any second. She also smiles constantly, but I still can't get that little munchkin to laugh unless I tickle her. Maybe I'm just not funny, LOL. She also says 'dada,' but I think she means 'mama.' [wink emoji]"
True is celebrating a lot of firsts recently, it was just over a week ago that Khloe and Tristan celebrated their baby girl's first Thanksgiving together. The couple enjoyed a meal with friends at their house in Cleveland, where Tristan is currently in season with the Cavaliers.
After receiving some criticism for spending the holiday away from her family in Los Angeles, Khloe fired back on Twitter.
"Y'all are reaching now," she wrote. "I've spent the past 3 years in Cleveland for Thanksgiving. Not sure why people are trying to create drama between my family and I. My sisters and I are perfectly fine thank you! All of their families were able to travel but TT being in season, he can not." 
She added, "The truth is never as fun as some story some of you like to create. So here we goooooooooooo!! Happy Thanksgiving I guess lol."