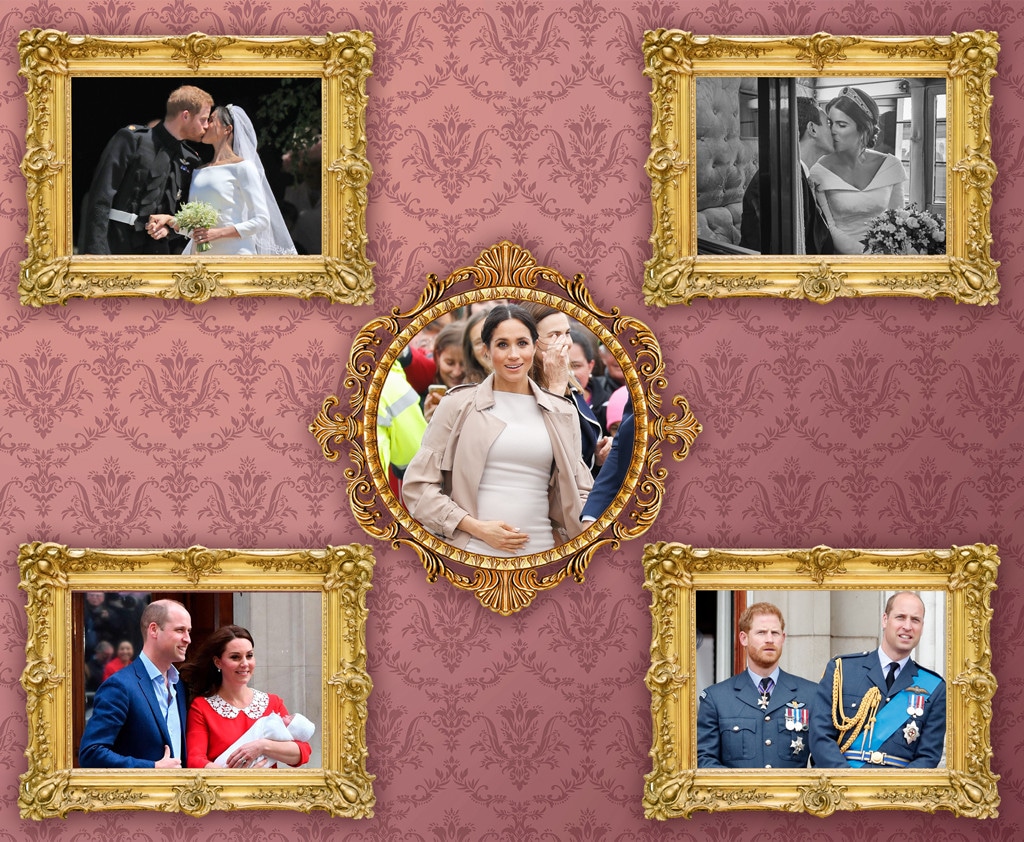 Getty Images; Melissa Herwitt/E! Illustration
The year 2018 started on the highest of notes for the royal family with everyone still joyously raving about the appearance of the so-called Fab Four at Christmas morning service. Meghan Markle taking her place alongside brand new fiancé Prince Harry, Prince William and Kate Middleton—and in a stylish fascinator no less—was a welcome sight for royal watchers everywhere.
Even better was when Harry confirmed, in a BBC Radio 4's Today program two days later that his bride-to-be had nailed her Christmas at Sandringham debut. "It was fantastic. She really enjoyed it. The family loved having her there," Harry raved. "[With] the family part of Christmas, there's always that work element as well and I think together, we had an amazing time, we had great fun staying with my brother and sister-in-law and running around with the kids."
There was even more to celebrate weeks later. Come Jan. 22, Princess Eugenie was announcing there would be another wedding at Windsor Castle, her boyfriend of eight years, Casamigos Tequila brand ambassador Jack Brooksbank proposing as the sun set in front of a Nicaraguan volcano.
KGC-22/STAR MAX/IPx 2017/AP Images
The setting was exquisite she revealed, and the news so thrilling that the duo found it hard to verbalize their feelings beyond pure excitement. "We're just very happy and over the moon for what is to come," Brooksbank shared in their BBC engagement interview. "So excited now to be telling friends and family and just very excited to spend a lifetime together, which is amazing."
Amazing continued to be the watchword through the first half of the year, each member of The Firm seeming to outdo each other with their happy headlines. William and Kate welcomed their youngest, Prince Louis, Apr. 23, the third heir embraced with similar pomp and circumstance as his elder siblings experienced, but far less responsibility.
Princess Charlotte, 3, already holding the title of spare heir thanks to two-years-older Prince George, Prince Louis Arthur Charles of Cambridge is even sparer, affording him more freedom to live his life as he wishes (much like his Uncle Harry and great-aunt Princess Anne), without enduring the sort of criticism about duty-shirking often lobbed at his father. Certainly for the time being, at least, no one is likely to be tallying up his official appearances.
David Fisher/REX/Shutterstock
Despite his placement as a distant fifth in line for the throne (sure to drop once George and Charlotte grow up and start families of their own), his milestones are no less momentous. All of the royals (minus Queen Elizabeth II, tied up in a previous engagement and Prince Philip who often doesn't fly solo at such events) turned out for his July christening at St. James' Palace and Mom even sprung for a new ivory McQueen for the occasion.
But first there was another family party to attend.
As expected, Harry and Meghan's nuptials were the event of the season, attracting the likes of George and Amal Clooney, David and Victoria Beckham, Idris Elba, Priyanka Chopra and even Oprah Winfrey, who, like all other guests not named Harry or Meghan, arrived via bus.
Much was made about the pair's unique choices in the menu (with a particularly focus on using local, seasonal produce) and cake (a lemon elderflower confection replacing the traditional fruitcake), but it was the ceremony that was truly groundbreaking. 
The couple effectively combined Harry's royal British lineage with Meghan's biracial, American background creating a true celebration of diversity and inclusion. Though Meghan's Caucasian, Pennsylvania-born father Thomas Markle called out sick, her African American, Ohio-bred mother Doria Ragland watched proudly from her pew as The Reverend Bishop Michael Curry, the first African-American head of the Episcopal Church in the U.S., quoted none other than Martin Luther King, Jr. in his sermon on the power of redemptive love and London-based gospel group Kingdom Choir delivered a rousing rendition of "Stand By Me".
As Meghan's close pal Chopra raved on Instagram, "Every choice made at this wedding by you both will go down in history, not just because it was your wedding, but because this incredible wedding stood for change and hope…both things that the world needs desperately. Thank you for being the perfect picture of all things good."
And then the newly named Duchess of Sussex changed into another sleek gown—this one a halter-style by Stella McCartney—hopped into her and Harry's waiting baby blue Jaguar and a good time was had by all during the tequila-fueled reception at Frogmore House.
Following a stopover at Buckingham Palace for a garden party in honor of Prince Charles' upcoming 70th birthday days later, the couple jetted off to Africa for a honeymoon so secretive, Harry would only confirm that they didn't visit Namibia as some had thought.
Their newlywed glow lasted all of about a month. That's when Meghan's father Thomas, missing in action at the wedding, thanks to a necessary heart surgery that kept him stateside, decided it was time to claim his piece of the royal spotlight, sharing his thoughts on the family his daughter had entered with any news outlet that would have him.
When he wasn't calling the palace a breeding ground for Stepford Wives and Scientologists, he was opining about just how miserable he felt his little girl was. "I think she is terrified," Markle told The Sun. "I see it in her eyes, I see it in her face and I see it in her smile. I've seen her smile for years. I know her smile. I don't like the one I'm seeing now. This one isn't even a stage smile—this is a pained smile."
You know, this one:
Tim Rooke/REX/Shutterstock
Meanwhile his other daughter, Samantha Markle, was flinging insults from her preferred platform, Twitter, likening her estranged sibling to Cruella de Vill and her prince to, of all things, a hamster.
And yet it was Meghan and Harry that were put on the defense. Some in the public felt the royal family could have done more to welcome the Rosarita, Mexico-based former lighting director into their fold as they had with Meghan's mom.
"There is no protocol for people like Thomas Markle, or in-laws, and people who marry into the royal family are lost at sea," Princess Diana's former butler Paul Burrell said while speaking to Yahoo! UK's The Royal Box in August. "They have embraced Meghan, they are keeping Meghan safe, but how about all the people in her world? I think they need to think about this, it's a problem."
Harry, who, aside from a few incidents in his rapscallion youth, was accustomed to being generally beloved and suddenly found himself taking heat for how the situation had been managed. No doubt it pained him to see his bride suffer, but he'd also learned all too well from granny that acknowledging the problem publicly would just give it more life.
Meghan, meanwhile, was caught in a lose-lose situation. Outsiders and relatives alike were offering their opinion on how she should solve the ongoing feud. "I think Meghan should have handled this from the beginning," her half-brother Thomas Markle Jr. told The Daily Mail. "And I think it got ignored and swept under the carpet for so long, it's a shame where it's ended up, especially between her and my father. She's capable of doing anything, she's just got to want to do it." But neither option afforded her was all that appealing. By continuing to freeze out her father, she risked appearing every bit the ice queen her half-sister was labeling her, but to give in was to risk handing him a fresh batch of material that was likely to find its way onto the pages of The Sun or TMZ.
The Daily Mail reported that a "deeply hurt" Meghan told a close friend that she "just wishes her dad would 'stop blathering' to the press." Until she feels she can trust him, the source continued, she had no plans to contact him.
Kirsty Wigglesworth/PA Wire
That meant that Daddy Dearest heard the news of the fall—that The Firm would be expanding by one when Meghan and Harry welcome their first child next spring—on the radio at the same time as royal fans everywhere we're rejoicing and placing bets on what the little Lord or Lady was likely to be called. Despite the snub, he told Daily Mail's The Mail on Sunday, "I was filled with love, joy and happiness for both my beautiful daughter and my son-in-law. A new baby is a blessing and I look forward to seeing a little Meghan or a little Harry."
Even the previously quarrelsome Samantha offered up the same sentiment. This news flipped the script, she declared, a new baby, as she told The Sun only meant to be celebrated, and she would be offering up little more than well wishes from here on out: "It must makes everything that happened over the last year disappear."
With a return to happy news, Harry and Meghan enjoyed a successful first international tour this October, the crowds in Australia, New Zealand, Fiji and Tonga reacting in delight as Meghan embraced her teeny bump at each stop and Harry offered his thoughts on impending parenthood, letting it slip, that, actually he had his fingers crossed for a girl.
And somewhere in there Eugenie married her own prince, their multi-day affair not quite as headline-making as Meghan and Harry's, but every bit as exciting for the family. They watched Prince Andrew and Sarah, Duchess of York's youngest stun in a scoliosis scar-baring, low-backed Peter Pilotto gown and then celebrated with a two-day reception that saw the likes of Kate Moss, Naomi Campbell, Demi Moore and Cara Delevingne dance at Windsor Great Park's Royal Lodge Oct. 12 and then play carnival games and hit the ferris wheel the following afternoon.
Charles also marked his 70th birthday, reminding everyone that after 65 years of waiting, he's still in line for that promotion, and despite the never-ending chatter that he would be skipped in favor of his eldest son, he has no intention of missing his shot.
"Anyone of my age knows that days pass at a far greater speed than when they were young," Charles recently told Vanity Fair in a rare interview. "But in my case there are so many things that need to be done."
But just as soon as the headlines turned positive, two consecutive news drops—reports that William and Harry plan to divide the House of Cambridge and the House of Sussex into two separate courts and the subsequent confirmation the newlyweds would be moving some 25 miles away from Kensington Palace—served to reignite the idea that the brothers, and their brides, were at odds.
It's long been an attractive, delightfully juicy story, the thought that once shining star Kate was bothered by the sudden appearance of this other princess bride with a similarly bouncy blowout and a knack for pairing designer fashions with affordable wares, that the two duchesses couldn't stand each other and were slowly tearing the brothers apart.
James Gourley/BPI/Shutterstock
The rub, of course, is that for all the breathless gossip, it hasn't proven quite true. While the two women's differing personalities ensured that they would never exactly be besties, they had long since settled into a cordial companionship. "People who are often saying, 'Well, is she jealous of Meghan?' She's really not," asserts Vanity Fair's royal correspondent Katie Nicholl. "Kate is happier in her life now that she ever has been. She has everything she wants. She has William, she has three beautiful children...she is where she always wanted to be."
And while there's some validity to the notion that they don't always get on, an insider acknowledging to The Daily Mail, "there are tensions behind the scenes," nothing is bad enough to drive the two families apart or to be cited as the reason for Harry and Meghan's move a half hour east. As the insider noted, "Kate is pretty unflappable."
The court division boils down to little more than logistics, the brothers acknowledging they're on different paths, with William's eventually ending atop the throne and Harry carving out his own way to move the needle on AIDs awareness and veteran welfare and other causes he holds dear. As for the move, reports suggest that Harry simply didn't wish to replicate his childhood spent in the goldfish bowl that is Kensington Palace. He and Meghan, a source shared with Us Weekly, "want their children to grow up in as normal an environment as possible."
That includes time spent with their cousins, George, Charlotte and Louis. Because for all the speculation, the brothers remain closer than most siblings and are hardly on the verge of a true break up. It was a point Kate went a long way towards proving during an event in Leicester last week. Asked if she was excited for Meghan's impending arrival, the auntie-to-be replied, "Yeah, absolutely. It's such a special time to have little kiddies and a cousin for George and Charlotte and Louis! It's really special."
Going even further to rebuke talk of a feud, sources close to Kate and William revealed they will once again be signing on for Christmas at Sandringham with Harry and Meghan, foregoing their previous every-other-year holiday plan that would have had them sipping egg nog with Kate's family in Bucklebury.
"They really loved Christmas and all had a wonderful time," a source told People of last year's events. "I think the two women got on—they are definitely not best friends, but it was a really special time for them all to spend together."
And just like that, 2018 is set to go out the same way it began, with The Firm's Fab Four gathering together, reflecting on the events of the past year and looking on toward the big news that lies ahead. That could include another royal wedding (rumor has it Princess Beatrice is already enthralled with her new suitor) at least one new baby and plenty of reasons for the whole family to break out their very best fascinators.