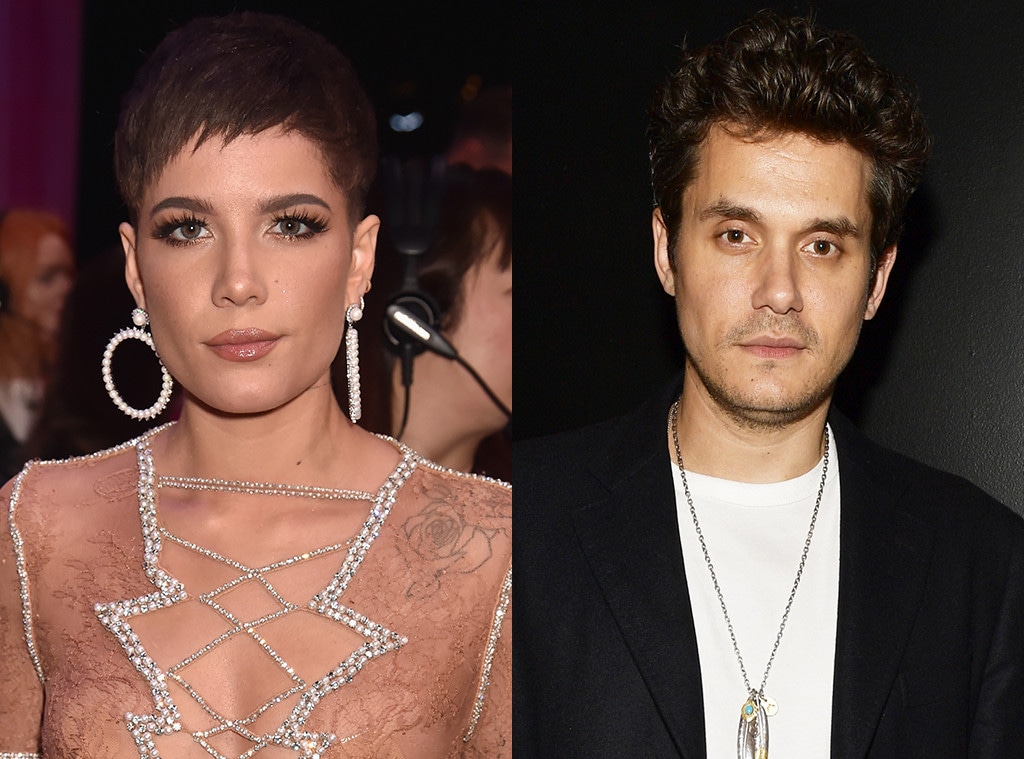 Jeff Kravitz/FilmMagic, Matt Winkelmeyer/Getty Images
Halsey and John Mayer are putting those romance rumors to rest once and for all.
The "Gravity" singer invited the "Bad at Love" star to join him on his Instagram Live show, "Current Mood," on Sunday to set the record straight on their relationship status.
The recording artists started fueling romance rumors in early November after they started sharing a series of flirty messages on social media. However, Halsey quickly shut down these reports in a simple tweet.
"I just had a ground-breaking idea. What if...we let female artists...have friends...without assuming that they are sleeping together?" she wrote. "I know I know. It's like, completely ambitious but like, imagine if we like, tried?"
Just a few weeks later, Mayer stirred up speculation again by posting another playful comment on Halsey's Instagram. After the 24-year-old singer vented her frustrations over experiencing writer's block, the 41-year-old crooner replied, "I can be over to break your heart in 20?"
So, are they or are they not a couple? The two certainly kept fans in suspense at the beginning of the social media stream. When Mayer welcomed Halsey to the show, he introduced her as an "unbelievable artist" and a "good friend of mine."
"That's a little clickbait-y," the seven-time Grammy winner admitted.
He then asked her how she felt about "addressing the elephant in the room that you and I dated."
"It's about that time to set it straight," she agreed.
To keep fans in suspense, the stars played a bit of a reveal game. Mayer explained that both celebrities had been asked to write down the answer to whether they were dating on a card. He then noted that they had not seen each other's answers and would unveil them at the same time to see if their responses were a match.
"If we are dating, it'll be fine!" Halsey said with a giggle, noting she was nervous.
When it came time for the big reveal, both singers showed their cards and confirmed they were not dating.
"We're not dating... So what [do] you think of all that everybody?" Mayer said. "We've effectively shut that one down. Halsey and I ask for publicity in this very difficult time."
However, Halsey admitted it would have been funny had they announced a relationship this way.
Perhaps a romance just isn't in the cards for these two. When asked why they weren't dating, Mayer wrote, "The fact that were both alpha types, while not prohibitive, would make a romantic relationship difficult, especially one compounded by the fact we're both highly driven and creative artists who value our independence."
However, Halsey wrote the exact same answer, proving she was in on a joke.
"You know, for being my not boyfriend you really do know me so well," she quipped.
Mayer then asked Halsey if she'd ever "genuinely felt kind of sad when a dating rumor gets debunked."
"I think the worst is when you debunk a dating rumor, and then…a little while later you're like, s--t, I might date them," she replied.
Getting more complicated, Mayer then asked Halsey about reconciling with an ex. He asked her if she'd ever held out from getting back together with a former flame but still had the press speculate on the relationship status.
"Yeah for past 18 months of my life," she said, most likely referencing her former relationship with G-Eazy. "The worst is as well when you vehemently deny a rumor somewhere and then you wake up the next day and you're a human being and it's like, I probably would have sex with this person. And then you're seen in public with this person and you're like, f--k I literally said yesterday that I... It's weird, and sad. And weird."
So, it looks like this case is closed—at least for now.