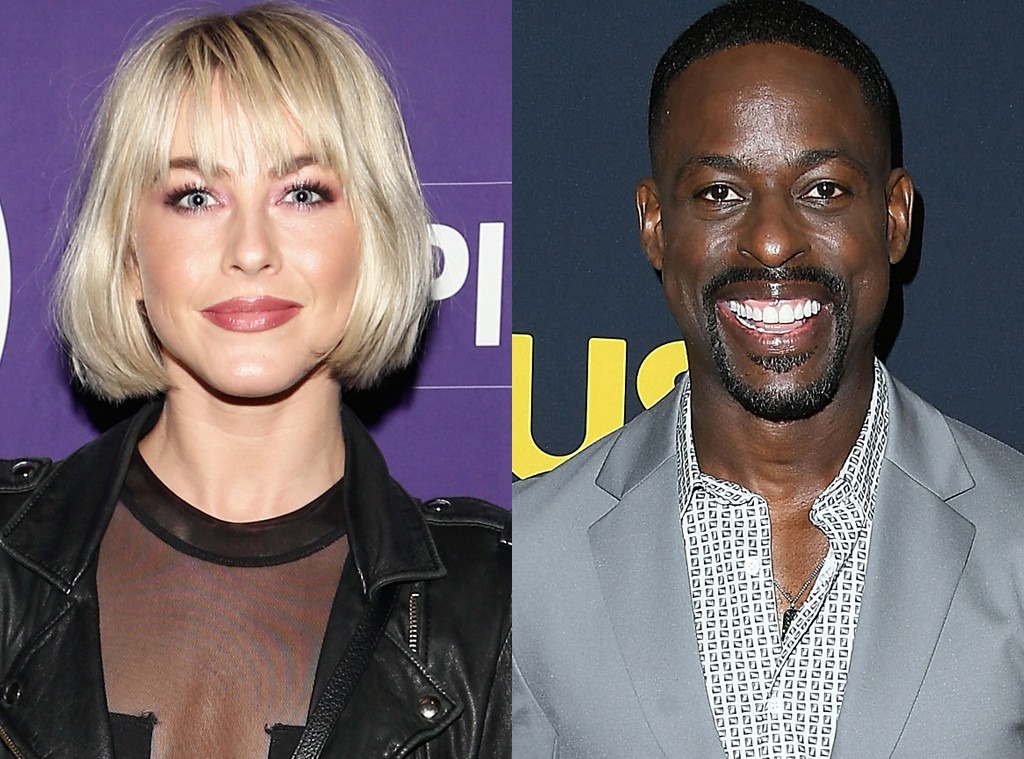 Tommaso Boddi/Getty Images for GLAAD;Steve Granitz/WireImage
The holidays are finally upon us, which means it's party time! To kick off the December festivities, producer Jennifer Klein threw her annual holiday bash on Saturday night where the bass was thumping, the sweet treats were in high demand and the Chloe Wine flowed freely. E! News has all the details on the star-studded celebration.
Julianne Hough, who looked gorgeous in a festive red coat, attended with her husband Brooks Laich and her brother Derek Hough. Julianne chatted happily with Maria Menounos while Derek and Brooks were nearby having a lively conversation with Joel McHale.
Later on, the they all moseyed outside where Brooks and Derek hit the dance floor and Derek showed off his Dancing With the Stars moves when the DJ played "Dance and Shout" by Michael Jackson. Derek was also seen pushing around the Sprinkles Cupcake cart, much to partygoers delight.
The trio later ran into Julianne's bestie Nina Dobrev on the patio where the group enthusiastically caught up in a quiet corner. 
Once inside, Nina and her friends stopped by the Anthropologie room, which was adorned with different sized red gift boxes for a special Secret Santa giveaway. Guests picked a box and got a surprise gift! Dobrev and her friends snagged some goodies including a scarf. 
Later on in the evening, David Duchovny stopped by with girlfriend Monique Pendleberry. They hung out on the patio while talking to friends and sipping Don Julio mini margaritas.
Patrick Schwarzenegger also made an appearance at the festivities. His girlfriend Abby Campion dropped him off at the party, and Patrick was seen giving Abby a kiss before getting out of the car. How sweet! Patrick indulged in all the goodies at the party and was especially excited about the See's Candy station where he stocked up on handfuls of chocolate.
Riverdale's Madelaine Petsch and boyfriend Travis Mills stayed side-by-side the entire night and spent most of the time outside by a booth. At one point Travis leaned in to give Petsch a quick kiss. Christina Hendricks came over to chat with Petsch before her Riverdale co-star Lili Reinhart arrived (alas, no sign of beau Cole Sprouse at the party). Hendricks then caught up with Retta outside by the DJ, who was also indulging in See's chocolate and drinking a Don Julio mini margarita.
Randy Shropshire/Getty Images for Art of Elysium
James Van Der Beek and Kimberly Van Der Beek made a quiet entrance at the party and proceeded straight for the Chipotle buffet table. They filled up their bowls with food and found a cozy spot on the couches outside by the dance floor and DJ where they ate, drank and took in the party.
Later on, McHale walked over to greet the Van Der Beeks and said, "Hey how are your kids? What do you have like nine kids now?" The group all laughed at McHale's joke. The Van Der Beeks welcomed their fifth child, a daughter Gwendolyn, back in June. McHale's noshed on sweets from the Sidecar Donut truck that was parked out front on his way out of the party.
Taye Diggs arrived with a few friends and walked in looking like a man on a mission to hit the dance floor. He and his pals remained there for most of the night, toasting with mini bottles of Le Grand Courtage champagne.
Topher Grace and Ashley Hinshaw took a break from baby duty to let loose and catch up with friends at the party. Topher even made a new friend when he was introduced to Kelsey Grammer and Kayte Walsh. Kayte drank an Icelandic water bottle and Kelsey was picking at the appetizers as each tray came by. 
Scandal star Katie Lowes and her husband Adam Shapiro were showing pictures of their baby to everybody they talked to whilst enjoying their night out together. At the end of the night, Shapiro grabbed a warm to-go cup of coffee from the Coffee Bean station in the driveway while they waited for their car at valet.  
Sterling K. Brown came later on in the evening donning a St. Louis Cardinals hat and had the best time catching up with friends.
Guests partied late into the night and danced their hearts out in the dance floor, unless they were dealing with a food coma from all the tasty bites available at the party.
Cheers!