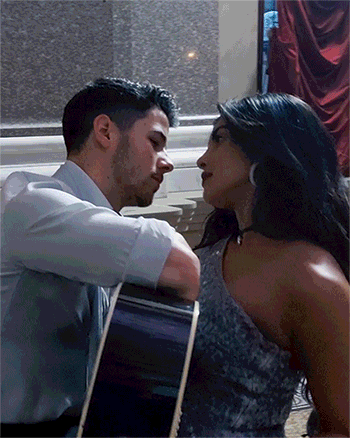 Steven Brahms / Vogue
Nick Jonas and Priyanka Chopra went full Harry Potter and could not look more in love on Vogue magazine's first digital cover.
The two were married on Saturday in a Western, Christian wedding ceremony performed by the singer's dad in the actress' native India on Saturday, and plan to have a Hindu ceremony later this weekend. Just after they exchanged vows, Vogue released its first digital cover, for its January 2019 issue, an animated image of Nick and Priyanka staring lovingly into each other's eyes, holding hands and leaning in for a kiss as they stand on each other of his guitar.
On the cover, filmed by Steven Brahms before the couple's big day, Priyanka looks gorgeous in a shimmering Galvan dress, paired with Swarovski earrings, and a Joomi Lim necklace. Nick looks sharp in a Tom Ford shirt.
The two also appear on a second digital Vogue cover, shot by Annie Leibovitz, in which only the magazine's logo is animated.
Priyanka is wearing a sheer floral Fendi dress. Jonas sports an olive Officine Générale shirt over a white ATM Thomas Melillo T-shirt.
Both covers were shot with a Google Pixel 3 smartphone.