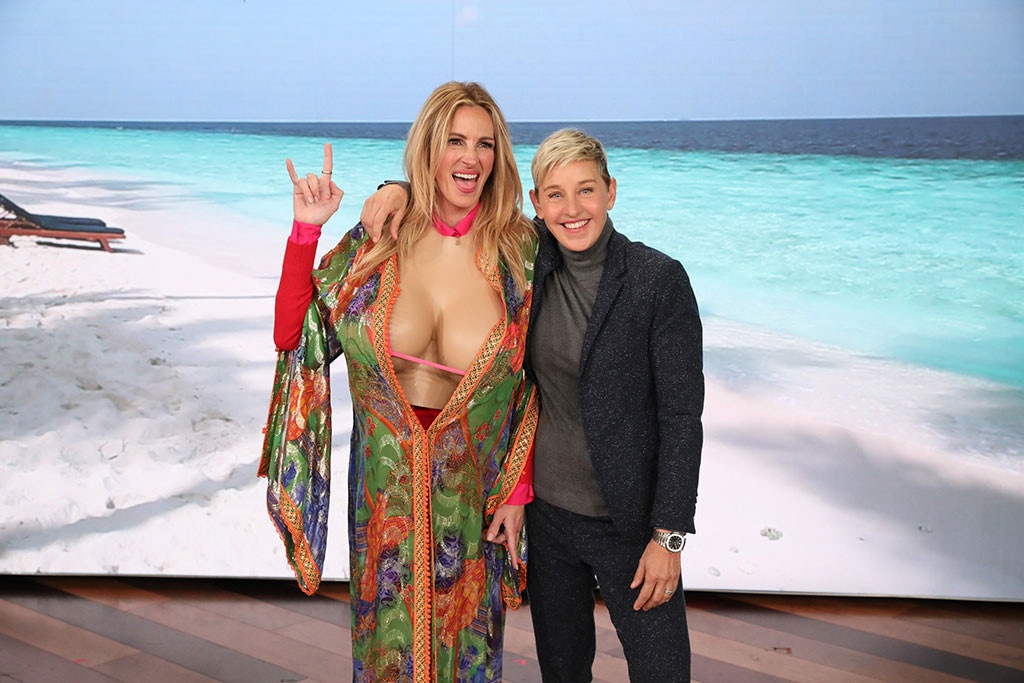 Michael Rozman/Warner Bros.
What bizarre daytime talk show moment did we just step into? An Ellen DeGeneres-fueled one, of course. 
On Friday, Ben Is Back star Julia Roberts visited the talk show, where DeGeneres taught the Instagram newcomer a few things about social media. 
"I'm going to show you how to get more followers because I have 60 million as I said," the comedian noted. 
"Do I have to post nude?" Roberts asked. "Well, ultimately yes," the host quipped back. 
While clothes definitely stayed on for the segment, DeGeneres did enlist the help of a few interesting props and famous people to make the photo shoot that unfolded one of a kind. 
First, there was a tropical background. Since Roberts didn't have a bathing suit, DeGeneres provided one in the form of an inflated fake chest adorned with a tiny pink bikini top. To finish the illusion, they draped a printed caftan over the rest of Roberts' clothes. Next, there had to be some food because everyone loves food on Instagram. Cue Martha Stewart toting a pie. The Oscar winner was mortified as she tried to cover up her new look. 
"Martha said, 'Put the pie in front of your droopiness,'" Roberts pointed out. "I have this strange feeling that I'm losing followers as I stand here."
For a little #tbt, DeGeneres also brought out a childhood school photo of Roberts, which she then held over her face for comedic effect. 
As the grand finale, Roberts' My Best Friend's Wedding co-star Dermot Mulroney popped in for a surprise appearance. Cue the snap! 
All that's left to do is get the shot on Instagram, Julia!
Check out the hilarious clip above.