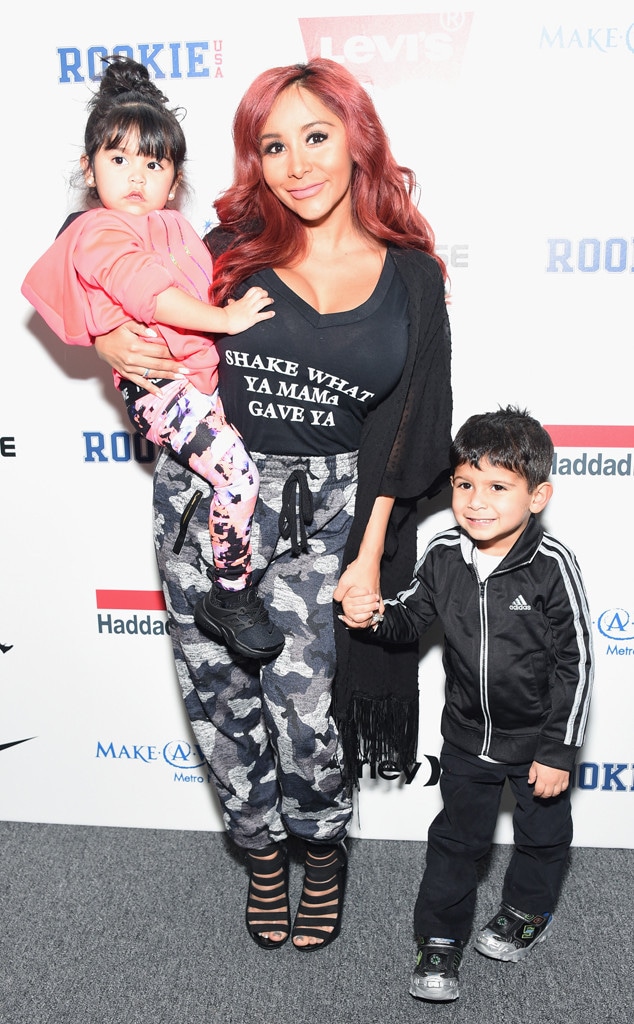 Michael Loccisano/Getty Images
Snooki has revealed that she and husband Jionni LaValle attempted to get pregnant for months with no success.
The 31-year-old Jersey Shore star, who is expecting baby No. 3, documented the earliest days of her pregnancy as well as the baby's first sonogram in a video shared to her YouTube page on Thursday. In it, Snooki (whose real name is Nicole Polizzi) expressed her sheer excitement over becoming a mama again. 
"I'm just super excited to get this going," the reality TV personality told the camera. "Me and Jionni have been trying to have a baby since July and now it's finally happened. I was getting a little worried because it wasn't happening as soon as I wanted it to."
When friends and family told Snooki it might take longer to conceive this time around, she recalled telling them, "'Bitch I'm 30, relax!" 
On her way to the hospital, Snooki shared her aspirations to "start eating better" and "working out more," later adding, "I'm just super excited. I can't believe this is happening. 3 kids… Can I do this?"
But between filming Jersey Shore: Family Vacation and other entrepreneurial ventures, Snooki said she and Jionni were simply waiting for the "right timing" to expand their family again. "I wanted to make that paper before I had another baby," she explained. 
Following the doctor's appointment, where Snooki got to hear her future bundle of joy's heartbeat for the first time, she got candid about the sex of her baby. 
"Hoping for a boy, we'll see. If it's a girl I'll be happy but boys are easier," the MTV celeb confessed. 
So what were son Lorenzo LaValle, 6, and 4-year-old daughter Giovanna LaValle's reactions to the big news? At the time, Snooki had yet to reveal her two little ones would soon become a big brother and sister. 
As she described, "They've been waiting. They've been asking for another baby. Hopefully it will calm them down because these two are always attacking each other and I just want to drink a bottle of wine. Now I can't so hopefully this will settle them down and get excited."