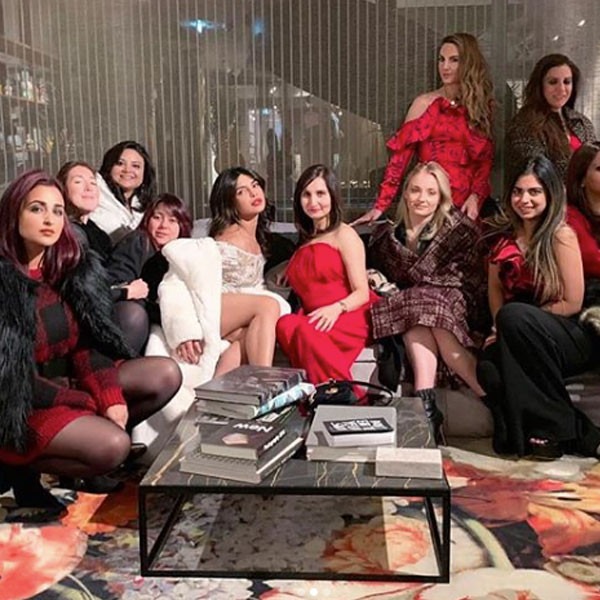 Instagram
As Priyanka Chopra has been preparing to becomes a bride, she's had these ladies by her side. 
The Quantico alum exchanged vows with pop star Nick Jonas on Saturday in India, and the two plan on having a second ceremony, as well as many more wedding festivities throughout the weekend. The power couple has already attended an array of traditional events through the week. 
As is customary for many couples, the two have the support of a bridal party—and a pretty big one, at that.
"Nick has 11 groomsmen," a source previously told E! News. Traditionally, the bride will select nearly as many bridesmaids to match and, judging by the bevy of ladies Chopra celebrated her bachelorette party with earlier this month, that will most likely be the case for this wedding, too.
While Chopra has not publicly confirmed who was named a bridesmaid, she's mentioned the same group of 12 women on social media, including shots of them all in Amsterdam, where the bride-to-be jetted off to party before the big day. A source also told E! News that Chopra would have 12 ladies by her side. 
So, who's been mentioned in the #bridesquad? Among the famous faces are future sister-in-law Sophie Turner, who was snapped in India earlier in the week for the pre-wedding events alongside fiancé Joe Jonas. 
Then, there's soon-to-be sister-in-law Danielle Jonas, who was spotted at Chopra's lavish bridal shower last month. Priyanka's famous cousin Parineeti Chopra has also been present for all of the bridal fun. 
Check out E!'s gallery below to put names to the faces of some of the women who have been supporting Priyanka all the way to her special day: